Where to Stay in Sorrento: Best Areas & Hotels
We may earn a commission from affiliate links ()
Sorrento is a relatively small city, where most of the attractions can be easily reached on foot when staying within the strip of land between the harbor and the main route, Via Capo. Halfway between the two is Piazza Tasso, and most hotels are located in this compact area, while a few sit in the rural hilly area above the town to the west.
Hotels located close to the shore often have beach access and the best views across the Bay of Sorrento to Mount Vesuvius. Lodgings several blocks from shore in the center of town may also have good views, thanks to the slope of the shoreline, and are prime spots for sightseeing, shopping, and simply strolling through the narrow streets.
Most of the hotels on the outskirts of town offer free shuttle service to the main attractions, making this an easy city to enjoy without a car, no matter where you choose to stay. Visitors should be aware that the coastline is very steep, and typically access to Marina Grande, one of Sorrento's two marinas, is via long sets of stairs-you can find a public lift near the Park Villa Comunale.
On This Page:
Where to Stay in Sorrento for Luxury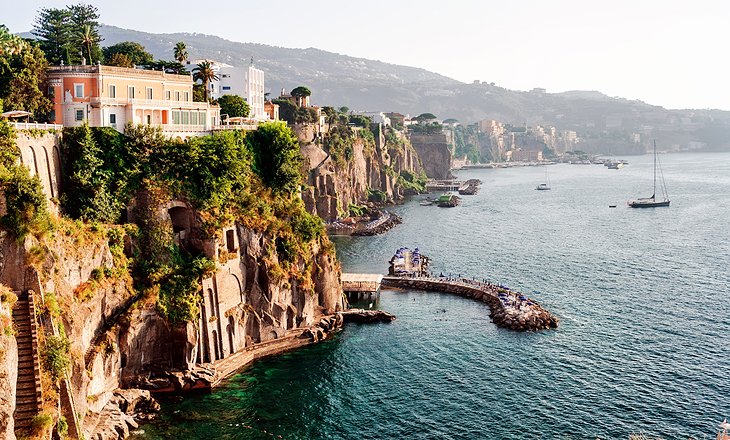 The Grand Hotel La Favorita has a large pool and deck with views over the Mediterranean and offers concierge service, a business center, and airport transportation. Breakfast is included, served by the in-house restaurant, and the building's unique architecture includes classic decorative tiles on the floors and in bathrooms.
This hotel is centrally located in town, sitting across from the Piazza della Vittoria and just steps from Chiesa di San Paolo, and within easy walking distance to the cathedral and bell tower, the Wooden Marquetry Shop-Museum, and Marina Grande. There are dozens of fine restaurants within just a few blocks, and the lift at Park Villa Comunale is close by.
Also centrally located and closer to the Marina Piccola, the boutique hotel Palazzo Marziale serves fresh-baked pastries for its complimentary breakfast and operates its own terrace restaurant in the summer. Rooms are spacious, and the building has been beautifully restored, retaining features like original stone archways. Hotel amenities include a restaurant that can accommodate special dietary needs, babysitting services, and hotel-run guided walking tours.
One of Sorrento's top luxury accommodations, the Maison La Minervetta sits atop the steep cliffs along the water, overlooking the Mediterranean. It has has nautically-themed rooms with floor-to-ceiling windows for stunning views, and the Marina Grande can be easily accessed via a private staircase; this also leads to a private beach area where a sun umbrella and deck chair are provided free of charge.
For those who don't want to make the trek down to the sea, this small boutique hotel also has an outdoor pool. Parking and a superb breakfast are included, and there are several good restaurants very close to the hotel, as well as sights like the Chiesa di Sant'Anna and Bagni Sant'Anna.
Also on a cliff overlooking the water, on the other side of the harbor close to the Cloister of San Francesco, the Grand Hotel Excelsior Vittoria offers five-star services including a chic spa, Michelin-starred restaurant, babysitting, fitness center, and heated outdoor pool with its own restaurant. Lodgings include traditional rooms, as well as villa-style rentals that are surrounded by peaceful groves of citrus trees.
Common areas, like the breakfast room, are breathtakingly opulent with full ceiling murals, gilded carvings, and frescoes. Guest rooms are also elegantly furnished. The hotel has a private elevator that goes to the ferry terminal, a benefit for anyone with mobility issues.
Where to Stay in Sorrento: Mid-Range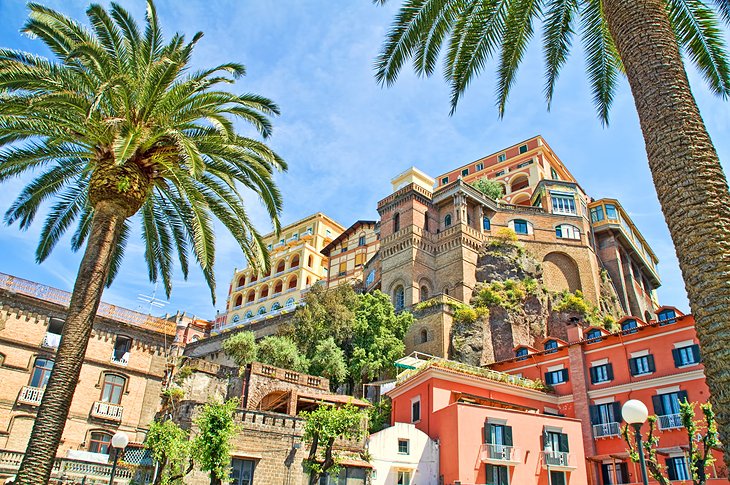 The Villa Oriana Relais is a perfect place for seclusion seekers who are looking for a place to stay near Sorrento but not directly in the center of tourist activity. It is situated just outside the border formed by the Via Capo, five minutes by car to the center of town.
This boutique hotel is very much like a bed-and-breakfast, and the owners serve a fresh homemade meal each morning on the terrace. They also bake pies and make fresh lemonade and lemon cake from the fruits on their own trees. Despite its distance from town, the property has lovely sea views; there is also an outdoor pool and hot tub. Guest rooms are furnished with antiques and thoughtfully appointed.
Palazzo Jannuzzi Relais is located just off Piazza Tasso in the center of Sorrento, close to numerous restaurants and just a block from Il Vallone dei Mulini. The hotel features a rooftop terrace with stunning views of Sorrento Harbor, as well as a solarium and dedicated reading room. Services include bicycle rentals and airport transportation for those without a car, and rooms are soundproofed and equipped with a fridge and private balconies.
Located right in the center of town, Magi House Relais is just a two-minute walk to Chiostro di San Francesco (cloister) at the Villa Communale and less than five minutes to the Piazza della Vittoria. This hotel offers a range of accommodations, including rooms; a romantic honeymoon suite with a Jacuzzi on its own private terrace; and apartments, perfect for longer stays, complete with kitchenettes. Hotel amenities include a rooftop terrace, free breakfast and Wi-Fi, and complimentary use of beach towels.
Where to Stay in Sorrento on a Budget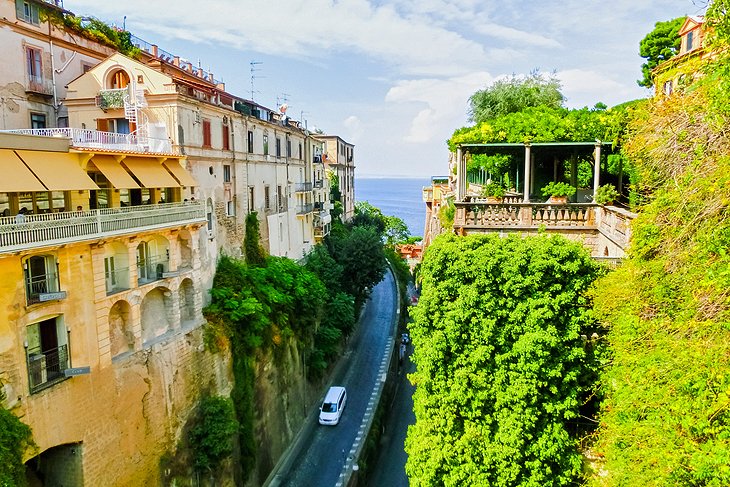 Located on Corso Italia, Sorrento's main shopping street, just one block from the cathedral, the affordable Palazzo Tasso is close to several public parks, surrounded by restaurants and shops, and within a 10-minute walk of either marina. Rooms are clean, spacious, and modern, and include a mini-fridge, safe, and private balconies; Wi-Fi and a breakfast buffet are complimentary.
Also on Corso Italia, within a minute of the railway station, Hotel Nice has lovely balcony views over the busy Piazza Angelina Lauro. The Correale di Terranova Museum is within a five-minute walk, and the hotel is also convenient to the cathedral and cloister. There is a rooftop terrace with views over the city and bay. Breakfast is included, although the coffee shop next door to the hotel serves excellent coffee and pastries.
For a unique budget experience, the Village Camping Santa Fortunata Campogaio has several options, including campsites, hostel-style cabins, and private bungalows. Sitting on a large property on the outskirts of town but still near the coast, the hotel features a private rocky beach for sunning and swimming, as well as a large pool and deck area.
Self-serve laundry facilities are on-site, and many lodging options include a kitchenette. The hotel also has a restaurant and provides a free shuttle into the city, about a five-minute ride away.
Where to Stay in Sorrento for Families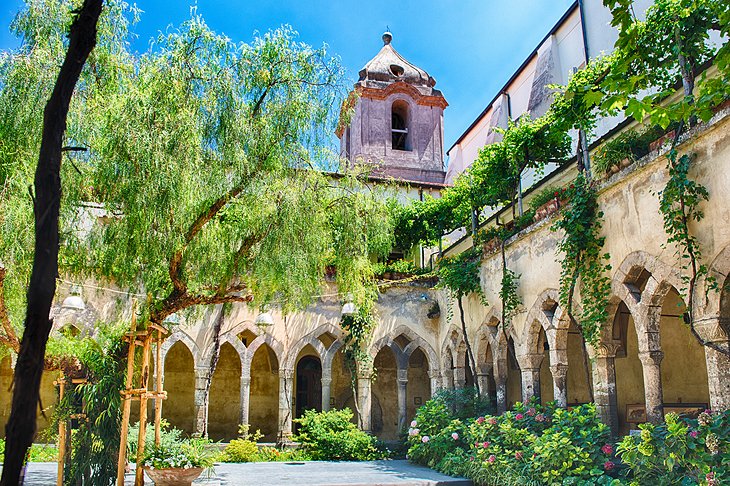 Although set back from the shore, the Best Western Hotel La Solara Sorrento sits atop a cliff that overlooks the city and the Bay of Sorrento and has a bus stop just next to the hotel, as well as a free shuttle bus to the main attractions. Rooms are spacious and comfortable, and breakfast is included. Hotel amenities include an outdoor heated pool with a large deck, fitness center, laundry service, and activities like table tennis, sure to keep those traveling with a family occupied.
In the center of town, just one block from the Corso Italia, Maison Tofani looks down over the rooftops and busy city streets and is convenient to the beach, shopping, and restaurants. The large family rooms in this elegant 18th-century building include a kitchenette, and a generous breakfast spread is included. The property is family operated, and the owners take pride in making all guests feel at home - even the little ones.
The Plaza Hotel Sorrento is located in the heart of the city and is a great choice for walkers. The property caters to families with family rooms, children's TV networks, strollers, and kid-friendly dining options. Breakfast is included in the rate. There is an infinity swimming pool on the roof top.
Where to Stay in Sorrento for Romance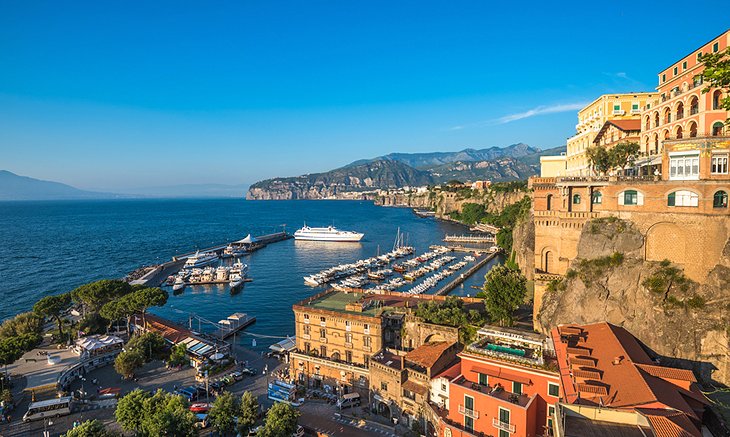 For a luxurious, romantic getaway for a honeymoon or special occasion, the Bellevue Syrene offers five-star service and amenities, including a spa, pool, in-house restaurant, room service, and complimentary breakfast. The restaurant features live piano music and terrace seating in the summer, while snacks and beverages are available to guests all day at no charge.
The hotel is housed in a converted private home, where original frescoes adorn the walls and the atmosphere is both elegant and laid-back. Located close to the water near the docks, this is within an easy walk to Bagni Sant'Anna and Leonelli's Beach.
Closer to the center of town and a prime location for sightseeing, Antiche Mura Hotel is just down the street from the Piazza Tasso and Il Vallone dei Mulini. This is a popular wedding venue thanks to the beautiful grounds that are full of lemon and orange trees, stone walls with wandering vines, and well-maintained gardens. Rooms are extremely spacious, and the stay includes breakfast. There is also a lovely pool area with citrus trees for shade.
Book a sea-view suite and wake up every morning to mesmerizing sea views at the Grand Hotel Ambasciatori. The 5-star hotel is set on a cliff facing the Gulf of Naples and has panoramic views throughout. Rooms and suites are luxurious affairs with a palatial vibe, including gilded mirrors and chandeliers hanging from extra high ceilings.
Guests have access to a private beach with sun-loungers and umbrellas. The on-site restaurant has a romantic patio with sea views, and there is a spa offering couples massages among other treatments. Other amenities include darts, table tennis, and a complimentary breakfast that can be served directly to your room.
More Related Articles on PlanetWare.com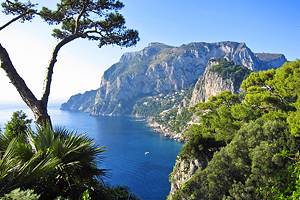 Things to do in Sorrento: While Sorrento is so scenic you really don't need to spend time searching out the sites, have a read through our list of Top Tourist Attractions in Sorrento to make sure you don't miss anything. Many people use Sorrento as a base and do day trips to nearby destinations, particularly the beautiful Amalfi Coast.