Vatican Palace
Palazzi Vaticani
Some impression of the size of the Vatican Palace, which lies immediately to the right of St Peter's Square and St Peter's itself, can be gained by starting from the fountain on the left-hand side of St Peter's Square, from which the huge bulk of the main range of buildings can be seen rearing up above the square, and then continuing along outside the walls to the entrance to the Vatican Museums.
Important Information:
Opening hours:
Closed: Sun, Wed
Guides:
Guided tour included with admission.
Transit:
Metro: Ottaviano (line A); Bus: 23, 32, 41, 47, 62, 64, 492, 990; Tram: 19, 30.
There would no doubt be some form of lodging for the Bishop of Rome near Old St Peter's (then well outside the city) as early as the sixth century, but the Papal residence was for long in the Palazzo Laterano.The first Pope to consider the Vatican as a residence was Nicholas III (1277-80), and this alternative seemed all the more attractive when the Pope returned from exile in Avignon in 1377 and found the Lateran Palace in a state of dilapidation. From 1450 onwards successive Popes embellished and enlarged the Vatican, enlisting in this task the best architects in Rome. The most notable contributions were made by Nicholas V, Sixtus IV (Sistine Chapel), Alexander VI (Appartamento Borgia), Julius II (Cortile del Belvedere, Loggias in the Cortile di San Domaso), Paul III (Cappella Paolina, with frescoes by Michelangelo), Pius V and Sixtus V (the present private apartments, reception rooms and library). The total area covered by buildings, excluding the gardens, is 55,000sq.m/13.5 acres, of which 25,000sq.m/8 acres are accounted for by courtyards. The total number of rooms and chapels is 1,400. Surely no other palace in the world can compare with the Vatican in historical and artistic importance. In addition to the Pope's own residential apartments and offices the palace house a number of ecclesiastical bodies as well as the Vatican Museums. The main entrance is the bronze door at the end of the right-hand colonnade which leads into the Corridorio del Bernini and, at the far end of this, Bernini's Scala Regia.
Related Attractions
Vatican Gardens
The Vatican Gardens, behind St Peter's and the Vatican Palace, occupy a large part of the area of Vatican City. In the gardens are a variety of buildings serving particular purposes, churches and offices, towers and fountains, the Casina di Pio IV (seat of the Pontifical Academy of Sciences) and a coffee-house. The north end of the gardens is bounded by the Leonine Walls, the railroad station, the radio transmitter and the Vatican Museums.
Map of Rome Attractions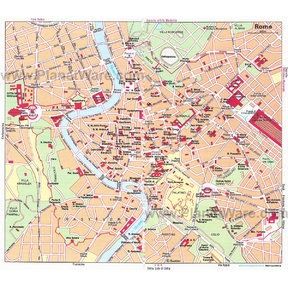 Rome Map