Pantheon, Rome
The architectural form of the Pantheon, the largest and best preserved monument of Roman antiquity, is so simple that the structure has survived the hazards of the centuries almost intact. The name of its builder is inscribed above the entrance: Marcus Agrippa, son-in-law of the Emperor Augustus, who dedicated it to the "most holy" (Greek pantheon) planetary gods - hence the dome, representing the firmament, with its opening for the sun - and not to all the gods as the name seems to imply.
Important Information:
Address:
Piazza della Rotonda, I-00186 Rome, Italy
Opening hours:
8:30am-7:30pm; Sun: 8:30am-6pm
Always closed on:
Assumption Day - Christian (Aug 15), Day after Christmas, St Stephen's Day, Boxing Day (Dec 26), Christmas - Christian (Dec 25)
Useful tips:
Photography allowed.
Disability Access:
Full facilities for persons with disabilities.
Transit:
Bus: 70, 81, 86, 87, 90, 64, 119, 170.
The Pantheon is the place of burial of the Italian kings (Victor Emmanuel II, second niche on right; Umberto I, second niche on left); the greatest Cardinal Secretary of State of modern times, Consalvi (tomb by Thorvaldsen, 1824, third niche on left) and the great Renaissance painter Raphael (between second and third niches on left) are also buried here.The Pantheon was damaged by fire in A.D. 80 and was rebuilt in the reign of Hadrian (120-125); the brickwork of this period demonstrates the extraordinarily high standard of technical mastery achieved by the Romans. In the course of the centuries the building suffered further damage and plundering: Pope Gregory III removed the gilded bronze roof-tiles, while Urban VIII used the heavy bronze roofing of the porch in the construction of Bernini's Confessio in St Peter's. The building was, however, regularly restored, and also received some structural additions, since removed.The first Christian Emperors forbade the use of this pagan temple for worship, and it remained disused until Pope Boniface IV dedicated it to the Virgin and all the Christian martyrs on November first 609 - the origin of the feast of All Saints. From the Piazza della Rotonda from which the Pantheon is seen hemmed in by buildings and the semicircular dome appears much flatter than it really is, steps lead down into the porch: formerly there were steps up to the entrance, but the ground level has risen considerably since then. The porch, 33m/108ft wide and 13.50m/44ft high, has 16 granite columns with Corinthian capitals (12.5m/41ft high, 4.5m/15ft apart) and two massive ancient bronze doors. The mighty dome of the Pantheon was the supreme achievement of Roman interior architecture. The overwhelming effect of the interior results from the harmonious proportions of the whole vast structure: the height is the same as the diameter (43.2m/142ft), while the walls of the cylinder supporting the dome measure half the diameter (21.6m/71ft). In the walls of the cylinder (6.2m/20ft thick) are semicircular and rectangular niches. The interior of the dome is coffered. The only lighting for the interior comes from a circular opening 9m/30ft wide in the dome. The restrained decoration of the interior enhances the effect of the architecture. The harmony and perfect proportions of the Pantheon - built in the image of the earth with the vault of the firmament above it - have impressed artists and visitors down the centuries. (The magnificent acoustics will be demonstrated by an organist for a small consideration.)
More Pantheon Pictures
Map - Pantheon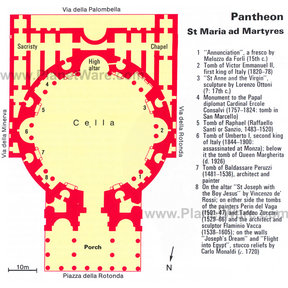 Map - Pantheon
Map of Rome Attractions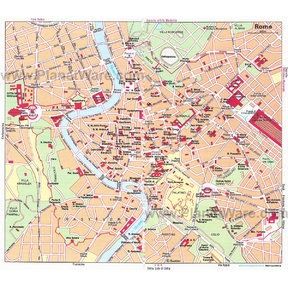 Rome Map