Prince Edward Island Attractions
The Micmac Indian legend tells how the god Glooscap painted all of the world's beautiful places then dipped his brush in every colour and created Abegweit, his favourite island.
ENLARGE MAP
PRINT MAP
EMBED < >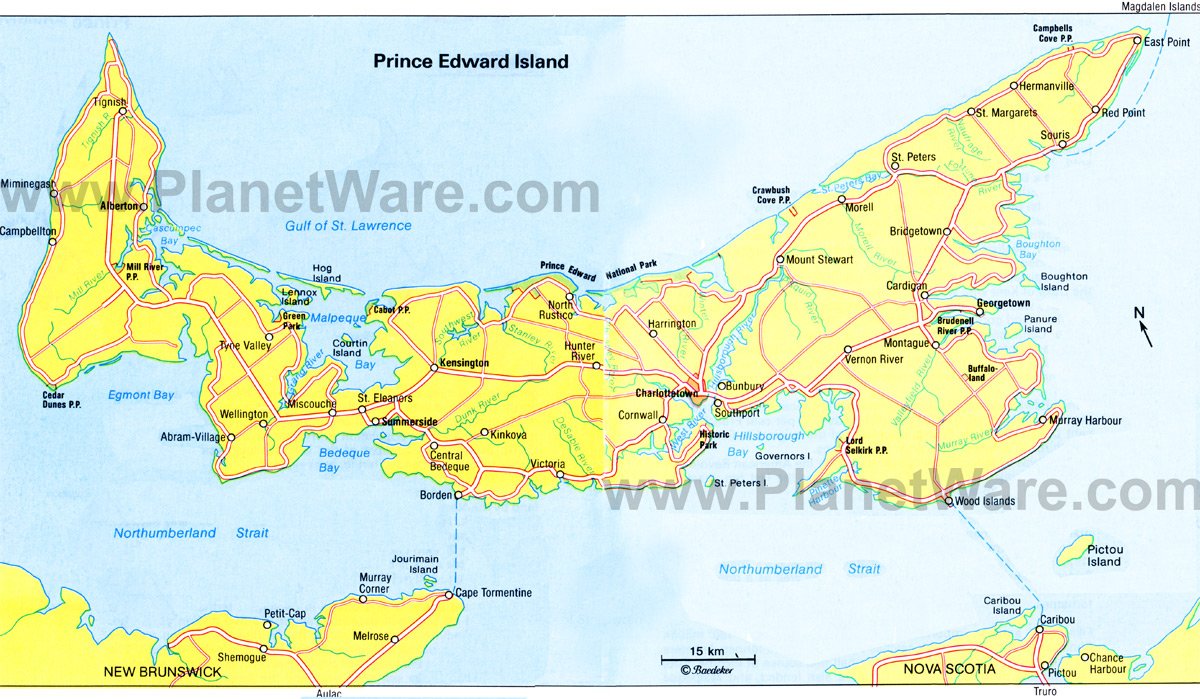 Prince Edward Island Map
Charlottetown, Canada
Lady Slipper Drive
The scenic Lady Slipper Drive is a marked tourist route leading past red sandstone cliffs, beaches, and meadows, as it winds along the coastline.
Blue Heron Drive
Blue Heron Drive passes numerous lovely beaches, resort towns, and sites associated with "Anne of Green Gables".
Kings Byway Drive
Kings Byway Drive (about 380 km (236 mi.)), signed by a purple crown on a square white background with a purple border, is mostly in Kings County, hence its name, and takes the visitor through the most interesting parts of the island. The people who live here are predominantly the descendants of early Scottish settlers. Its special attractions include red and white sandbanks, photogenic lighthouses, and North Lake Harbour, which prides itself on being "the tuna fishing capital of the world". Anyone wanting to cover the whole drive should plan for two overnight stops on the way.The drive starts from Charlottetown in the strawberry fields above the Hillsborough River, then runs south to Elden, and cuts across the hilly tobacco-growing district to the east coast. The provincial parks along the route provide plenty of opportunities for swimming and camping. The drive then follows the east coast up to North Lake Harbour then turns along the rugged north coast, passing through several little fishing villages before coming full circle in Charlottetown.
North Cape Coastal Drive
North Cape Coastal Drive is the more rugged side of Prince Edward Island. The intense winds make for a perfect setting for towering turbines that turn the abundant wind into energy at one of Canada's leading wind test institutes.
North Cape Interpretive Centre, North Cape
North Cape Interpretive Centre is a unique natural area that comes complete with a lighthouse and a wind farm. Check out the nature trails and wind mills and learn about this type of power.
Summerside
Summerside is the second largest city on Prince Edward Island. The city has a number of historic buildings and hosts a variety of events throughout the summer beginning in early spring.
International Fox Museum and Hall of Fame
The International Fox Museum and Hall of Fame is housed in the Holman Homestead, the residence of a mercantile magnate. Displays trace the history of trying to breed foxes in captivity.
Address:
286 Fitzroy Street, Summerside, PE C1N1J2, Canada
South Freetown - International Children's Memorial Place
International Children's Memorial Place offers a Healing Centre, The Ever Living Forest, Path of Remembrance, a Labyrinth, and picnic area on a 12-acre property. Other highlights include a hydro-electric museum, Century farmhouse and schoolhouse.
Address:
2115 Scales Pond, South Freetown, PE C0B1L0, Canada
Wyatt Historic House
The 1867 Wyatt Historic House allows visitors to experience the life and times of the Wyatt family over 100 years. The walls and shelves in the house hold unique paintings and ceramics.
Address:
85 Spring Street, Summerside, PE C1N4K4, Canada
Borden, Canada
Borden is the first town you will come to after crossing the Northumberland Strait Bridge from New Brunswick.
Points East Coastal Drive
Points East Coastal Drive is the eastern touring region in Prince Edward Island. It has beautiful beaches and scenery, as well as a rare dune system.
Orwell Corner Historic Village, Vernon
Orwell Corner Historic Village was named in 1769 in honour of Lord Francis Orwell, British Minister of Plantations. The historic village was opened in 1973, after being restored to its late nineteenth century appearance. The buildings are furnished with artifacts from the Provincial Collection.Buildings within Orwell Corner include a shingle mill, church, store, farm and community hall.
Elmira Railway Museum & Miniature Railway
For years the Elmira Station served as the end of the line for Prince Edward Island's railway. Today it houses photographs, maps and artifacts, and features a recreated station master's office and ladies' waiting room.