Bay of Fundy Attractions
Top Tourist Attractions in Bay of Fundy
Measuring up to 80km (50mi) wide at its mouth, the Bay of Fundy is a delta-shaped bay in the Atlantic Ocean, almost 300km (190mi) deep and penetrating the North American mainland between the Canadian provinces of New Brunswick and Nova Scotia.
Fundy National Park rests on Bay of Fundy and, in addition to the spectacular scenery, features camping, hiking trails, a pool, beaches, boating opportunities, and even golfing.
St Martins - Fundy Trail Parkway
The Fundy Trail offers beautiful views of coastal areas along the Bay of Fundy. There is a paved parkway, or for the more adventurous there are hiking and biking trails, along with stairs that lead down to the waters edge. Scenic overlooks have been built along the way, complete with picnic tables.
Grand Manan Island, Canada
Grand Manan Island lies at the south-western entrance to the Bay of Fundy. A small population live on the island, which is about 35km (22mi) long and up to 10km (6mi) wide. The marshlands interspersed with rocky ridges make it a favorite resting place for numerous species of birds - more than 300 different kinds have been spotted.Mineral-hunters will be attracted to the north-western part of the island near Dark Harbour, shaped by volcanic activity. Here semi-precious stones such as amethysts, jasper and agate can be found.
Sea Watch Tours
Sea Watch Tours offers whale watching tours on the Bay of Fundy and bird-watching tours and excursions to the Machias Seal Island. Whales are so plentiful in this area during the summer months that this company offers a guarantee on it's whale sightings, and does not charge unless whales are spotted.
Whale Watching Tours
It's possible to arrange whale watching tours out of Grand Manan Island. The whale season is from May to October and there are a couple of operators who run four or five hour trips.
St Stephen, Canada
The small industrial town of St Stephen lies on the little St Croix River where it enters Fundy Bay. Founded in the 17th C, St Stephen did not really develop until one hundred years later, when American loyalists settled here. It is now home to the woodworking, paper and textile industries. The bridge over the river leads to Calais, in the U.S. state of Maine.St Stephen has a couple of interesting museums and historic homes, and is also a good destination for bird watching. The town calls itself "Canada's Chocolate Town" and has a chocolate museum where you can learn all about it.Oddly, the town is also known for its large number of dragonflies.
Chocolate Museum
Brothers James and Gilbert Ganong grew up in rural New Brunswick, in 1873 they opened their own grocery store and, when it almost failed, they added candy. With this successful addition, they started to make their own candy to sell in the store.
Deer Island
On little Deer Island off the coast live some descendants of American loyalists who settled here in 1784. The island is best known for the large numbers of lobsters which breed on the giant lobster-banks.Visitors to Deer Island will find numerous galleires and gift shops. It is also possible to arrange a whale watching tour during the summer months.
Cline Marine Whale Watch Tours
Cline Marine offers whale watching tours out of Deer Island from May to October. Some of the varieties of whales visitors might hope to see include finback, minke, humpback, right, along with harbour porpoise.
Campobello Island, Canada
On the island of Campobello further offshore to the south lies the spacious country seat of the Roosevelt family. Until 1921 the U.S. President often stayed here, but his visits became less frequent in the 1930s.At one time Campobello was named "Port-aux-Coquilles" by the French colonists because of the abundance of mussels to be found here.One of the landmark features on Campobello Island is the East Quoddy Lighthouse, also known as the Head Harbour Lighthouse.
Campbello Island - Roosevelt Campobello International Park
The centerpiece of Roosevelt Campobello International Park is a 34 room "cottage" that was occupied by the soon to be president and his family from 1905 to 1921. Items on display include furnishings, toys, photographs and other Roosevelt family memorabilia.The park also features beautiful green spaces with gardens and walking trails leading to the rocky coastline.
Black's Harbour, Canada
The fishing port of Black's Harbour is the home of Canada's largest canning factory, where sardines are processed.Black's Harbour is located on the Bay of Fundy and is considered the gateway to Grand Manan Island, with regular ferry service.


Map of Bay of Fundy Attractions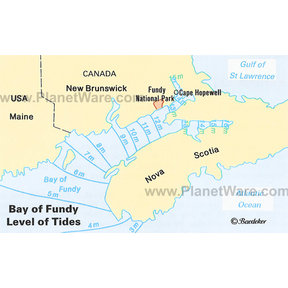 Map - Bay of Fundy - Tide Levels