9 Top-Rated Tourist Attractions in Juneau
There is no road to Juneau, the capital of Alaska. This small, coastal city can only be reached by sea or air, as it lies in the most southerly part of the state on the Panhandle - a narrow tongue of land slashed by fjord-like inlets. A string of small islands buffers it from the sea.
Though Juneau is home to state offices and a busy cruise ship port, it still retains the air of a gold-diggers' settlement having been founded in the 1880s on Gold Creek. The mix of historic and modern also includes a Russian Orthodox church (1894) and abandoned mines turned museums. Juneau is also a good base to explore glacier-draped fjords like Glacier Bay National Park and Tracy Arm, the wilderness of the Tongass National Forest, and other scenic beauties of the Panhandle.
1 Mendenhall Glacier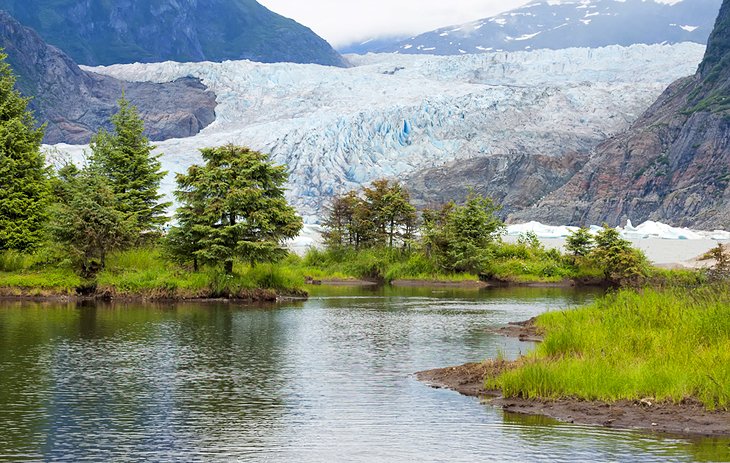 Mendenhall Glacier
There is a truly scenic panorama just 12 miles from downtown Juneau. The wide outlet of Nugget Falls churns into a lake dotted with icebergs and the tongue of the Mendenhall Glacier dips down to the water's edge. The glacier is fed by the Juneau Icefield and it measures about 12 miles long and 1.5 miles wide.
There is a visitors' center on the lakeshore, where you can capture a 180-degree view over the glacier. Some of the best views are from the walking trails in the area, with routes running up either side of the glacier and also to Nugget Falls. Kayaking and rafting tours also venture out on the very cold lake.
Hours: Daily 8am-7:30pm (May-Sept), Fri-Sun 10am-4pm (Oct-April)
Location: 12 miles northwest of Juneau
2 Tracy Arm Fjord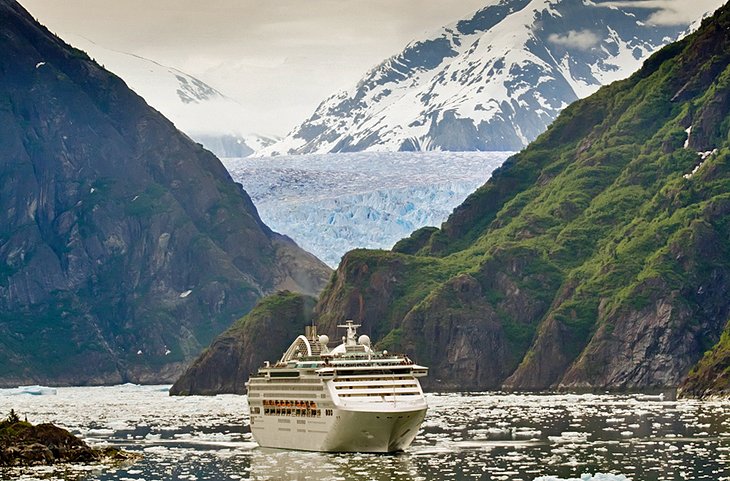 Tracy Arm Fjord
Located just southeast of Juneau, this ice-cloaked glacial fjord cuts through some spectacular scenery with waterfalls tumbling down vertical rock walls and glaciers calving off chunks of ice to create small bergs. The impressive twin Sawyer Glaciers are at the head of the fjord; their easily-visible blue ice is considered especially enchanting. You can learn about the natural history of Tracy Arm, its glaciers, and wildlife by taking a guided cruise.
The huge walls of Tracy Arm Fjord rise almost vertically out of the water, with trees jutting out at quirky and unusual angles. The fjord is quite long, stretching back into the mainland through the Tongass National Forest. Along this stretch common wildlife sightings include black bears, brown bears, deer, and moose. Over the ocean, there is a good chance of spotting bald eagles, arctic terns, and pigeon guillemots, while in the blue waters below, whales and seals make frequent appearances.
3 Glacier Gardens Rainforest Adventure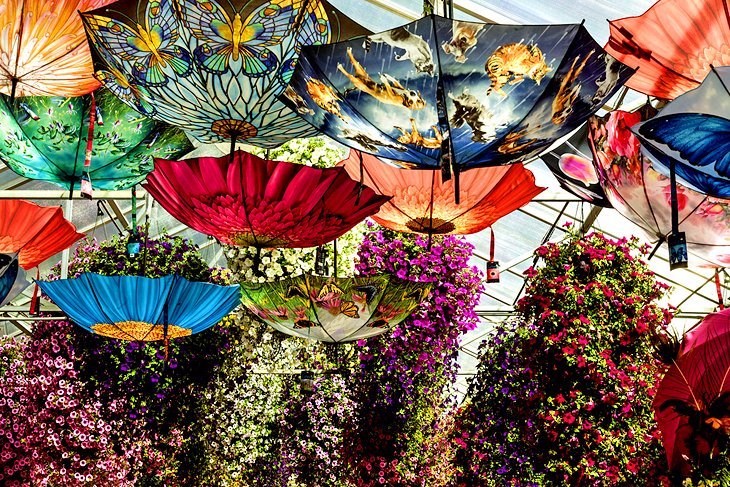 Glacier Gardens Rainforest Adventure
You may think tropical when you read the word "rainforest", but the Pacific Northwest is home to the lush Tongass National Rainforest. An open-sided shuttle takes tourists through this 50-acre property on Thunder Mountain. This is not a garden, but an area of forest left largely in its natural state. Tour guides discuss the various species and workings of the gardens to give a better understanding of the attractions.
The tour stops at various locations, boardwalks, and viewpoints overlooking the Mendenhall Valley, Chilkat Mountains, Gastineau Channel, and Juneau.
Hours: Open daily 9am-6pm (May-Sept)
Admission: Adult $24.95, Child (6-12) $15.95
Address: 7600 Glacier Hwy, Juneau
4 Glacier Bay National Park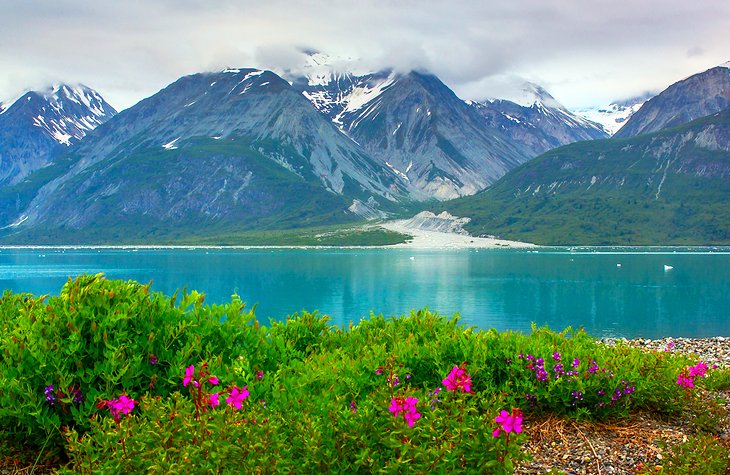 Glacier Bay National Park
Covering more than 3 million acres, Glacier Bay National Park started as a huge glacier in the mid 1800s. Ice was everywhere, and in some areas it was thousands of feet thick. As the climate has evolved so has the glacier, and today, you can see the effects on the surrounding environment. The inlet sits between two promontories, and 16 glaciers reach down to the tidewaters.
Glacier Bay is a major feeding ground for humpback, minke, and orca whales. The region attracts many tourists wanting to catch a glimpse of these underwater mammals. Other wildlife-watching opportunities include sighting moose, bears, wolves, and mountain goats, as well as sea birds. There are day trip and longer cruises to the bay, as well as flightseeing excursions.
Location: West of Juneau
5 Mount Roberts Tramway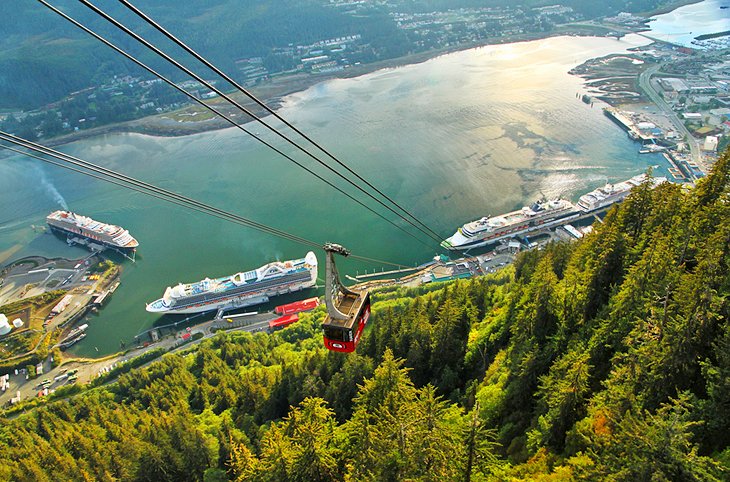 Mount Roberts Tramway
From a base camp near the cruise ship docks, the Mount Roberts Tramway takes you to an elevation of 2,000 feet. At the mountaintop observatory, you find a nature center, restaurant, theater, and gift shop. You can walk the nature trails to take in the views over the Gastineau Channel, or linger for a bald eagle display.
Address: 490 S Franklin St, Juneau
6 Macaulay Salmon Hatchery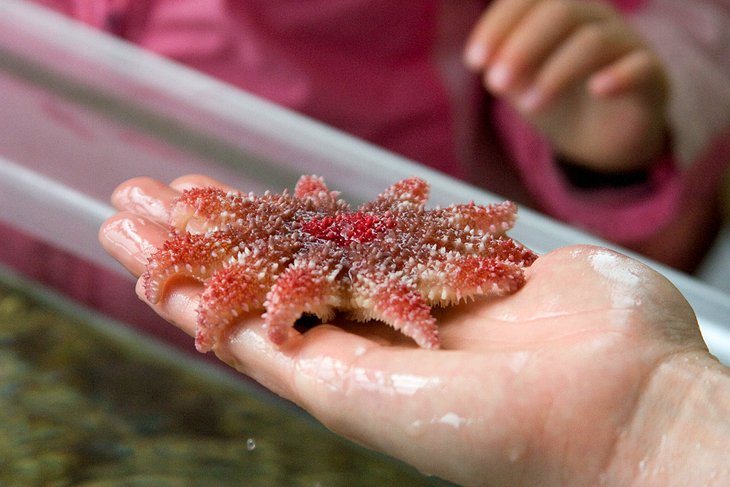 Macaulay Salmon Hatchery Roland Tanglao
Located northwest of town en-route to the Mendenhall Glacier, the Macaulay Salmon Hatchery provides a look underwater with saltwater aquariums and tide-pool touch tanks. The hatchery raises chum, pink coho, and king salmon. And as it is a working operation, you could catch a variety of stages in the lifecycle of Pacific salmon during a guided tour through the facility.
Hours: Open Mon-Fri 10am-6pm, Sat and Sun 10am-5pm (May-Sept), Oct-April by appointment
Admission: Adult $3.25, Child (12 and under) $1.75
Address: 2697 Channel Drive, Juneau
7 Last Chance Mining Museum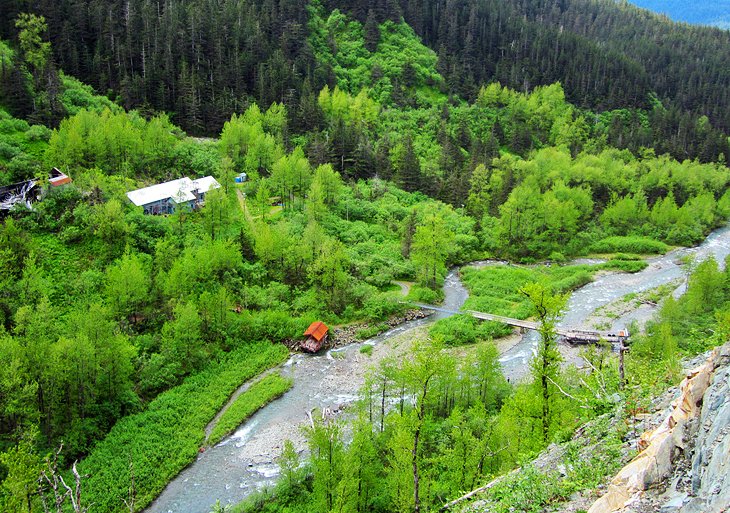 Last Chance Mining Museum dancingnomad3
The Alaska Juneau Gold Mining Company operated on this site from 1912 until 1944, and the location truly looks like an old mine with uneven ground, rusting buildings, and old equipment decaying quietly in the trees. The Gastineau Channel Historical Society operates the museum, maintaining the displays of mining equipment and rail cars.
Of particular interest at Last Chance Mining Museum are one of the world's largest air compressors, built in 1912, and an electric locomotive. The attraction is listed on the National Register of Historic Places. Wear sturdy footwear, and note that the museum is closed during the winter months.
Hours: Open daily 9:30am-12:30pm and 3pm-6:30pm (mid-May to Sept)
Admission: $4
Address: 1001 Basin Rd, Juneau
8 State Capitol Building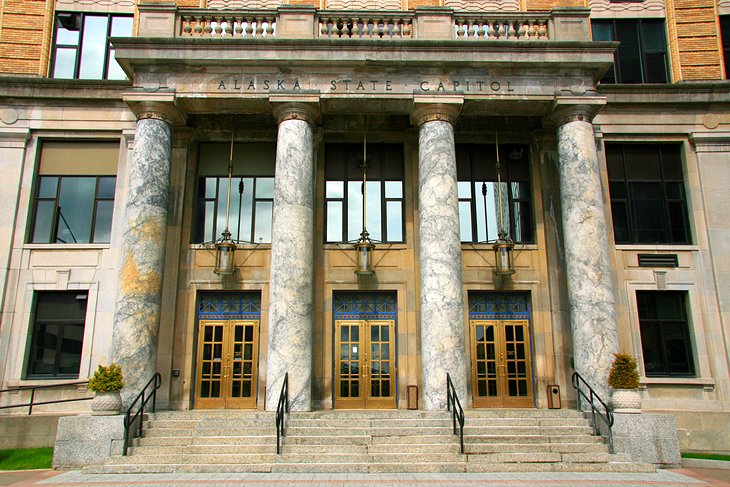 State Capitol Building
When Alaska became a state in 1959, this territorial and federal building became the state capitol building. There are historical photographs, art works, and rooms to discover throughout. Free, guided tours lasting 30 minutes are the best way to explore. After taking the tour, head along Fourth Street and then Calhoun Avenue to see the exterior of the Governor's Mansion.
Hours: Mon-Fri 8:30am-5pm, Sat and Sun 9:30am-4pm (mid-May to mid-Sept)
Admission: Free
Location: Fourth and Main Streets, Juneau
9 Juneau-Douglas City Museum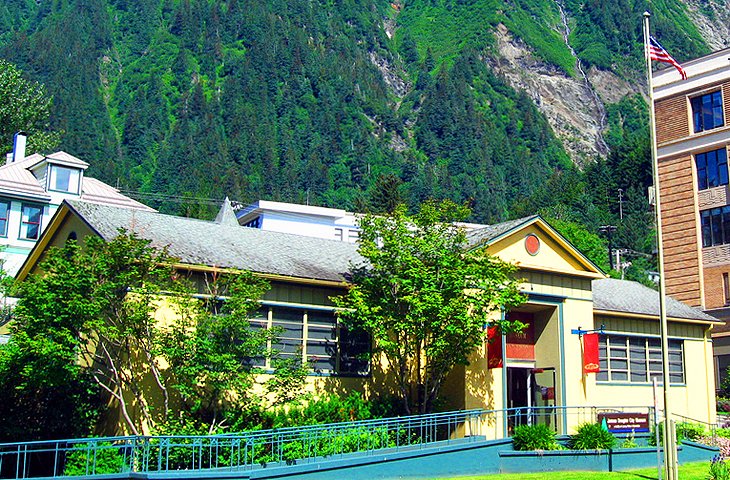 Juneau-Douglas City Museum cubby_t_bear
The Juneau-Douglas City Museum, which neighbors the State Capitol building, offers exhibits on the Tlingit culture, the early gold mining days, and the history of the Juneau-Douglas area. For more sightseeing, the small, steep streets surrounding the museum are lined with old wooden heritage homes and lush gardens, as well as the pretty blue-and-white St. Nicholas Orthodox Church - which dates to 1894.
Admission: $6, free admission in winter
Address: 114 W 4th St, Juneau