10 Top-Rated Tourist Attractions in Anchorage
Surrounded by the Chugach Mountains, Anchorage is Alaska's largest town and commercial center (though much smaller Juneau is the state capital). A fairly modern style pervades in the city, due to a devastating 1964 earthquake. Anchorage appeals to visiting tourists as a good base for excursions inland to Denali National Park, as well as along the fjord-riddled coast. Also within easy reach of the town are Mount Alyeska Resort, which offers skiing throughout the year, the popular Portage Glacier (50 miles southeast), and the Kenai Peninsula.
Alaska's most important traffic hub, Anchorage welcomes many international airlines and has the world's largest seaplane base.
1 Alaska Native Heritage Center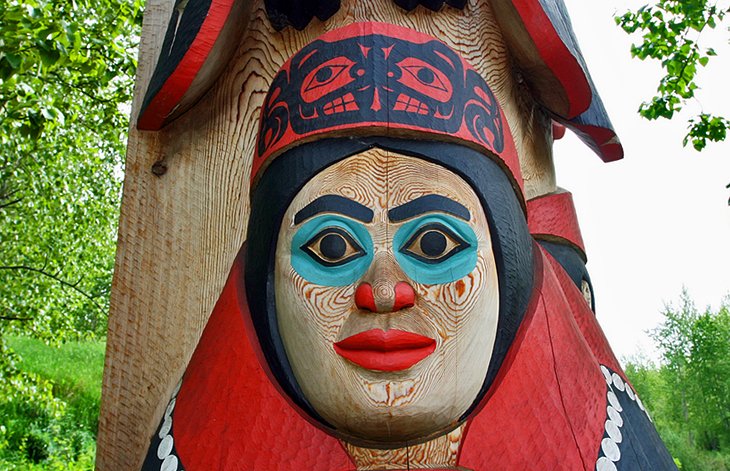 The Alaska Native Heritage Center explores the cultures of the 11 indigenous groups. Six traditional dwellings surround the small Lake Tiulana, with each demonstration village displaying artifacts and offering various experiences. Visitors can take in cultural dances, games, and artist demonstrations, with knowledgeable guides providing details and answering questions. The center also looks at modern times and some of the changes and challenges communities face.
Transportation is available to the center from the Anchorage Museum at Rasmuson Center.
Hours: Open daily, 9am-5pm (mid-May to early Sept)
Admission: Adults $24.95, Children (ages 7-16) $16.95
Address: 8800 Heritage Center Drive, Anchorage
Anchorage City Tour with Optional Alaska Native Heritage Center Upgrade - Viator.com
2 Anchorage Museum at Rasmuson Center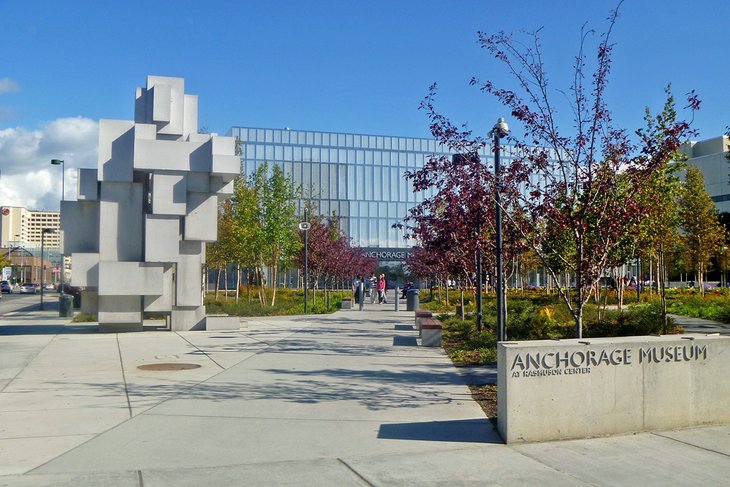 A modern, glass-fronted building houses the expansive Anchorage Museum at Rasmuson Center, which contains a broad range of art and historic items related to Alaska and the arctic. There is also a planetarium, and the museum features numerous traveling exhibits from around the world each year. But even just sitting in the large park in front of the museum is a lovely way to enjoy Alaska's long summer days.
Located on the first floor, the Imaginarium Discovery Center offers hands-on science and technology displays. This is a great outing for families or anyone looking to entertain children for a day.
Hours: Open daily 9am-6pm (May-Sept); Tues-Sat 10am-6pm, Sun noon-6pm (Oct-Apr)
Admission: Adult $15, Children (ages 3-12) $7
Address: 625 C Street, Anchorage
3 Tony Knowles Coastal Trail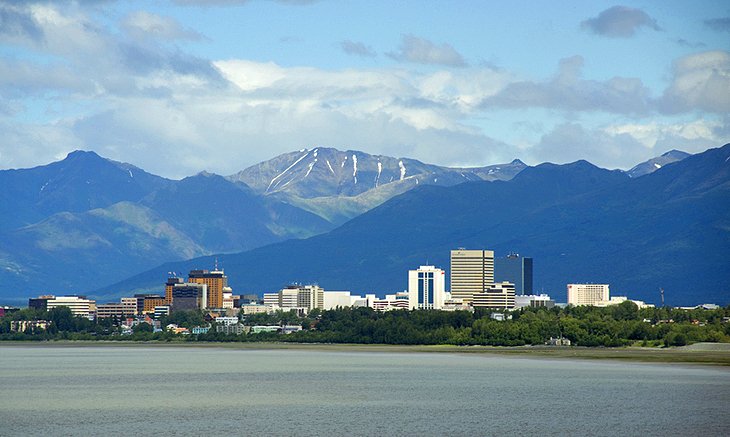 A coastal walking and biking trail trims the Anchorage shoreline, heading southwest from downtown. The route starts near the city's oldest home, Oscar Anderson House, and continues to the somber setting of Earthquake Park - where information panels describe how the 1964 earthquake swallowed stretches of shoreline. The Tony Knowles Coastal Trail ends at the large Kincaid Park, with panoramic mountain views.
4 Chugach State Park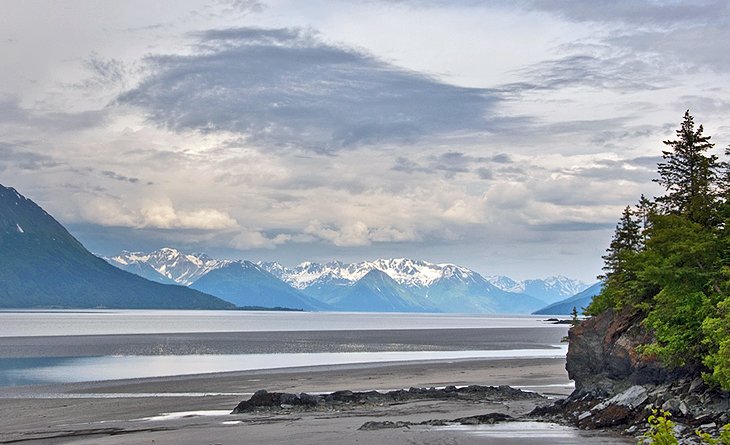 The third largest state park in the United States, Chugach State Park covers 700 square miles. A terrain of mountains, rivers, lakes, and glaciers is home to wolves, moose, bears, beavers, lynx, and other wildlife. It is a popular area for hiking, skiing, and camping. The park meets the saltwater at various points along the Seward Highway, traveling along the shores of Turnagain Arm. The lands adjoin Chugach National Forest, where attractions like the Portage Glacier (in retreat) draw in tourists and cruise-ship visitors traveling between Anchorage and Seward or Whittier.
Address: 18620 Seward Hwy, Anchorage
Snowmobile Tour From Anchorage - Viator.com
5 Rust's Flying Service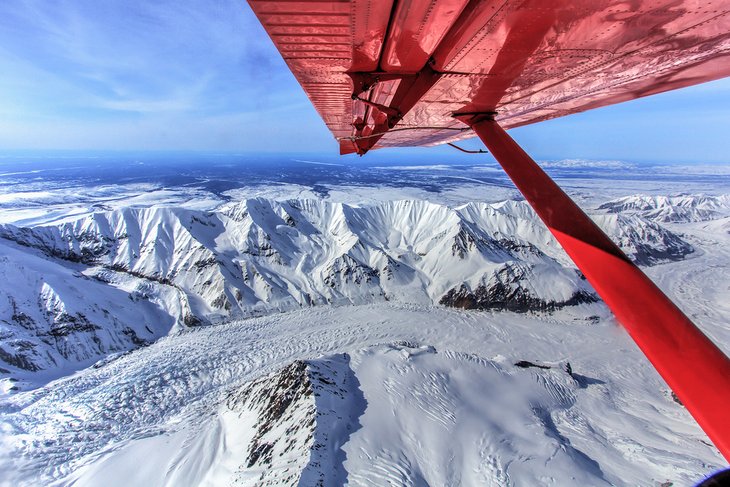 Rust's has been in business since 1963 giving sightseeing seaplane tours to Denali National Park, Lake Clark National Park & Preserve, and over various surrounding glaciers. It has become a bit of an institution in this part of the country. The planes also take visitors to remote Alaska fishing lodges or on wildlife viewing treks to see bears.
For anyone harboring the romantic idea of flying around Alaska in a bush plane, this will surely fulfill that dream. The planes include Cessnas, Beavers, and Turbine Otter seaplanes on floats, and the experience is as much about the flight as the sightseeing. Flights depart from Lake Hood, the world's largest seaplane base, and the Alaska Aviation Heritage Museum is located next door.
Address: 4525 Enstrom Circle, Anchorage
6 Kenai Fjords National Park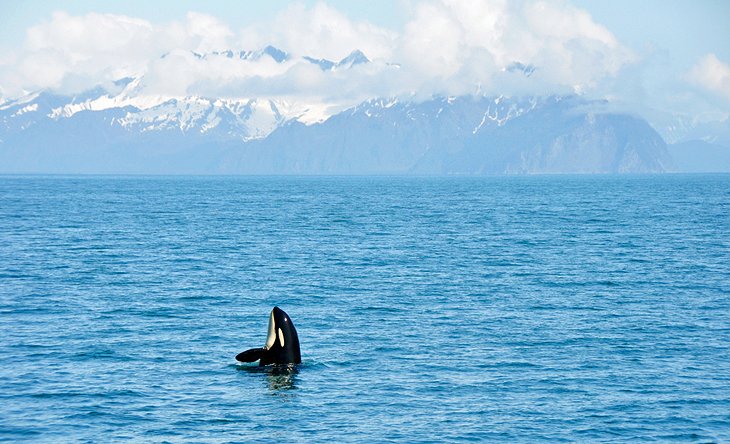 The Kenai Peninsula is known for the glaciers, coastal mountains, and fantastic scenery of Kenai Fjords National Park, which centers on the Harding Icefield. The park covers almost 600,000 acres, but the only area that can actually be reached by road is Exit Glacier. Here visitors can walk on trails near the glacier, or take a guided tour to learn about the ice-shaped landscape. The national park can also be explored by air, boat, or on foot, either on a tour or independently. Hiring outfitters and guides or joining ranger-led programs is often the best way to see and learn about this park. Larger settlements on the Kenai Peninsula included Homer, Seward, and Kenai, and all are easily accessible on Highway 1 or 9.
7 Alaska Zoo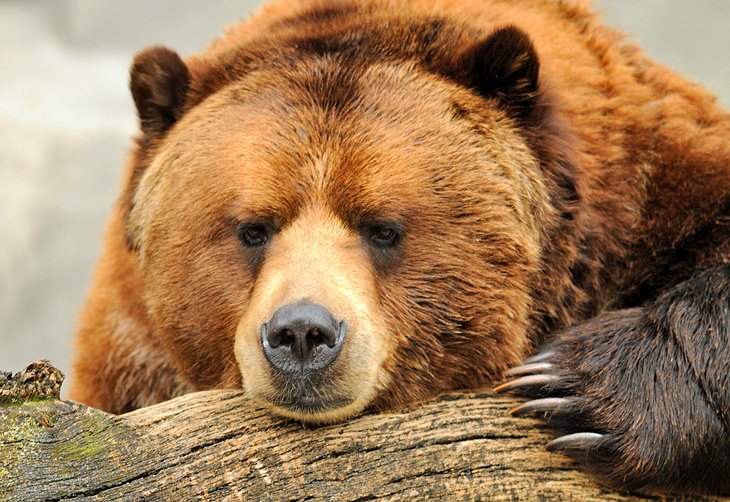 The Alaska Zoo is a 30-acre facility with a variety of native wildlife species including brown bears, wolves, musk oxen, Dall sheep, and reindeer. This Anchorage attraction also has a small collection of exotic animals, including tigers and camels. Visitors can combine a trip to the facility, which is located southeast of the town center, with driving the Seward Highway.
Hours: Open daily, but hours change monthly
Admission: Adults $15, Children (ages 3-17) $7
Address: 4731 O'Malley Rd, Anchorage
8 Alaska Aviation Heritage Museum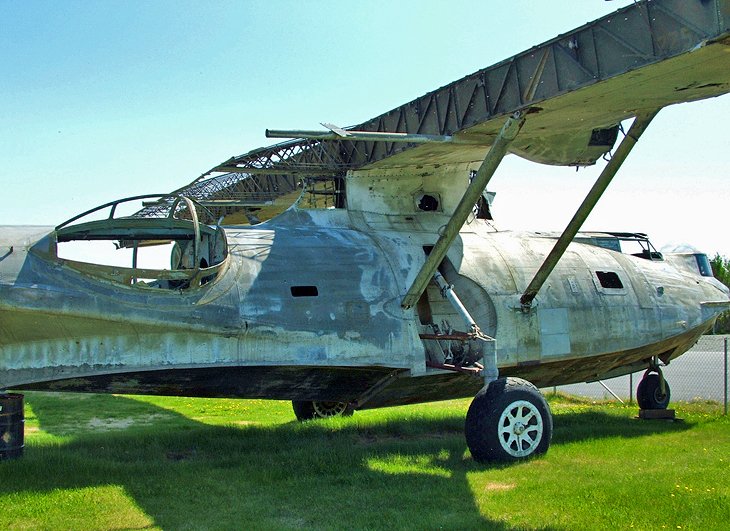 Restored vintage aircraft, photographs, and other related memorabilia are displayed at this museum, honoring the pioneers of Alaska aviation. Best of all, the museum is on the shores of Lake Hood, near both the world's largest seaplane base and the Ted Stevens Anchorage International Airport. The aircraft on display are in various states of repair, with some being no more than a frame.
Hours: Open daily 9am-5pm (mid-May to mid-Sept), Wed-Sat 9am-5pm and Sun noon-5pm (mid-Sept to mid-May)
Admission: Adults $10, Seniors and Students $8, Children (5-12) $6
Address: 4721 Aircraft Drive, Anchorage
9 Seward, Alaska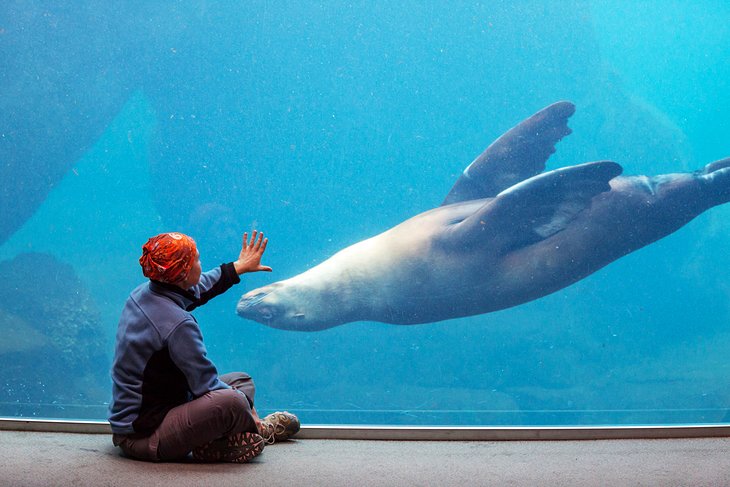 Located south of Anchorage at the northeast end of Resurrection Bay, Seward is the last stop on the Seward Highway. It is a major access point to Kenai Fjords National Park, and a great base from which to explore the surrounding area. From the town, named for William H. Seward - the man responsible for negotiating the purchase of Alaska, visitors can charter boats or planes and arrange fishing, hunting, or sightseeing trips. But the town's chief attraction is the Alaska SeaLife Center, which is home to Steller sea lions, harbor seals, and seabirds. Look for species particular to the Gulf of Alaska like the gangly king crab and impressive Giant Pacific octopus. Seward, a fishing port, is also the terminus of the Alaska Railroad.
Kenai Fjords National Park Cruise from Seward - Viator.com
10 Girdwood, Alaska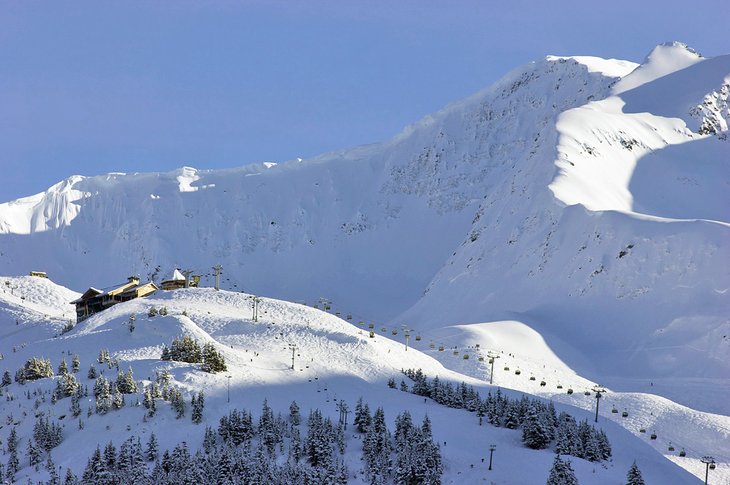 A prosperous gold mining town until the 1930s, Girdwood now finds its wealth in the mountains - specifically Alyeska Resort. After mine closures left the community a virtual ghost town and then the devastating blow of the 1964 earthquake, Girdwood relocated inland. Today the town is primarily a recreation area and known as one of the premier Alaska ski resorts.
Destinations
popular right now