Bilbao Tourist Attractions
Bilbao, lying 14km/9mi from the sea on the Río Nervión, is chief town of the Basque province of Vizcaya and the see of a bishop. It is also Spain's leading port in terms of revenue from goods handled, and the center of a gigantic industrial conurbation.HistoryFrom its foundation in 1300 by Don Diego López de Haro, feudal lord of Vizcaya, Bilbao played an important part in the maritime trade on the north coast of Spain. Iron ore was exported from here to England, and the town's pre-industrial iron and steel industry brought it prosperity. Its rise to become one of Spain's leading industrial centers began in the mid 19th century with the development of industrial smelting of iron ore from the mines in the hinterland. During this period, particularly in the sixties and seventies, large numbers of people came to Bilbao from the poorer country regions in search of work. Heavy rainfall in 1983 led to floods which caused severe damage in the industrial areas.
Industrial Region
The industrial region round Bilbao now extends for some 18km/11mi from Galdácano, to the east of the city, along both banks of the Río Nervión down to its mouth. Within this region there are 28 independent communes, including Barracaldo, Portugalete, Sestao and Las Arenas which have developed into industrial towns and grown together into a conurbation with a population approaching the million mark. The left bank of the river is traditionally dominated by iron and steel, shipbuilding and engineering, to which in recent years the chemical industry and an oil refinery have been added. In this area the blocks of flats in which the workers live are frequently sited next door to the industrial installations. The right bank is less heavily industrialized, with small and medium sized establishments, residential areas and a number of small seaside resorts. Bilbao has become an administrative and banking center.
Harbor
The starting-point of Bilbao's industrial development was the harbor. Ocean-going vessels of up to 4,000 tons can sail inland on the Río Nervión; at the end of the 19th century a deeper outer harbor was constructed at El Abra, in the estuary of the river; and in recent years huge port installations capable of handling vessels of up to 500,000 tons have been built at Punta Lucero and Punta la Galea, far out in the estuary.
Map of Bilbao Attractions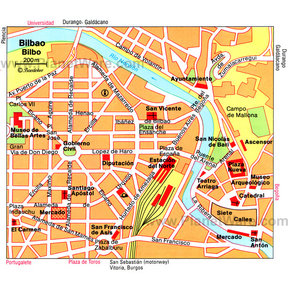 Map - Bilbao