Schloss Mirabell, Salzburg
On the left of Salzburg's Mirabellplatz stands Schloss Mirabell, originally built by Archbishop Wolf Dietrich in 1606 for his favorite, Salome Alt, sumptuously remodeled in Baroque style by J. L. Hildebrandt in 1721-27 and restored in the simpler Neo-Classical style of the period after a fire in 1818; the offices of the Bürgermeister and of the municipality are now housed in the building.
Related Attractions
Schloss Mirabell Grand Staircase
In the west wing of Schloss Mirabell is the marble Grand Staircase of the 18th C. building, with putti and statues by Georg Raphael Donner and his pupils (1726). The Marble Hall (open to the public) is used for concerts and weddings.
Schloss Mirabell Baroque Museum
The Gärtnergebäude ("Gardener's Building") of the Schloss Mirabell 's Orangery now houses the Salzburg Baroque Museum, exhibiting European art of the 17th and 18th C.
Mirabell Gardens
To the south of the Schloss Mirabell stretches the Mirabellgarten (also accessible from the Makartplatz), an excellent example of Baroque landscape gardening laid out about 1690, probably by J. B. Fischer von Erlach, with terraces, marble statues and fountains. The former aviary (Vogelhaus, c. 1700) is now used for exhibitions, and at the southwestern corner of the gardens stands a small open air theater. Adjoining the Mirabellgarten to the west, on an old bastion, is the Bastionsgarten or Zwerglgarten ("Dwarfs' Garden"), with original figures of dwarfs.
Kurgarten
To the north the Mirabellgarten extends into the Kurgarten, on the northern side of which stand the Kongresshaus (accommodation for 2,500 people, restaurant), the Hotel Sheraton and the Paracelsus-Heilbad, with an enclosed swimming pool and Kurmittelhaus (spa treatment). The main railroad station (Hauptbahnhof) lies about 1km/0.75mi to the north.
Map of Salzburg Attractions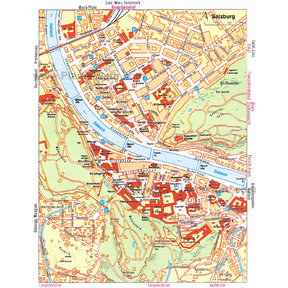 Salzburg Map
More Salzburg Attractions