Vaux-le-Vicomte
6km/4mi northeast of Melun is Vaux-le- Vicomte, one of the finest châteaux in France, which served as a model for the château and park of Versailles.The story of the château began in 1641, when the young Nicolas Fouquet, later Louis XIV's minister of finance, acquired the property. After making a great deal of money by shrewd speculation, he pulled down the old château in 1656 and employed the architect Louis Le Vau, the painter Charles Le Brun and the landscape gardener André Le Nôtre to build a new one.
Important Information:
Address:
Domaine de Vaus-le-Vicomte, F-77950 Paris, France
Opening hours:
Mar 24 to Nov 11:
10am-6pm
Entrance fee in EUR:
Family €39.00, Adult €12.50, Concession or reduced rate €9.90, Grounds / gardens only around attraction €7.50
Useful tips:
Group visits only from November 12 to March 28.
Facilities:
Gift shop, Restaurant or food service
Transit:
Rail service from Gare de Lyon/ Melun.
The magnificent new château, set in a beautiful park, was completed in the relatively short time of five years, costing Fouquet the enormous sum of 10million livres. Three villages had to be removed to make room for the park, and at times there were over 18,000 workers employed on the task. Fouquet's enjoyment of the property, however, was short-lived. Ignoring all warnings, he entertained Louis XIV at a spectacular celebration at Vaux-le-Vicomte on August 17 1661, a lavish event for which Molière had written a new comedy, "Les Fâcheux"; but only three weeks later he was arrested for enriching himself from his office and condemned to imprisonment for life, and Vaux-le-Vicomte was confiscated.The splendor of Vaux-le-Vicomte led Louis XIV to resolve that he must himself possess the finest château in France. For this purpose he took over many of Fouquet's confiscated treasures, including costly vases, statues and even trees and plants. He also took over Le Vau, Le Brun and Le Nôtre, who created for him at Versailles the palace of palaces, the splendid center and symbol of absolutist power.Vaux-le-Vicomte survived the Revolution largely unscathed. Both the buildings and the park were thoroughly restored between 1975 and 1980. Fouquet's private apartments on the upper floor have been largely preserved in their original state. In the basement are the kitchen and the servants' dining room. Le Nôtre's park is a masterpiece of French landscape gardening: the strict regularity of its plan, with main, transverse and diagonal axes, is relieved by elaborate fountains, imposing sculptural groups and over-lifesize statues (e.g. of Hercules). In the old stables is a coach museum.The château is seen at its finest on Saturdays between May and September, when it is illuminated from 8.30pm onwards by over a thousand candles.
Map of Paris Attractions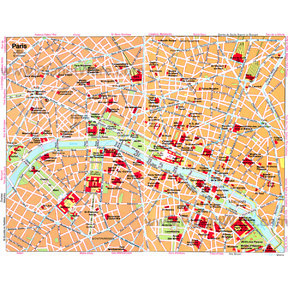 Paris Map