Verdun Tourist Attractions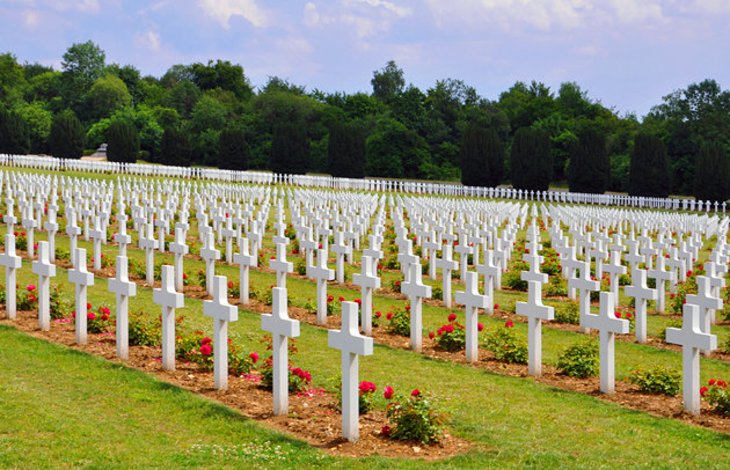 Verdun
The old and much fought-over fortified town of Verdun lies at what is strategically the most important crossing of the Meuse, on the road between the Rhine and Paris.
Victory Memorial
In Rue Mazel, in the center of Verdun, is the massive Victory Monument (Monument à la Victoire et aux Soldats de Verdun, 1929), in the crypt of which is a book containing the names of all those who took part in the fighting.
Cathedral
In Verdun, to the south of the Victory Monument, on the site of an earlier church burned down in 1047, is the Cathedral of Notre- Dame, in the Romanesque style of the Rhineland, with two transepts and two apses. Consecrated in 1147, it was much altered in the 14th C. and again in 1755. It has a fine 12th C. crypt and a Late Gothic cloister (16th C.). On the north side of the church is the beautiful Lion Doorway (12th C.), with a sumptuously decorated tympanum.Immediately adjoining the cathedral is the Bishop's Palace (16th C.), with a cloister; the Palace now houses the Municipal Library.
Citadel
In Verdun, west of the cathedral is the citadel built by Vauban on the site of the abbey of St Vanne, of which only the Tour de St-Vanne (12th C.) is left. Under the citadel is a system of subterranean passages.
Hôtel de la Princerie
In Verdun, north of the cathedral is the Hôtel de la Princerie, a handsome Renaissance mansion (16th C.) which now houses the Municipal Museum (local history and folk art).
War Memorials
In the north of Verdun, in front of the Porte St-Paul, is a fine bronze by Rodin symbolizing the defense of Verdun.On the Quai de la République is a war memorial, and on the opposite bank of the Meuse is the Porte Chaussée, with two round towers (14th C.).Northwest of the Cathedral is the Porte Châtel (15th C.), which also formed part of the town's defenses.On the other bank of the Meuse is the Hôtel de Ville (Town Hall, 1623), which contains a small war museum.
Battlefields
The battlefields of the First World War lie on both sides of the Meuse, but mainly on the right bank.On this bank are the Fort de Vaux, the Fort de Souville (with a memorial to André Maginot, after whom the Maginot Line was named), the Ossuaire de Douaumont (containing the remains of unidentified soldiers), the Fort de Douaumont and the Tranchée des Baïonnettes (the trench in which a whole infantry unit was buried alive).On the left bank are Dead Man's Hill (Mort-Homme), Hill 304 (Cote 304) and the Butte de Montfaucon, which all featured prominently in the fighting.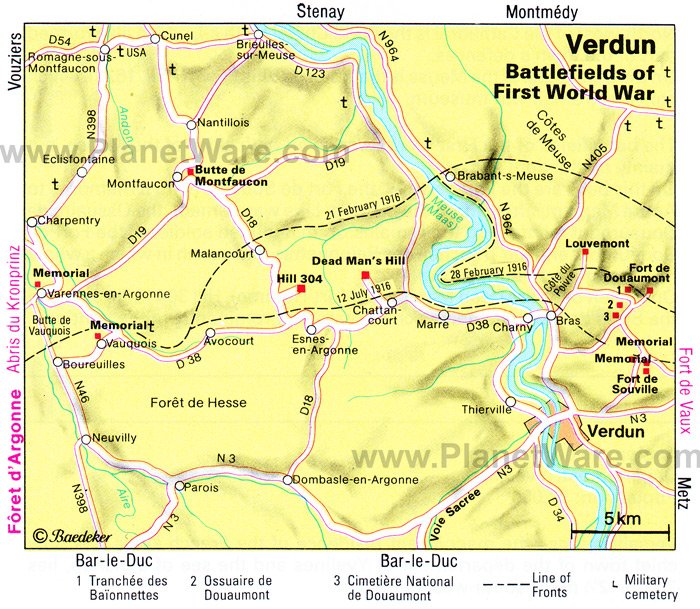 Verdun Map - Attractions
Popular Pages