Loggia dei Lanzi
Also known as the Loggia della Signoria, the Loggia dei Lanzi owes its name to the "Lanzichenecchi", or "Landsknechte", the German lancers stationed here as his guard by Cosimo I. Known too as the Loggia dell'Orcagna (after Orcagna, a major artist and its possible architect), this arcade on Florence's main square was built between 1376 and 1382 under the direction of Benci di Cione and Simone di Francesco Talenti, and it precisely counterpoints the Palazzio Vecchio.
Important Information:
Address:
Piazza della Signoria, I-50100 Florence, Italy
Transit:
Bus: 3, 13, 14, 15, 18, 19, 23, 31, 32.
The arcade, one of the finest examples of Florentine Gothic architecture, was used by the Republic for official ceremonies. This is where ambassadors and princes were received, Priors and Gonfaloniere installed. With the dissolution of the Republic the Loggia lost this political function and assumed a purely decorative role. After it was restored in the last century it resumed its original official use, and is now once again decked out with tapestries and garlands on festive occasions.On the facade above the round arches are panels with allegorical figures of the cardinal and theological virtues, made by various artists to designs by Agnolo Gaddi (1384-1389). On the roof is a terrace from which there is access to the Uffizi Gallery.
Related Attractions
Arcade Interior
The interior of the arcade holds some important works of sculpture. To the right and left of the entrance are two lions, one from classical Greece and the other a 16th century copy (Vacca).Proceeding clockwise, next comes the bronze statue of Perseus by Benvenuto Cellini (1545-1554), an impressive masterpiece because of its delicacy of workmanship and bold composition. In the center of the opposite wall is the "Rape of Polyxena" in marble by Pio Ferdi (1866), followed by classical statues of women along the back wall (very much restored). In the center of the other side is another marble group, Giambologna's "Hercules fighting with Nessus the Centaur" (1599). Another treasure at the front is "The Rape of the Sabine", another forceful marble group by Giambologna (1583). It is said not to have been given this title until later, so the artist was clearly seeking to demonstrate his skill and his art through this theme of young masculine strength, feminine beauty and old age.
More Loggia dei Lanzi Pictures
Map of Florence Attractions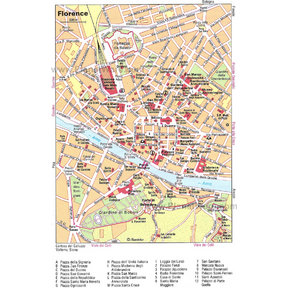 Florence Map
More Florence Attractions