Archeological Museum, Florence
Museo Archeologico Centrale dell'Etruria
This is the most important archeological museum in northern Italy. Founded in 1870 its principal exhibits are finds from the areas of Italy settled by the Etruscans, as well as Egyptian, Greek and Roman antiquities. Collections begun by the Medici family are kept here. It is housed in the Palazzo della Crocetta which was built in 1620 for the Grand Duchess Maria Magdalena of Austria.
Important Information:
Address:
Via della Colonna 38, I-50100 Florence, Italy
Opening hours:
8:30am-2pm; Mon: 2pm-7pm; Tue: 8:30am-7pm; Thu: 8:30am-7pm
Disability Access:
Full facilities for persons with disabilities.
Guides:
Interpretive sessions sometimes available.
Transit:
Bus: 1, 6, 7, 10, 11, 15, 17, 20, 25.
The museum is divided into the Topographical Museum of Etruria, the Egyptian Museum and the Museum of Etruscan, Greek and Roman antiquities (Antiquarium Etrusco-Greco-Romano).Also of interest: the coin rooms with collections of coins minted in Etruria, medieval and modern Roman coins, and Italian coins; the collection of precious stones with gems, cameos and gold and silver articles, and the collection of vases with the famous "Françoise Vase", by Klitias from the studio of the Greek Ergotimos (sixth century B.C.).Also worth seeing are the Etruscan Gallery of Plaster Casts, the Gallery of Etruscan Painting, the collection of hieroglyphics begun by Lorenzo de'Medici (the Magnificent) and the pre-historic department.
Archeological Museum Highlights
Museo Topografico dell'Etruria
The Topographical Museum in Florence has a collection of finds from Etruria which provide a good illustration of the highly civilized and cultured life of the Etruscans (brightly colored sarcophagus of the Larthia Seianti, between 217 and 147 B.C., from Martinella near Chiusi). In the garden can be seen reconstructions of graves and funerary monuments.
Egyptian Museum
The Egyptian Museum, which ranks second in importance to the one in Turin, has statues, busts, ceramics, reliefs, sarcophagi, mummies, pictures and utensils from various Egyptian dynasties, including a very well-preserved wooden chariot (from the time of Rameses I, 14th century B.C.).
Antiquarium Etrusco-Greco-Romano
The Etrusco-Greco-Romano department has displays of Etruscan urns and sarcophagi, including the Ramta Uzenai marble sarcophagus from Tarquinia; Etruscan, Greek and Roman bronzes, including the famous "Idolino" - the Greek statue of an ephebe, a young man undergoing military training (fifth century B.C.), the "Horse's Head" - a Greek bronze from the Roman period, the "Chimaera" - an Etruscan bronze with the body of a lion, the head of a ram and a serpent's tail, the "Orator" (dedicated to Aulus Metellus, third century B.C.), and a statue of Minerva, a copy of a Greek work and found in Arezzo in 1554.
Map of Florence Attractions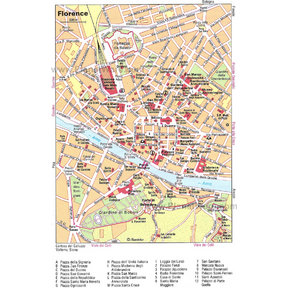 Florence Map
More Florence Attractions