11 Top-Rated Tourist Attractions in Lille
We may earn a commission from affiliate links ()
A worthwhile detour between Paris and Brussels leads to Lille, the historic capital of Flanders (a medieval principality that encompassed part of northern France, as well as Belgian and Dutch provinces). The Flemish influence is still seen in the city's distinctive Baroque architecture and hearty cuisine.
Lilloise gastronomy incorporates typical Belgian dishes, and unique local specialties like "waterzo"" (fish or poultry in cream sauce with vegetables) and "potjevleesch" (potted meat terrine).
When visiting Lille, the most enjoyable things to do include wandering the cobblestone pedestrian streets of Vieux Lille (the old town), stopping at cozy cafés, and discovering the cultural attractions. A world-class fine arts museum, the avant-garde cathedral, and Charles de Gaulle's birthplace are among the highlights.
With its interesting sights, pleasant city center, and friendly atmosphere, Lille is a vibrant urban destination without any pretensions. Plan your visit to the city with our list of the top attractions in Lille.
See also: Where to Stay in Lille
1. Place du Général de Gaulle (Grand Place)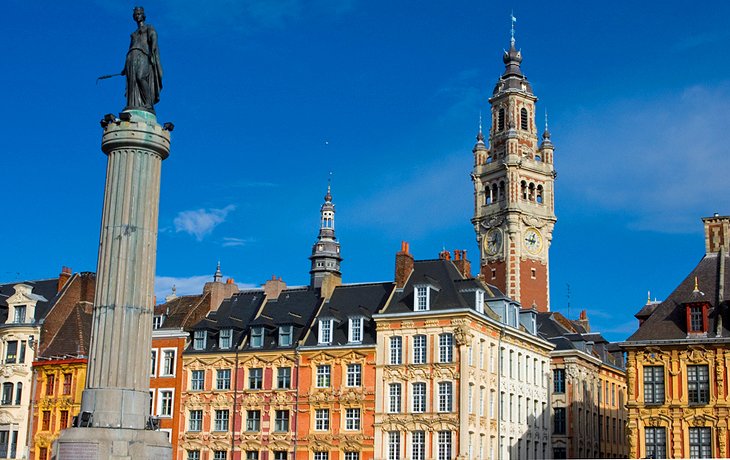 The bustling main square of Lille, the Place du Général de Gaulle is surrounded by stately Renaissance and Baroque Flemish buildings with Neoclassical facades. Also known as the Grand Place, the square is a favorite meeting place for Lillois. This center of social activity is filled with cafés and brasseries.
In the middle of the square, the bronze Goddess monument commemorates Lille's resistance to the Austrian siege of September 1792. The Goddess holds a linstock used to light the fuses on cannons. On the base, an engraved inscription reads: "The courageous response of the Mayor of Lille, André, who refused to surrender the besieged city." The Goddess was sculpted in 1845 by Théophile Bra, who also created bas-reliefs on the Arc de Triomphe in Paris.
On the south side of the square is one of Lille's most beautiful buildings, the Vieille Bourse (Old Stock Exchange), which was established in 1652. The Vieille Bourse is 24 houses that surround an arcaded courtyard (a market for used books is held here). Exemplifying ornate Flemish Baroque style, the courtyard features a monument to Napoleon I at the center.
Also found on the Place du Général de Gaulle is the Grand Garde, former housing for sentry guard soldiers. The Grand Garde has been converted to the Théâtre du Nord.
2. Palais des Beaux-Arts (Fine Arts Museum)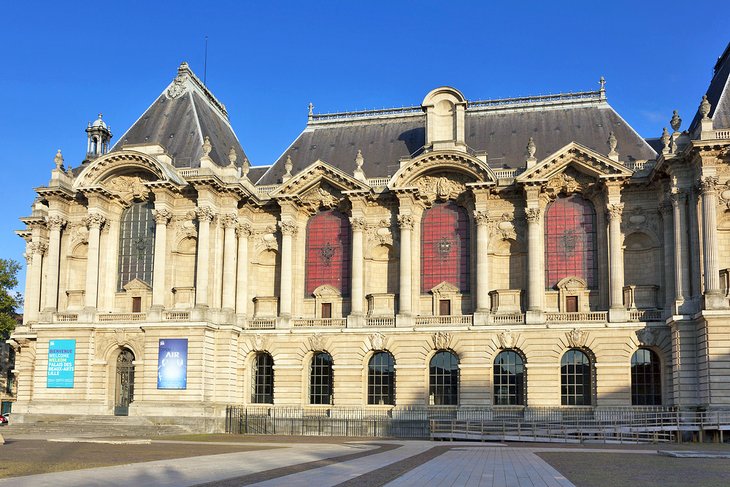 One of the essential things to do in Lille is visit the Palais des Beaux-Arts, considered the second most important museum in France after the Musée du Louvre in Paris. Renowned for its size and quality, this prestigious art collection is housed in an impressive building with a spacious and bright atrium.
The museum displays an exceptional collection of European paintings by the Old Masters, including Rubens, Van Dyck, Goya, Delacroix, and David. There are also wonderful examples of 19th- and 20th-century French paintings, as well as Impressionist art, an antiquities collection, and a sculpture gallery with pieces by Rodin and other artists.
Those who appreciate military history will enjoy the 18th-century relief maps of fortified towns in Northern France and Belgium (which were used by French Kings during wars).
Address: Place de la République, Lille
Official site: http://www.pba-lille.fr/en
3. Musée du Louvre-Lens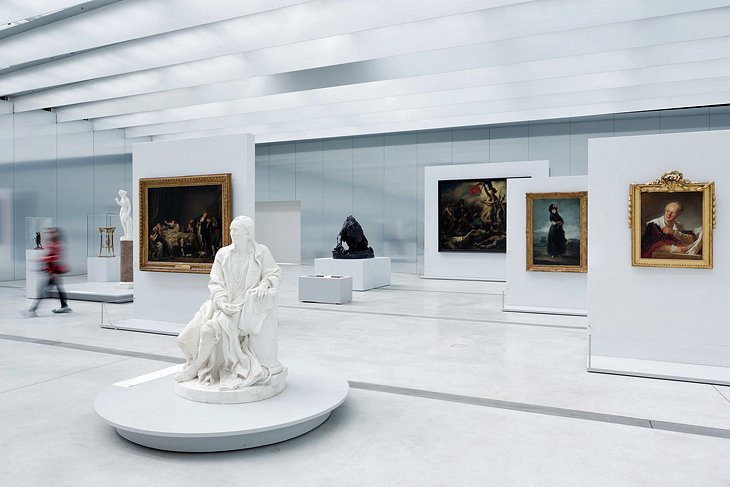 The Musée du Louvre-Lens is a sleek contemporary museum located in a park that was formerly a coal mining site. The Louvre-Lens Museum boasts a rotating exhibit of artworks (exhibitions are updated on a regular basis) loaned from the Musée du Louvre in Paris and has become a prestigious cultural attraction in the Nord-Pas-de-Calais region.
In a dazzling wide-open gallery space of 3,000 square meters, the Galerie du Temps presents a chronological exhibition of more than 200 Louvre masterpieces. The artworks are arranged in a novel way, with multidisciplinary exhibits that show the evolution of art through different periods of history, from antiquity to the modern era.
For art lovers, the Musée du Louvre-Lens is a worthwhile excursion from Lille that takes about 30 minutes by car or about one hour by train (plus a 25-minute walk from the train station to the museum). There is a regular shuttle bus service from the Lens train station to the Louvre-Lens Museum.
Official site: http://www.louvrelens.fr/en/home
4. Lille Métropole Musée d'Art Moderne, d'Art Contemporain et d'Art Brut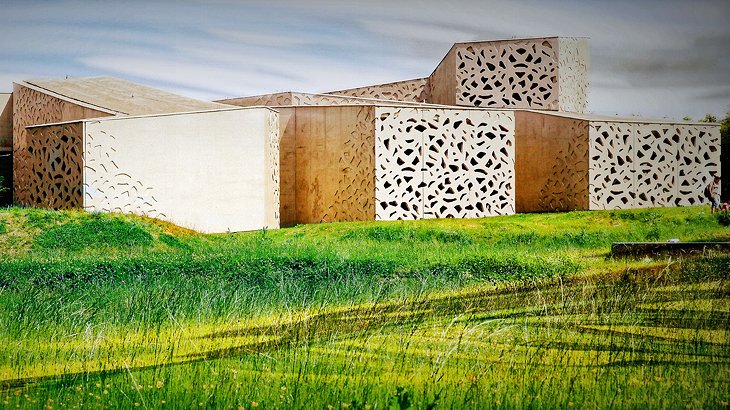 About 12 kilometers northeast (a 20-minute drive) from Lille is Villeneuve d'Ascq, renowned for this prestigious museum of modern art. The Lille Métropole Musée d'Art Moderne, d'Art Contemporain, et d'Art Brut has one of the most comprehensive collections of modern (20th-century) and contemporary (21st-century) art in France.
The museum displays more than 7,000 works in 4,000 square meters of exhibition space. The exhibits include works by famous artists such as Braque, Kandinsky, Klee, Miró, Modigliani, and Picasso.
Lush parkland surrounds the museum, including a pathway overlooking a series of art installations. Visitors will enjoy taking a stroll through the grounds while admiring the monumental sculptures by Alexander Calder and Picasso, among others. The museum also has a café with a delightful shaded outdoor terrace.
Address: 1 allée du Musée, 59650 Villeneuve d'Ascq
5. Musée de l'Hospice Comtesse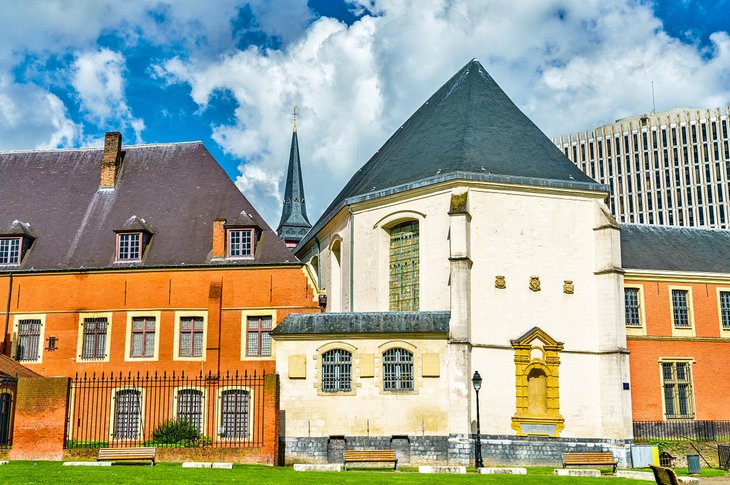 In the heart of the old town, the Musée de l'Hospice Comtesse occupies a medieval hospital founded in 1237 by the Countess Jeanne de Flandre. The countess built the hospital in a wing of her own palace, which was later used by Augustine nuns. The hospital remained in service until 1939, and the property was converted to a museum in 1962.
The museum grounds include buildings dating to the 15th through 18th centuries: the old hospital ward, convent buildings, and a chapel that belonged to nuns. The buildings are arranged around two courtyards and a garden where medicinal plants were grown.
A visit to this museum allows tourists to admire a collection of tapestries, sculptures, and porcelain from the 17th-century Flemish convent. The museum occasionally hosts temporary exhibitions of contemporary art.
6. Eglise Saint-Maurice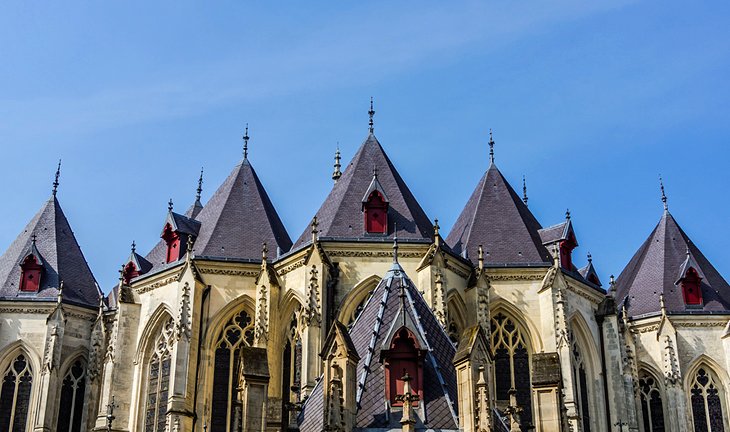 The Eglise Saint-Maurice is a beautiful Gothic church that was founded in the 14th century. The church has been renovated several times, as recently as the 19th century, yet has retained a sense of architectural unity. With its tower on the facade, the building is an example of an "Hallekerque" (barn-like church), a type of structure adapted to the fragile, marshy soil of Flanders.
The Saint-Maurice Church is also distinguished by its harmonious interior featuring five aisles and 36 tall columns. The sanctuary is decorated with 17th- and 18th-century paintings by Lille artists.
Another interesting church nearby is the Eglise Sainte-Catherine on Rue Royale, which is lined by lovely historical buildings. This 15th-century Gothic church boasts an exceptional painting, the Martyrdom of Saint Catherine by Rubens, in the north aisle.
At the other end of Rue Royale is the Eglise Saint-André. This 18th-century church was built for the Order of Carmelites.
Address: Rue de Paris, Parvis Saint-Maurice, Lille
7. Rang du Beauregard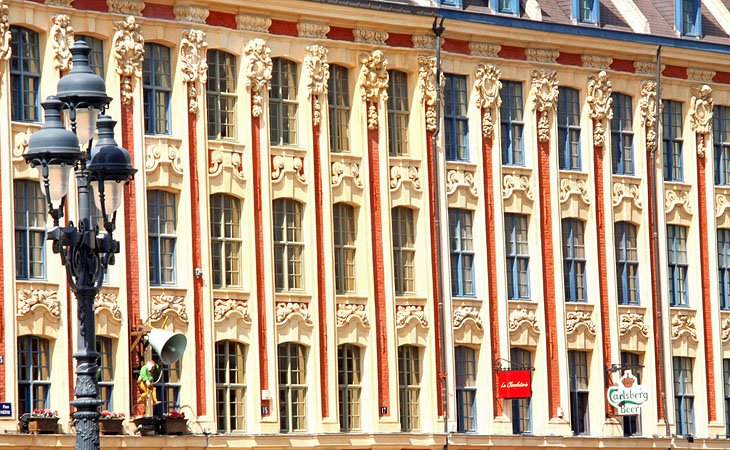 The elegant 17th-century buildings of the Rang du Beauregard stand resplendent on the Place du Théâtre opposite the Vieille Bourse. The row of houses was created in 1687 by Simon Vollant based on guidelines from the City Council of Lille to achieve uniformity of architecture in the city center. The buildings were required to conform to specific design standards aligning with the Vieille Bourse.
Builders had to follow a blueprint of three floors with an attic above and were only allowed to use stone and brick. The buildings feature simple classical lines with decorative cartouches such as scrolls, cornucopias, and angels.
The Rang du Beauregard exemplifies Lilloise Neoclassical Baroque style and is intertwined with the history of Lille. In the facades are cannonballs from the 1792 Siege of Lille by the Austrians.
Address: Place du Théâtre, Lille
8. Cathédrale Notre-Dame de la Treille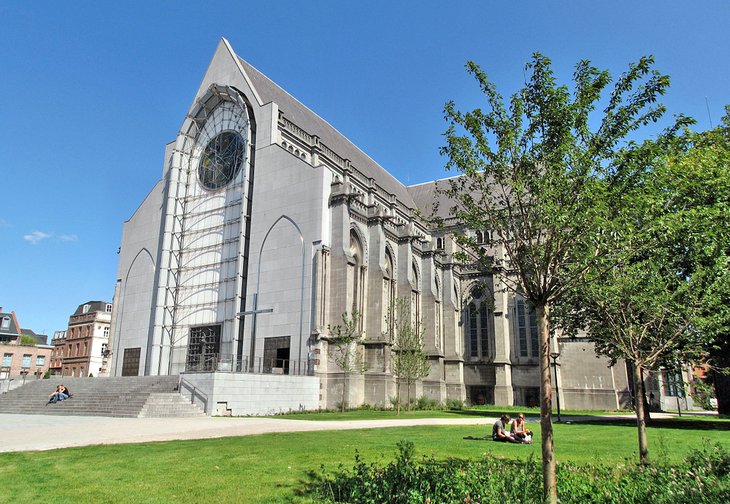 Built in 1854, the Cathédrale Notre-Dame de la Treille is a Neo-Gothic structure with surprising details. The somber contemporary-style facade (completed in the 1990s) features an arched "veil" of translucent pink marble with a modern rose window at the center. Unique in architectural style, the facade creates a striking impression and brightens the sanctuary.
The cathedral takes its name from a medieval statue of the Virgin Mary ("Notre-Dame de la Treille") that was protected by a wrought-iron gate (trellis). This statue was considered to have miraculous powers and for centuries was venerated by pilgrims from all over Europe. Saint Louis (King of France) made a pilgrimage here in the 13th century.
A short stroll north of the cathedral is the Eglise Sainte-Marie-Madeleine. Built in 1675, this church boasts an attractive Baroque design and an impressive 50-meter high dome; the facade dates from 1884.
Address: Place Gilleson, Lille
9. Maison Natale Charles de Gaulle (Charles de Gaulle Museum)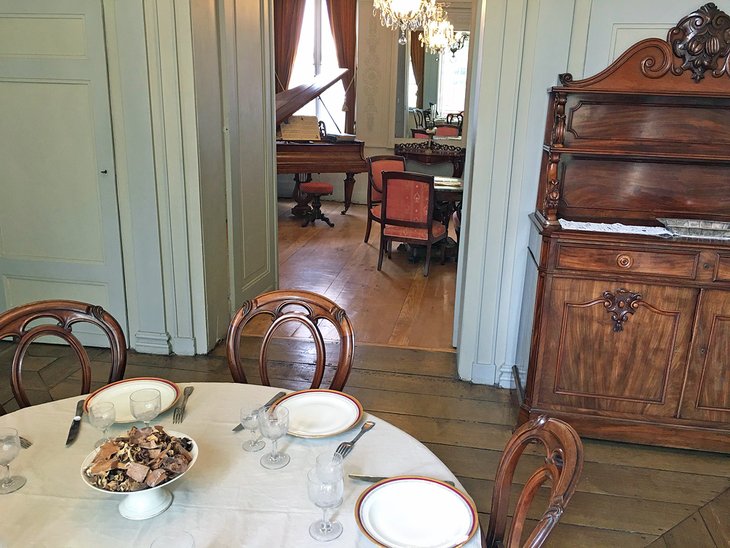 One of France's greatest statesmen, Charles de Gaulle was born in Lille on November 22, 1890 and baptized at the nearby Saint-André Church. His birthplace and childhood home on 9 Rue Princess is listed as a Historic Monument. The home has been restored and converted into a museum.
Visitors can tour the home to view a collection of family mementos and other personal items including Charles de Gaulle's cradle, his christening robe, and a Saint-Cyr sword from his youth. A multimedia center provides a historic overview of Charles de Gaulle's life and accomplishments.
Address: 9 Rue Princess, Lille (Take Bus 14 or 50 to Les Bateliers stop)
10. Lille Flea Market (Braderie de Lille)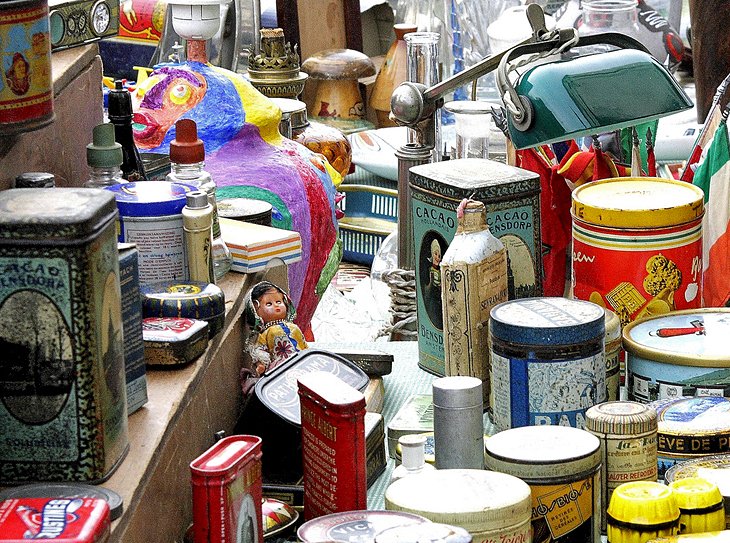 Lille is one of the best places to visit in Europe for flea market shopping. The city's famous and well-attended annual event, the Braderie de Lille, takes place the first weekend of September from Saturday morning until Sunday evening.
The "braderie" (French for "low-price sale") has been a tradition in Lille since the 12th century. The first flea market was held in 1127. By the 16th century, the braderie became a larger event with more participants, including servants who sold used items from the estates where they worked.
More than 10,000 exhibitors sell their wares at open-air market stalls placed throughout the city. Items for sale include books, old records, vintage porcelain, antique silverware, clothing, jewelry, artisan crafts, and artwork.
Beside the flea market, there are concerts and soirées, which give the event a festival-like ambience. The Braderie de Lille draws huge crowds and features a food and drink fair plus carnival rides. Tourists will enjoy the local street food, including mussels, French fries, grilled fish, and other regional specialties.
11. Musée d'Art et d'Industrie André Diligent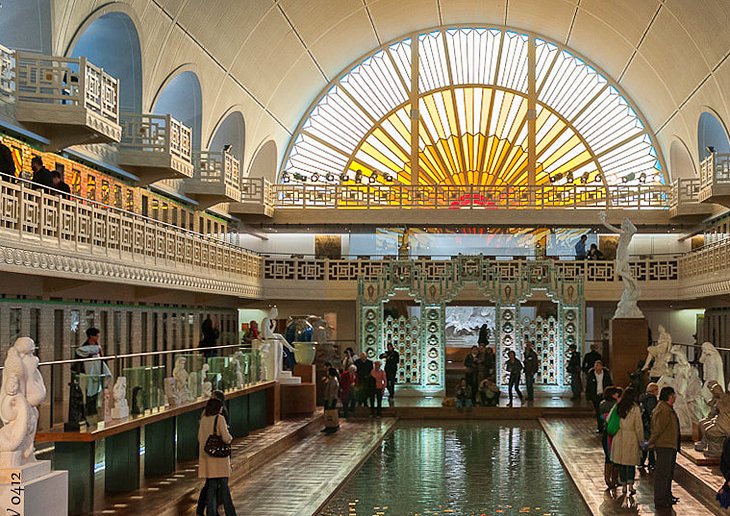 This exceptional modern art museum surprises visitors with its unexpected venue: the former Art Déco swimming pool in Roubaix, 15 kilometers from Lille. Although no longer used for swimming, the pool provides a unique setting for the museum's collections.
Galleries of art on three floors display a wide variety of artworks. An interesting assortment of ceramics by Picasso, Dufy, and Chagall (among others) adorns the area around the pool. Not to be missed are the 19th- and 20th-century paintings by Ingres, Vuillard, Bonnard, Vlaminck, Mondrian, and Dufy in the Fine Arts collection.
After viewing the artwork, visitors may enjoy a casual meal or refreshments at the restaurant. On sunny days, it's especially pleasant to sit at the restaurant's outdoor terrace with garden views. The museum's boutique offers a selection of books, postcards, games, and jewelry.
Address: 23 Rue de l'Espérance, 59100 Roubaix
Where to Stay in Lille for Sightseeing
Most tourists prefer to stay in the historic center of the city, known as Vieux Lille. This area is the best place to experience Lille's old-world charm and vibrant urban energy. Vieux Lille also includes many of the top tourist attractions, such as the Grand Place, Eglise Saint-Maurice, Rang du Beauregard, Musée de l'Hospice Comtesse, and Palais des Beaux-Arts. Close to these landmarks are these highly rated hotels in Lille:
Luxury Hotels: Near the Palais des Beaux-Arts, the five-star L'Hermitage Gantois Autograph

Collection

provides charming accommodations in a renovated 15th-century building; some rooms have fireplaces and wood-beamed ceilings. Amenities include gourmet dining options, a spa, an indoor swimming pool, and a courtyard garden.

A short walk from the Grand Place is the Best Western Premier Why

Hotel

. This four-star hotel features spacious guest rooms with stylish decor and Nespresso coffee machines.

Sumptuous old-fashioned decor is enhanced with contemporary touches at the elegant Grand Hotel

Bellevue

. Some of the guest rooms feature splendid views of the Grand Place.
Mid-Range Hotels: A short walk from the train station, the Ibis Styles Lille Centre Grand

Place

offers contemporary-style accommodations with plush bedding. A generous breakfast buffet is included.

The Novotel Lille Centre Grand

Place

features modern guest rooms and a convenient location, within easy walking distance to the Grand Place and the restaurants and shops of Vieux Lille.

The Holiday Inn Express Lille

Centre

is just steps away from the Palais des Beaux-Arts museum, a 10-minute walk to Grand Place, and a 20-minute walk to Vieux Lille. This sleek contemporary-style hotel has a snack bar and also offers meal delivery from off-site restaurants.
Budget Hotels: On a pedestrian street between Grand Place and Palais des Beaux-Arts museum, the family-owned Kanai

Hotel

offers cozy guest rooms at an affordable price. Some rooms feature rooftop views. Stairs provide the only access to rooms; there is no lift.

About a 10-minute walk from the Musée de l'Hospice Comtesse, the Ibis Budget Lille

Centre

provides basic guest rooms at a great price. A breakfast buffet is available.
Tips and Tours: How to Make the Most of Your Visit to Lille
Guided Tour by Bus: For an easy way to experience the top attractions in the city, sign up for the Lille City Sightseeing

Tour

. This 75-minute tour takes you to see the highlights of Lille by minibus, including the Grand Place, the Palais des Beaux-Arts, and the old town. Along the way, you will learn about the city from the informative audio-visual guide.
Lille City Pass: If you prefer to explore the city on your own, the Lille City

Pass

is an excellent option. The pass allows free admission to Lille museums, including the Palais des Beaux-Arts, the Musée de l'Hospice Comtesse, and the Maison Natale Charles de Gaulle, as well as the modern art museums in Villeneuve d'Ascq and Roubaix. The pass also includes free rides on public transportation and restaurant discounts.
More Related Articles on PlanetWare.com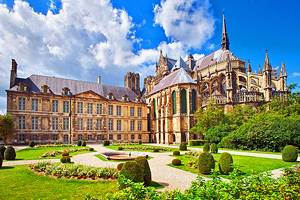 Nearby Places to Visit: For many tourists, a visit to Lille is taken as a day trip from Paris or as a detour on the way to Brussels, the capital city of Belgium. Within France, the peaceful countryside and historic attractions of the Champagne region are easily accessible from Lille in less than two hours by train or car. The lively city of Amiens, in France's Picardy region, is less touristy but worth the trip (about 90 minutes by train or car).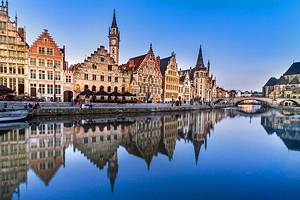 Charming Towns in Belgium: Lille could also be incorporated into various vacation itineraries, such as a tour of Belgium's highlights: The picturesque old city of Ghent is just over an hour away by train; the dreamy medieval city of Bruges is two hours away by train; and bustling Antwerp, rich in culture and history, is also just over two hours away by train.