Top-Rated Tourist Attractions in Veszprem
The "town of queens" lies on the southeastern foothills of the Bakony Forest, about 15km (9mi.) distant from the northeast bank of Lake Balaton.
Castle Quarter
The well preserved Castle Quarter contains many of Veszprém's key attractions. Within the walled area are the Bishop's Palace, Gisela Chapel, St Michael's Cathedral, and several other important buildings.
Ováros tér
Directly below the castle is the square surrounded by attractive patricians' houses. Of interest are the so-called Pósa House (No. 3), from 1793, in 18th C plait style and some art nouveau houses with unusually fine traditional decor. At the beginning of Vár tér, which leads to the castle, is the 48m (157ft) high fire tower (upper part 19th C.)
Szent István Bridge
The 50m (164ft) high viaduct over the Séd valley was constructed in 1938 to a design by Róbert Folly and is regarded as an important technical achievement. The view encompasses the castle in the east, the Betekints valley in the west and the peaks of the Bakony in the north.
Bakony Museum
The Bakony Museum near Megyeház tér chronicles the history of the region. Directly next to the museum is a small farmhouse with a typical pergola and original features.
Municipal Theatre
The municipal theater stands on one of the main arteries into the town, an unusual art nouveau building. It was built in 1908 by István Medgyaszay, a student of the Viennese art nouveau architect Otto Wagner.
Veszprém Wildlife Park
Below the viaduct in a side corridor of the Betekints valley there is the 100ha (247 acre) Veszprém wildlife park. One of its attractions is the large aviary where the birds are free to fly among the visitors.
ENLARGE MAP
PRINT MAP
EMBED < >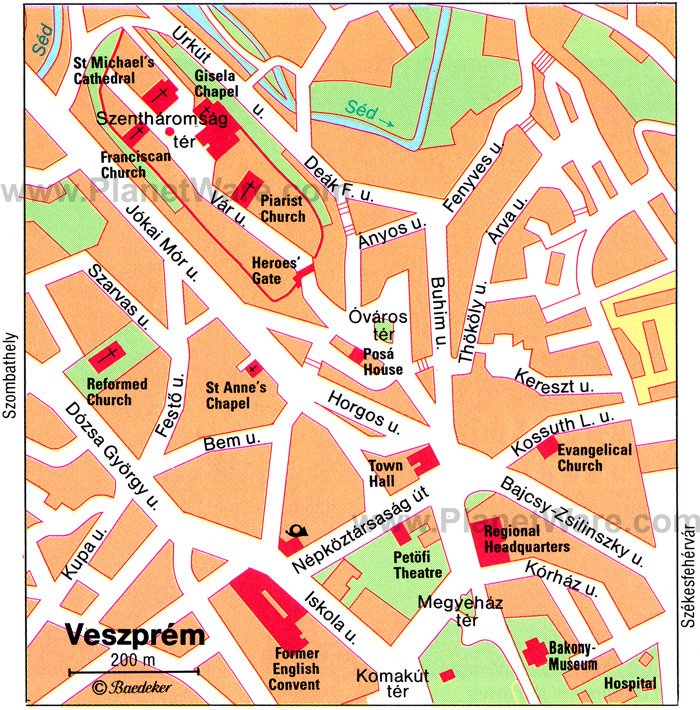 Veszprem Map - Attractions
Sightseeing Nearby: