10 Top Tourist Attractions in Graz & Easy Day Trips
Austria's second largest city, Graz lies on the River Mur and has long been a popular stopover for tourists. Highlights include exploring its many historical buildings, particularly in the Old Town with its numerous Baroque façades. Another big draw is the Schlossberg, a large hill that rises behind the picturesque town. While excavations reveal the area was settled as far back as 800 AD, the town was first mentioned in 1128, after which time it passed into the hands of the Habsburgs and soon after rose in importance as a place of trade and commerce. Many of the surviving buildings were influenced by Italian architectural styles, including Schloss Eggenberg. As a result of this abundance of historically significant buildings, Graz is today an important cultural center that was added to the list of UNESCO World Heritage Sites in 1999. Graz is the birthplace of Hollywood legend Arnold Schwarzenegger, and a fun little museum dedicated to his career is well worth a visit.
1 Old Town Graz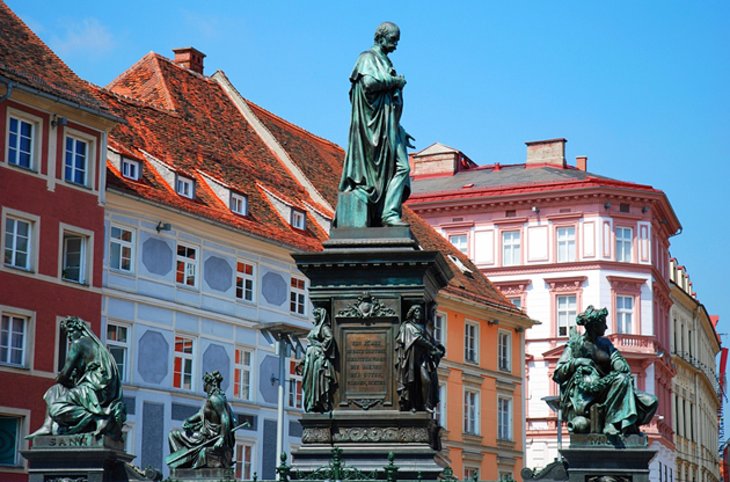 A fun place to explore on foot, the historic Old Town center of Graz became a UNESCO World Heritage Site in 1999 due to its historical architecture. Highlights include the Hauptplatz, the Main Square, on the left bank of the River Mur with its fine statue of Archduke Johann (1782-1859) who did much to bring industry to the region and improve communications and trade. Also of note are the Town Hall (Rathaus), built in 1893, and the 17th-century Haus am Luegg with its attractive arcaded and stucco-decorated facade. To the west of the Main Square is the Gothic Franciscan Church (Franziskanerkirche), notable for its west tower from 1643 and its Late Gothic nave with a ribbed, vaulted ceiling. The church's Chapel of St. Anthony, separated from the main building by a Baroque grille from 1650, is worth seeing for its pietà from 1720. Other Old Town attractions include the Graz Municipal Museum (Stadtmuseum Graz), the Mohren Apotheke's Theriak Museum dedicated to old pharmaceutical practices, and the Robert Stolz Museum, honoring the famed Austrian composer born here in 1880. Finally, be sure to stroll along the Herrengasse pedestrian precinct with its many handsome old mansions, including the lovely Painted House (Gemaltes Haus) with its frescos from 1742.
2 Editor's Pick The Styrian Armoury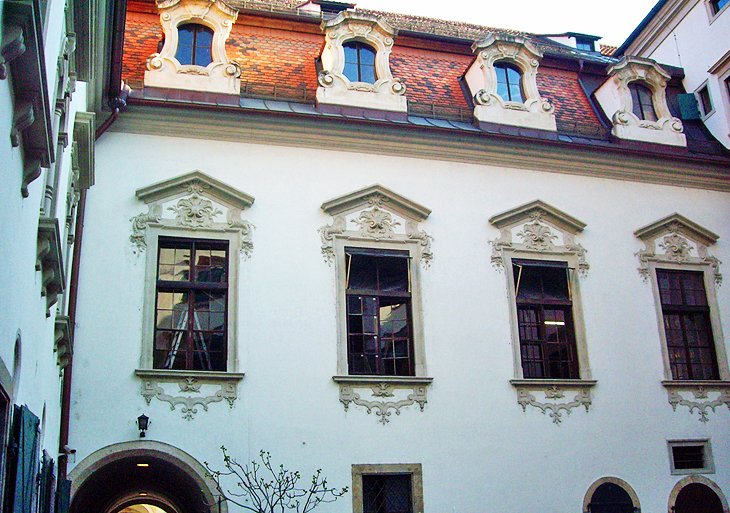 On Graz's Herrengasse, the Styrian Armoury (Landeszeughaus) has been home to the provincial arsenal since 1644. Highlights include the building's unique collection of perfectly preserved 17th-century arms and armor, including items from the time of the Turkish wars. All told, there's enough equipment here to fully equip and arm up to 28,000 men, including armor, helmets, and weaponry, as well as early muskets and pistols.
Address: Herrengasse 16, 8010 Graz
3 The Landhaus and Courtyard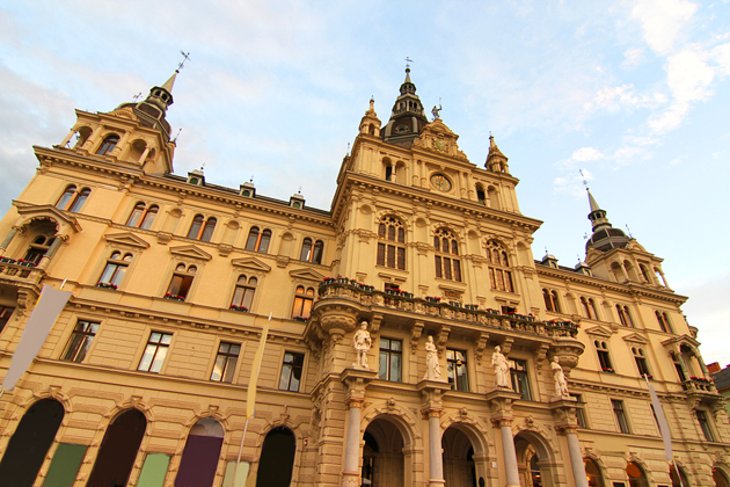 In the heart of Graz's pedestrian-friendly Old Town stands the majestic Landhaus, home to the Styrian provincial government. Built in Renaissance style in 1565, it's widely regarded as one of the finest such buildings in Austria. Passing through the splendid main façade, dominated by rounded windows and a loggia, you'll end up in the superb arcaded courtyard with its three-storied pergolas on two sides and a beautiful Renaissance fountain (if possible, try to time your visit to coincide with one of the regular outdoor concerts or theatrical performances held here). Interior highlights include the sumptuous Knights' Hall with its exquisite stucco ceiling from 1746. Another government building to visit is Graz Burg, an old palace famous for its 15th-century double spiral staircases (the Staircase of Reconciliation), which meet on each floor, creating a bizarre optical illusion.
Address: Herrengasse 16, 8010 Graz
4 The Natural History Museum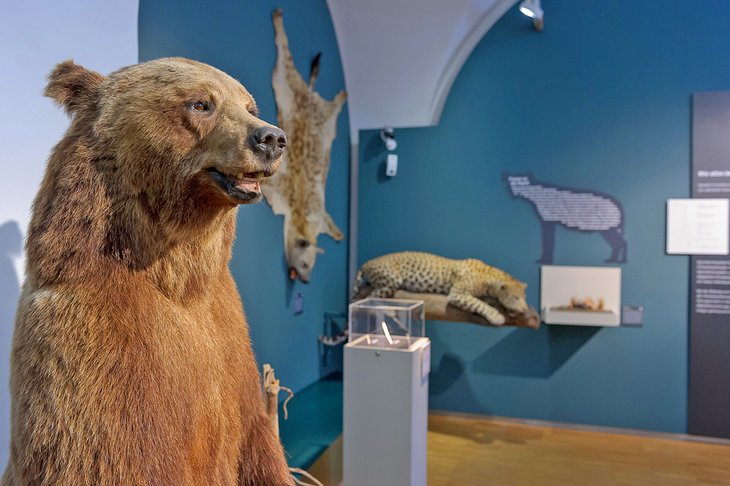 Endowed by Archduke Johann in 1811, the Natural History Museum - part of the larger Universalmuseum Joanneum group of museums - is one of the most important museums in Graz. Spread over several floors, its large collections include many artifacts and displays relating to geology, zoology, and botany. You'll also learn about the history of the region since the earth's formation thanks to its fascinating displays of fossils, Ice Age creatures, and ancient volcanoes.
Address: Joanneumsviertel, 8010 Graz
5 Graz Cathedral and Mausoleum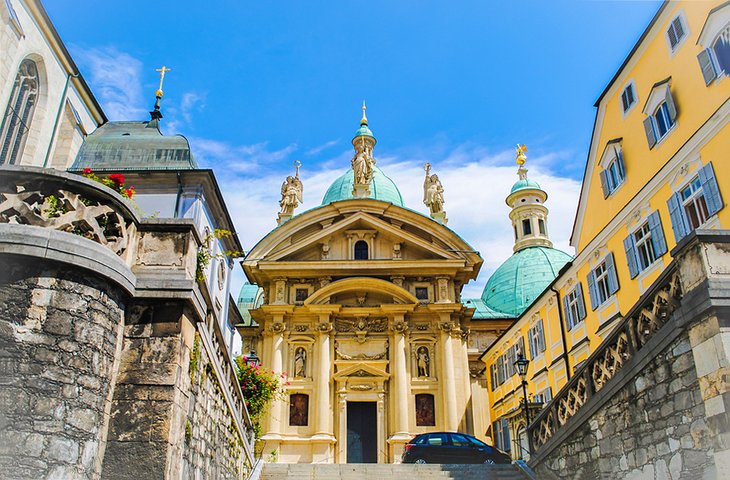 Graz's Late Gothic St. Gile's Cathedral (Grazer Dom) was built between 1438-62 on the site of an earlier church dedicated to St. Giles, which was first referred to in 1174. Of particular note is the main doorway decorated with the coat of arms of its builder, Emperor Frederick III, and on the south external wall, facing onto a small square, are the remains of a Late Gothic fresco from 1485 called the Landplagenbild, depicting Graz threatened by pestilence, the Turks, and a plague of locusts. The mainly Baroque interior is equally impressive, its wide nave separated from the choir by a narrow triumphal arch flanked by two fine reliquaries from 1477. The choir, dominated by a high altar, is notable for its altarpiece portraying the Miracle of St. Giles, while in the aisles are many fine monuments and altars. Be sure to also visit the Adjoining Mausoleum, built in the early 1600s for Emperor Ferdinand II and noted for its Tomb Chapel with exquisite artwork and sculptures.
Address: Burggasse 3, 8010 Graz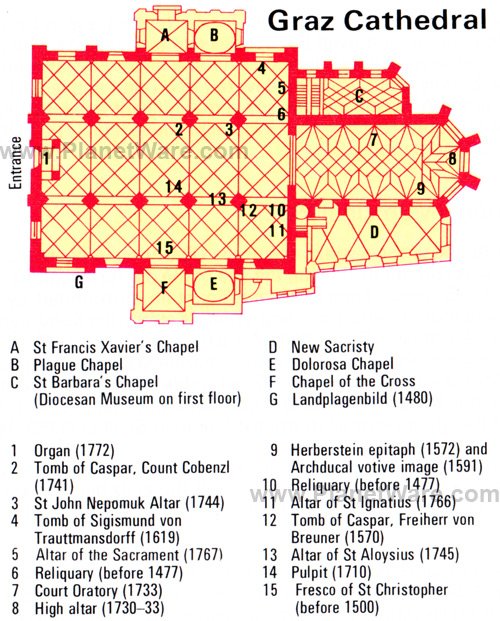 Graz Cathedral Map
Want to use this map on your web site?
Copy and Paste the code below:
6 Schlossberg and the Clock Tower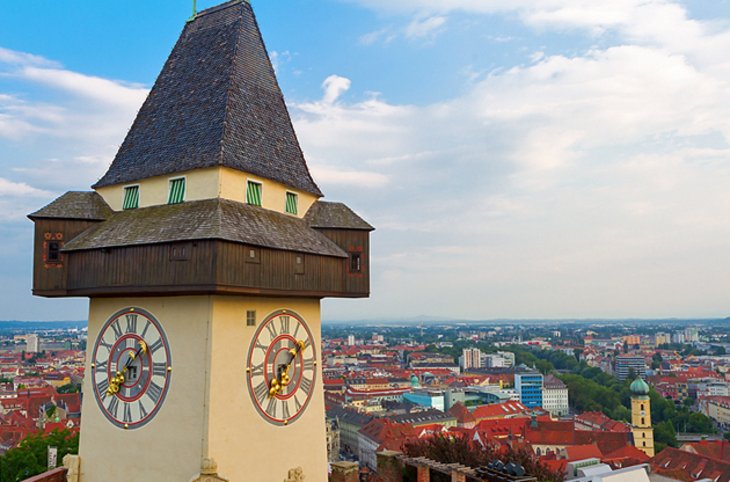 Above Old Town Graz rises the Schlossberg, a 473-meter-tall hill that can be ascended by funicular railway (it takes just three minutes to get to the top) or, alternatively, via a pleasant 20-minute walk. Highlights include the superb 28-meter-tall Clock Tower (Uhrturm), the city's best-known landmark. Built in 1561, it's all that's left of the massive fortifications that once stood here and which were dismantled after the Treaty of Vienna in 1809. Schlossberg is also where you'll find the 94-meter-deep Turkish Well (Türkenbrunnen), the 35-meter-tall Belfry (Glockenturm) from 1588 with its eight ton bell (affectionately known as Liesl), a café with superb views over Graz, an open-air theater, and a fun miniature railroad for kids.
Address: Schlossberg, A-8010 Graz
7 Schloss Eggenberg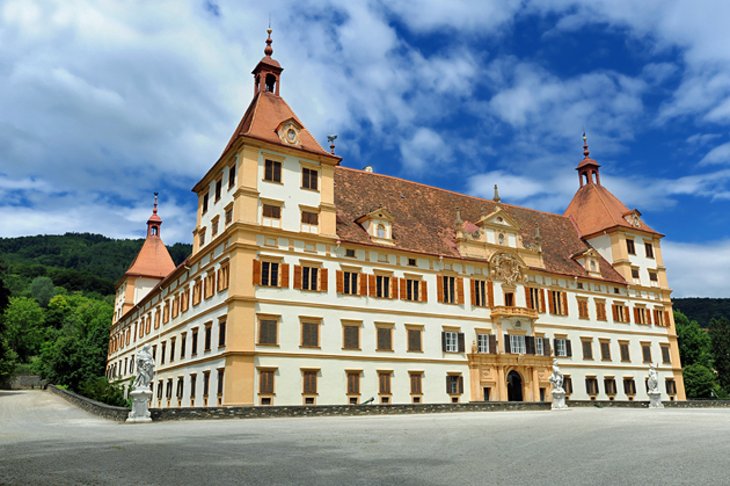 Perched atop a hill just three kilometers west of Graz's city center stands Schloss Eggenberg. Completed in 1635, this stunning Baroque palace with its four large towers, fine state apartments, and rich Rococo fittings is a must-see. Interior highlights include the walls and ceilings of the banqueting hall, a masterpiece of Baroque architecture richly painted with more than 600 superb works including the signs of the zodiac and the planetary system. This theme is continued in the Reception Room, known as the Room of the Planets, part of a suite of 24 staterooms decorated by Styrian artist Hans Adam Weissenkircher. Also of note is the Alte Galerie, a collection of magnificent artwork including the famous Admont Madonna from 1320, the Lambrecht votive tablets from 1440, and numerous Baroque sculptures and paintings. (English language guided tours are available.)
Address: Eggenberger Allee 90, 8011 Graz
8 Graz Art Museum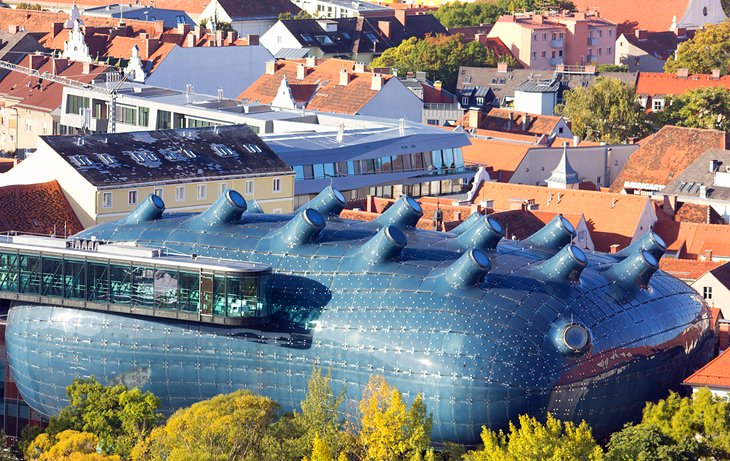 Looking a little like some alien life form plunked in the middle of Graz's splendid old architecture, the ultra-modern Graz Art Museum (Kunsthaus Graz) was built in 2003 to mark the city's choice as the European City of Culture. Focusing on works of contemporary art of the mid-20th Century, the gallery hosts artists from around the world with regularly changing temporary exhibits. The best views of the building are available at night, when the building lights up like a spaceship. English language guided tours and audio-guides are available.
Address: Lendkai 1, 8020 Graz
9 Murinsel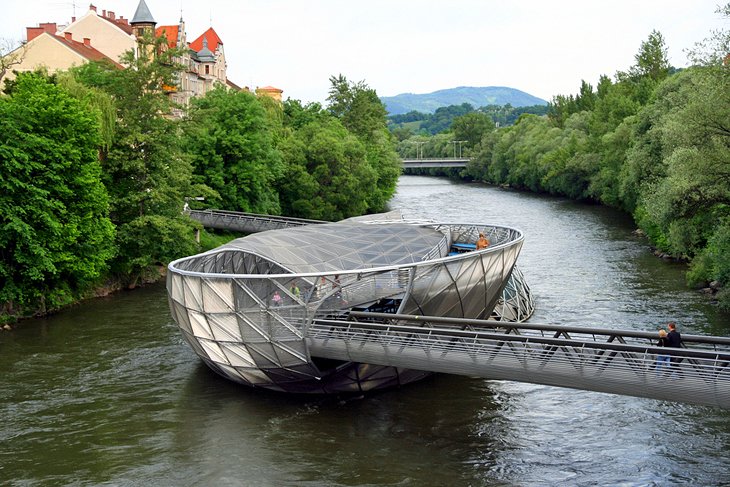 Another Graz landmark built to commemorate the city being granted the role of European Capital of Culture in 2003 is a man-made island known as the Murinsel. Made entirely of steel and resembling a large upside-down seashell, it's really a 47-meter-long floating island in the middle if the River Mur that's tethered to its banks by two footbridges. The middle section consists of a unique amphitheater used for concerts and other events, as well as a café and a playground for kids with a fun rope maze and slide.
10 The Municipal Park and Botanical Gardens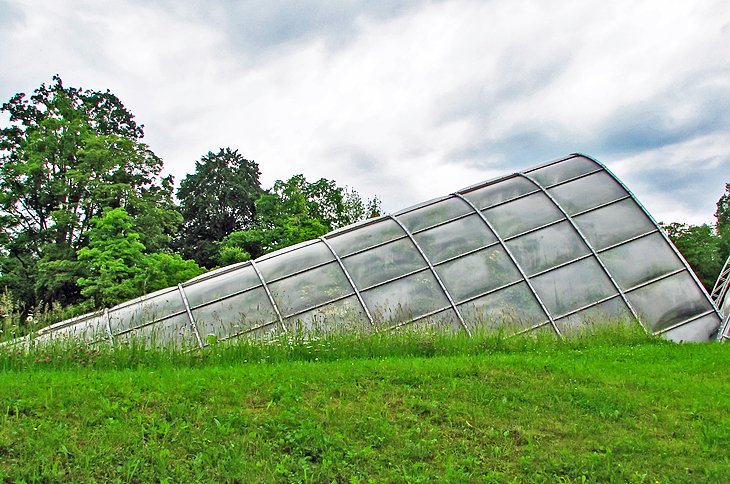 The Graz Stadtpark, at the eastern end of the Opernring with its modern Opera House, was laid out in 1869 on the site of the city's old fortifications. A highlight of this large municipal park is the Emperor Francis Joseph Fountain surrounded by numerous figures and monuments, including many famous Austrian writers, scientists, and politicians. The city's other important park is its Botanical Gardens, tucked away in the city's poshest residential area. Noted for its ultra-modern greenhouse with exotic flora from around the world, the garden's displays are broken down into four main climatic zones - tropical, Mediterranean, temperate, and alpine - each accessible over a series of fun wooden gangways and bridges.
Address: Schubertstraße 59, 8010 Graz
Day Trips from Graz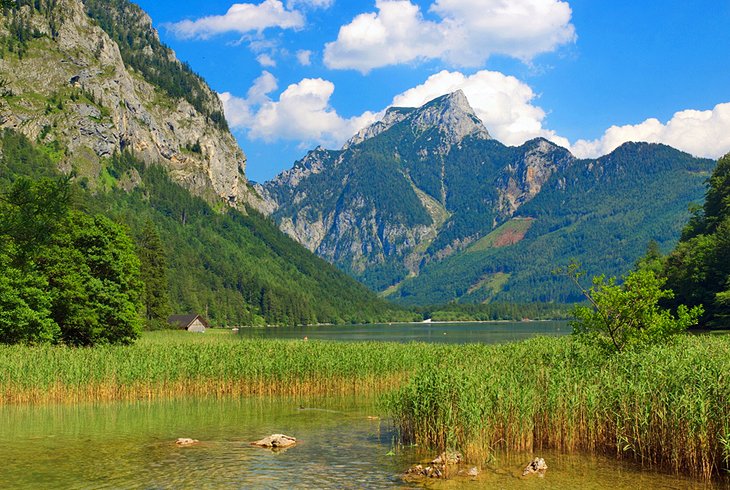 While Graz boasts numerous wonderful reasons for visitors to want to linger longer, the surrounding area provides a number of fun excuses for an excursion. Nearby highlights include Open-Air Museum Stübing, a fascinating collection of old peasant homes, barns, and mills gathered from across Austria, all just a short drive from the scenic caves of Lurgrotte. The Schöckl is also worth exploring. About 18 kilometers northeast of Graz, this 1,466-meter summit with its tremendous views is connected to the spa town of St. Radegund via cable car. Perhaps the prettiest small town in the region is Voitsberg, with its ruined castle, and home of the Piber Stud Farm where the famous Lipizzaner horses of the Spanish Riding School in Vienna are bred (daily conducted tours are available throughout the summer). Finally, the little town of Deutschlandsberg is worth visiting for its old castle, Burg Landsberg, which houses a museum of folk and early history including rare Roman finds. Deutschlandsberg is also a good base from which to enjoy the fine walking and skiing area of the Koralpe, the summit of which reaches 2,141 meters.
A little further afield is the mountain town of Eisenerz, some 80 kilometers north of Graz. Here, you'll find the Frauenmauerhöhle, a 640-meter-long natural passage through the Frauenmauer mountain to a number of caverns, including the wonderful Ice Chamber. But a word of caution: while the caves are easily accessible, they're part of a vast network that extends deep into the mountain, and it's highly advisable to secure the services of a reputable cave guide to show you around (they'll no doubt share tales of those unfortunates who never made it out). Guided tours are available June to September only. Also worth a visit is the Waldviertel, a rugged region 60 kilometers east of Graz that consists of a mix of rocky plateau, much eroded granite mountains (including the 1,000-meter Weinsberger Wald) coniferous forests, numerous small lakes, and areas of moorland, especially around Heidenreichstein.
Sponsored Links

Graz Deals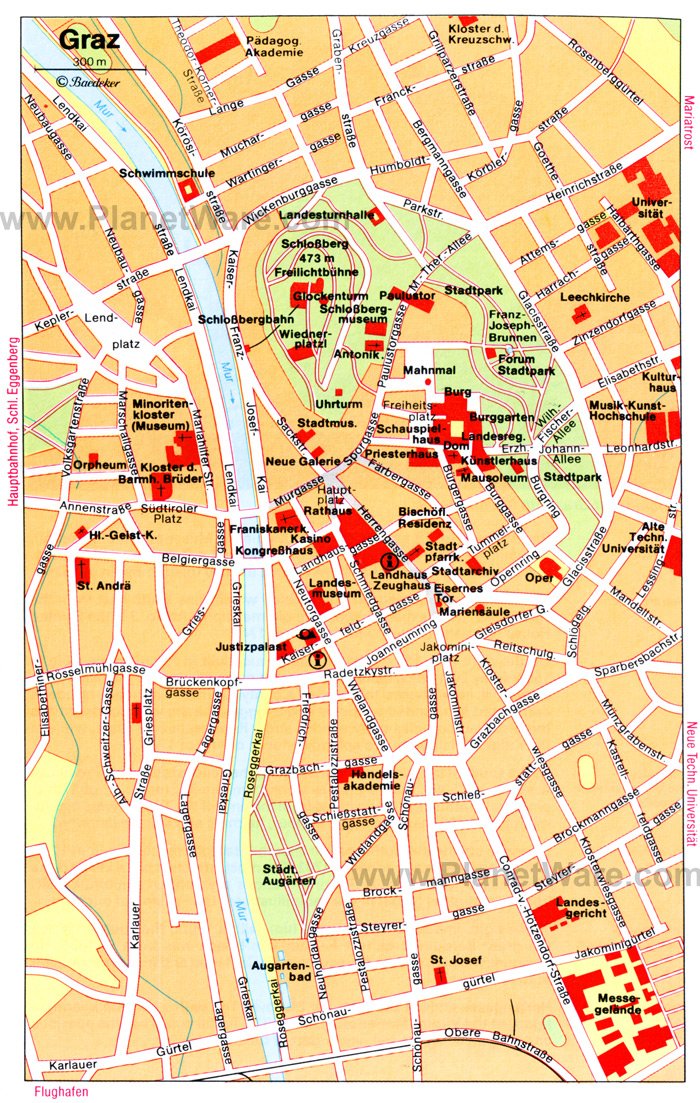 Graz Map - Attractions
Want to use this map on your web site?
Copy and Paste the code below:
More on Austria