Castle Hill, Budapest
Várhegy
Castle Hill is a limestone plateau that contains important Budapest medieval monuments and some of the city's museums. This hill is the place where Budapest was founded. It is a small, densely built rock, with the Buda Castle as the most prominent building.
Related Attractions
Castle Palace was built in the 18th C and contains over 200 rooms. This massive structure is beautifully illuminated at night and towers over the Danube River.
Fishermen's Bastion
On Castle Hill, at the spot where in the Middle Ages the fishermen had their defense installations, the Fishermen's Bastion (Halászbástya) was built behind the Matthias Church between 1895 and 1902. Its towers, colonnades and embrasures, which were designed in Neo-Romanesque style by Frigyes Schulek, were renovated a few years ago. From the bastion there is a magnificent view over the city and the Danube.In the north courtyard of the bastion stand two pleasing statues of the monks Julianus and Gellért, by Károly Antal (1937).
Statue of St Stephen
In the south courtyard of the bastion stands a bronze equestrian statue of St Stephen (Szent István), the first King of Hungary; it is the work of A. Stróbl and dates from 1906. The plinth, with four lions and the reliefs on the sides depicting scenes from Stephen's life, was designed by F. Schulek.
The Castle Quarter is a popular tourist area in Budapest. The remains of the ancient Roman city of Aquincum and the castle of Buda, with its Gothic architecture, are the main attractions.
Map of Budapest Attractions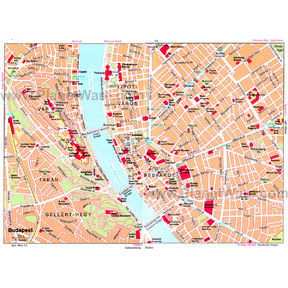 Budapest Map
More Budapest Attractions