Kiruna Tourist Attractions
Kiruna, the most northerly town in Sweden, lies in the same latitude as central Greenland. It is the chief town of the largest commune in the country (area 20,000sq.km/7700sq.mi), which borders on both Norway and Finland. The midnight sun is visible here from mid May to mid July. Originally a Lapp settlement, the town began to develop when mining of the local iron ore started about 1900. Kiruna received its municipal charter in 1948, by which time the population had risen to 11,000.The town of Kiruna will slowly be moved northwest to the foot of the Luossavaara mountain. The decision was reached in 2004 due to shifting of the Earth's surface and will occur over a decade.
Sights
Southeast of the Kiruna railroad station is the Town Hall (1963), with a carillon in the tower; art collection. The wooden church, built by Gustav Wickman in 1912 on the model of a Lapp hut, has an altarpiece painted by Gustaf V's brother, Prince Eugen of Sweden, depicting a summer landscape in central Sweden and an altar group of carved wood by Christian Eriksson and Ossian Elgström.
Ore Mountain
Kiruna is dominated by the ore mountain of Kirunavaara, terraced by opencast workings. The existence of the iron ore in the hill had been known since 1730, but it was only after the construction of the railroad lines to Luleå and Narvik that it became possible to work the ore. Working is now by opencast methods. There are conducted tours of the old underground workings, the largest in the world.
Snow Festival
Kiruna Snow Festival is held in January.This is the biggest snow festival in Europe. Itincludes a snow sculpture competition, dog-sled and reindeer racing and a display of the world's largest igloo.An art exhibition is staged along-side the festival.
Surroundings
Kebnekaise
Within the commune of Kiruna, though some 90km/56mi west of the town itself, is Sweden's highest mountain, Kebnekaise (2,117m/6,946ft). The ascent of the south peak takes about eight to nine hours and should be undertaken only by experienced and properly equipped climbers. In a high valley on the slopes of Keipack (789m/2589ft) can be found the Kebnekaise climbing hut.
Research Stations
45km/28mi north of Kiruna the Esrange rocket station was established in 1965 by the European Space Research Organization (ESRO) for the launching of research rockets. In the Tarfala valley is the Glaciological Research Station, at Abisko the Scientific Research Station.
Abisko National Park
At Abisko, 95km/60mi northwest of Kiruna, is the Abisko National Park(77sq.km/30sq.mi), a large nature reserve extending along the shores of Lake Torneträsk. From Abisko the Lapland (Ofot) Railroad runs west to Narvik on the Norwegian coast.


Map of Kiruna Attractions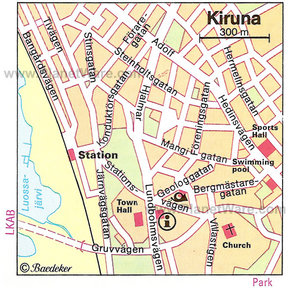 Map - Kiruna