Albufeira Tourist Attractions
In a bay on Portugal's south coast and beautifully located, like an amphitheater in the shelter of bizarrely shaped cliffs (Ponta da Baleeira), Albufeira (altitude: 0-35m/0-115ft.) has developed in recent years into one of the major seaside resorts of the Algarve.
Largo Engenheiro Duarte Pacheco
The newly laid-out Largo Engenheiro Duarte Pacheco is Albufeira's main square, a meeting point for both locals and tourists. It is lined with cafes, restaurants and snack bars, together with postcard kiosks and fashion jewelry shops. The fountain portrays the town's churches and a mosaic picture shows a view of old Albufeira.
Church of St Anne
The Igreja of Sant'Ana on the Largo Jacinto d'Ayete, on the corner of Rua 1° de Dezembre is very pretty. This typical, whitewashed 18th C. Algarve church stands out as a rural feature in urban surroundings. Note the crossing cupola and Baroque gables.
View
Before setting out on a tour of Albufeira a panoramic view of the bay and the Old Town can be enjoyed from the terrace east of the town.
Igreja Matriz
After the earthquake of 1755 the Igreja Matriz was rebuilt by the then Bishop of the Algarve, Francisco Gomes de Avelar. In 1993 the whole building was renovated, although this did not add much to its charm.
Beaches
From Rua 5 de Outubro a tunnel leads to Albufeira's municipal beach, but it is usually crowded in summer. Above the beach is a short promenade, where the view can be enjoyed from one of the cafes. To the west of Albufeira there are several small beaches in pretty bays, as well as Praia da Galé stretching as far as Armaçao de Pêra. The Oura, Balaia and Maria Luisa beaches to the east of the town form part of the tourist suburbs of Montechoro and Areias de Sao Joao. Generally speaking, the restaurants and water sports facilities are good.
Gruta do Xorino
The Gruta do Xorino are where the revolutionaries sought refuge in 1833 when Albufeira was besieged by monarchist Miguelists. They reached the caves by an underground tunnel and from there fled by boat to Faro. Fishermen offer boat trips to the Xorino Grottos from the center of Albufeira; it is also possible to walk to them along a cliff path.
Zoomarine Park, Guia, Portugal
At Guia, 6km/4mi northwest of Albufeira, lies the well-known Zoomarine Park, with small lakes, gardens and restaurants, which attracts some 400,000 visitors annually. The many animals include talking parrots, dolphins and seals, while numerous species of fish swim in various pools and aquaria. There is a large swimming pool for children and adults. Four hours should be allowed to enjoy all the main attractions and animals








Map of Albufeira Attractions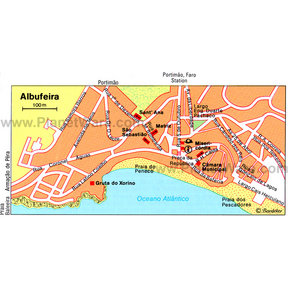 Map - Albufeira