Top Tourist Attractions in Albufeira & Easy Day Trips
Albufeira is one of the most popular seaside resorts in the Algarve, and a major European vacation destination. Located on the coast in the center of the region, about 36 kilometers west of Faro, the town is synonymous with tourism and boasts some of southern Portugal's best beaches. Once a quiet fishing village, Albufeira still retains something of its traditional character. The old town center is a maze of steep, narrow streets lined with whitewashed houses and fishermen's cottages that lead down to a fabulous beach. Evidence of Albufeira's Roman and Moorish heritage is scant, however, with only vestiges of the town's once-mighty castle walls visible. The original Arabic name of the town, Al-Buhera, means "Castle-on-the-Sea", and one or two buildings feature telltale Moorish arches. But as the tourist capital of the Algarve, modern Albufeira is a lively holiday hub of hotels, restaurants, and boutiques.
Inland, away from the clamor, a more secluded Algarve is waiting to be discovered - countryside little changed by the advances of tourism.
Beaches
Albufeira is blessed with an outstanding choice of beautiful and unspoiled beaches (praias). Praia dos Pescadores is right on the resort's doorstep. Named for the colorful fishing boats left deliberately stranded on the sand, this family favorite is conveniently accessible by foot, but can get uncomfortably crowded in peak season. Alternatively, nearby Praia da Oura can be reached by following a scenic two-kilometer coastal footpath east out of the resort. Larger and less sheltered than its neighbor, this beach is a popular destination for windsurfers. Both beaches are served by an inviting array of seafront cafes and restaurants, and there are plenty of fun-packed activity options for water sports enthusiasts.
Slightly more exclusive is picturesque Olhos da Água. Set five kilometers away from the center of Albufeira and connected by local bus services, the wonderfully named "Eyes of Water" is a small pocket of sand wedged in a half-moon cove. This is a great place for kids to explore when the tide is out; the ankle-high shallows and rock pools are a beachcomber's dream.
Further east still is stunning Praia da Falésia. Set under ochre-hued sandstone cliffs topped with clusters of umbrella pine, this is one of the Algarve's best beaches, renowned for its seemingly endless band of golden sand and shallow waters. You'll need a vehicle to reach the out-of-the-way location.
Largo Engenheiro Duarte Pacheco
Albufeira's boisterous hub is tacky, over the top, and absolutely irresistible. Named after an illustrious 20th-century Portuguese statesman and civil engineer, this modern pedestrianized square draws locals and tourists alike to its plethora of restaurants, cafes, and snack bars. It pays to browse the assortment of fashion boutiques for inexpensive summer garb, and it's worth investigating the handicraft workshops lining Rua Candido dos Reis for locally made souvenirs and a delightful selection of assorted vacation kitsch. An interesting cultural attraction is the Galeria Pintor Samora Barros, a noted contemporary art gallery that exhibits works by Portuguese and international artists. After dark, troupes of buskers and street artists appear to help entertain the throngs. The square is a short amble to Largo Cais Herculano, the town's bustling beachfront promenade, where a section of the original castle wall - now part of a restaurant façade - can be admired.
Art Gallery
Address: Largo Engenheiro Duarte Pacheco, Albufeira
Museu Arqueológico
While modest in scope, the exhibits on display at the archaeological museum in Albufeira encompass prehistory, the Roman, Islamic, and Visigoth periods, and the modern age. Set over two floors, the most interesting artifacts include Stone Age flint tools, fragments of mosaics unearthed from a nearby Roman villa, and a collection of weathered 16th-century keystones. The highlight is an impressive 10th-century Islamic silo, excavated while the premises still served as the town hall.
Address: Praça da República 1, Albufeira
Igreja de São Sebastião
The tiny, whitewashed church of St Sebastian is an understated cultural highlight of Albufeira. Consecrated in the mid-18th century, its exterior is distinguished by a decoration of flourishing Baroque stonework framing the main portal. Confusingly, the church's façade features a plaque dedicated to São Vicente - St. Vincent, the town's patron saint. Inside, visitors are regaled with a rare altarpiece of gilded wood surmounted by the rounded and ruddy faces of smiling cherubs. The nave doubles up as an ad-hoc museum of sacred art, and is also used for temporary exhibitions.
Address: Praça Miguel Bombarda, Albufeira
Parque Aventura
High roping through a tree top assault course is the name of the game at this exciting and challenging Adventure Park. Participants must overcome a range of obstacles in order to complete the course, among them a giddy ropewalk and the daunting Monkey's Bridge. There's also an intricate cobweb to traverse, a vertical net to climb, and a zip wire to glide down. Located in verdant woods near Santa Eulália and Praia da Oura, the park consists of a series of games and trails set at varied heights between the trees. The course is designed to test stamina and motivation and allows participants to develop their own sense of responsibility as they move slowly through the canopy. There's a number of different adrenaline-pumping routes to attempt, each posing varying degrees of difficulty (some say playfulness). Fully trained personnel supervise every step of the way, with special initiation trails set up for active youngsters. As well as being great fun, this is an educational experience and helps promote awareness of the forest environment. The organizers can also arrange paintball tournaments for adult groups.
Address: Estrada de Santa Eulália, Albufeira
Zoomarine
One of the Algarve's great family entertainment options, Zoomarine stages spectacular dolphin shows and an amusing sea lion spectacle, among other daily performances. There's also a fascinating aquarium-museum to explore. A number of different habitats showcase exotic sea birds and majestic birds of prey. In addition, tickets allow entry to a fun-filled fairground and a fantastic aqua park complete with swimming pools for kids and adults and a giant water slide. Another highlight is the digitally animated film screened in the 4D cinema, which portrays a sea turtle's ocean-going journey. But the most magical moment is likely to be the opportunity to interact with bottlenose dolphins, where visitors can swim with these beautiful and intelligent creatures in a pool under the supervision of trainer.
Location: Approximately 7 kilometers northwest of Albufeira on the EN125 highway near Guia
Krazy World
Lying somewhat off the beaten track, this wonderfully unpretentious theme park comprises a mini zoo and a string of leisure amenities ideally suited to those tourists traveling with youngsters. The idyllic countryside setting provides a pleasant contrast to the often-crowded coastal resorts, and the rural ambiance is tranquil and unhurried. Parents and children can say hello to an array of cute and cuddly domestic animals at the petting farm, while the reptile zone is home to exotic creatures like turtles, iguanas, alligators, and snakes, including a gigantic python. There are pony rides and bouncy castles for younger kids, and teenagers can test their driving skills on the moto-quad track. Meanwhile, budding golfers can practise their putting on the 18-hole mini golf course. And when it's hot, the swimming pools are especially welcoming.
Location: Approximately 13 kilometers north of Albufeira at Lagoa de Viseu, near Algoz
Castelo de Paderne
The atmospheric ruins of Paderne Castle sit in splendid isolation high on a hilltop deep in the Algarve hinterland. Built by the Moors in the 12th century, on the site of an earlier Roman fortification, the castle overlooks the Quarteira River where a well-preserved Roman bridge can still be crossed. The castle, however, has proved less impervious to the ravages of time. The still impressive outer walls remain, as do vestiges of the tower gate, but little else. The site, though, affords a glorious sweep of the countryside, especially evocative during spring when the slopes are flecked with flowers. Within the ramparts lies the ruined Chapel of Nossa Senhora do Assunção, built after Christian forces overran the Moors in 1248. The castle is situated near Paderne, a charming but sleepy smudge of a village that is worth a quick look before seeking out the castle. Visitors should note that the castle is unsupervised, and the steep dirt track leading up to the entrance should not be driven during wet conditions.
Location: Near Paderne, approximately 13 kilometers northeast of Albufeira on the N395
Where to Stay in Albufeira for Sightseeing
We recommend these charming hotels in Albufeira, with easy access to attractions and the beach: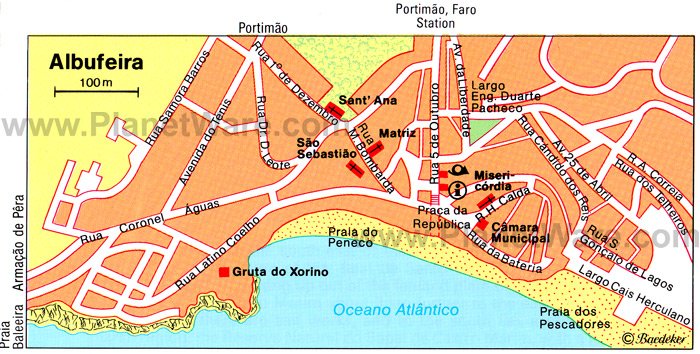 Albufeira Map - Attractions
Want to use this map on your web site?
Copy and Paste the code below:
More on Portugal