Cadiz, Spain Tourist Attractions
The Andalusian port of Cádiz, chief town of Cádiz province and the see of a bishop, is splendidly situated on a isolated limestone rock rearing out of the sea at the end of a 9km/6mi long promontory which projects into the Atlantic in the Gulf of Cádiz and is linked to the mainland by a bridge.
Beaches
Within the city of Cadiz area there are bathing beaches in the bay of La Caleta and, southeast of this, at Playa de Santa María, Playa la Victoria and Playa de Cortadura - though these are less attractive than they were as a result of industrial development and the increasing numbers of high-rise blocks.
Events
A number of events and festivals take place throughout the year in Cádiz.
Fiestas de Carnaval
The carnival of Cádiz is of exceptional interest to foreign tourists. The history of the carnival dates back centuries and is based on Venice's carnival, one of the old port's important trading partners. Shrove Tuesday is the date which the carnival centers around, usually in February or early March.
Map of Cadiz Attractions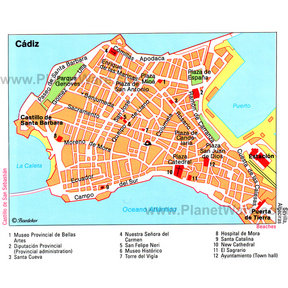 Map - Cádiz