Setubal Tourist Attractions
The industrial city and district capital of Setúbal, situated on the wide estuary of the Rio Sado, is Portugal's fourth largest city and third largest port, with important fish canneries, a car assembly plant, shipyards and saltpans.
Igreja de Jesús
The Igreja de Jesús is in the west of the old town. It was Portugal's first Manueline church, begun in 1490/91 under the direction of Diogo de Boytaca, who went on to be architect of the convents at Batalha and Belém. Inside the relatively unadorned exterior can be seen impressive stellar vaulting in the choir and azulejo scenes from the life of the Virgin.
Museu de Setúbal
The monastic buildings adjoining the Igreja de Jesús and 17th C. Arrábida marble cloister of the Convento de Jesús now house the city's museum, with pictures by Portuguese, Flemish and Catalan artists and local archeological discoveries.
Igreja de Sao Juliao
The church of Sao Juliao just southeast of the Praça do Bocage is worth seeing. Originally 16th C., it was almost completely rebuilt after the 1755 earthquake.
Igreja de Santa Maria da Graça
The church of Santa Maria da Graça at the east end of the old town dates back to a 13th C. building which was almost completely reconstructed in the 16th C. Its carved and gilded altars date from the 16th and 17th C., and the azulejos are 18th C.
Archeology and Folklore Museum
The Archeology and Folklore Museum next door to the Igreja de Santa Maria da Graça, has displays of tools and implements used in farming and fishing around Setúbal, and also model ships.
Castelo de Sao Filipe
Above the city, to the west, is the Castelo de Sao Filipe, built in the late 16th C. by the Italian military engineer Filippo Terzi. Part of it is now a pousada and there is a good view from here over the city and its surroundings.
Setubal Pictures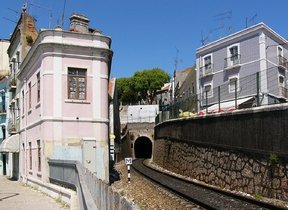 Map of Setubal Attractions
Map - Setúbal