Rideau Canal, Ottawa
Colonel By's Rideau Canal starts east of the Houses of Parliament, in a gully taking it up from the Ottawa River to the Rideau valley through a system of 9 locks that bridge the difference in height between the two rivers. The War of 1812, with the young United States, had shown how easily the U.S. could threaten the St Lawrence. After the war the Duke of Wellington dispatched scouts to upper Canada to see if a solution could be found to the difficult situation.
Colonel John By was sent to Canada in 1826 to oversee the building of a canal that would circumvent the dangerous waters of the St Lawrence and provide an alternative route for navigation as far as Lake Ontario 200km (124mi) to the south-west. The canal was finished in 1832 but never achieved its anticipated strategic or economic importance.The canal banks provide space for all kinds of activities. Winterlude/snowballing: in February the winter festival takes place. Then the canal becomes a gigantic fair on ice. At many places professional and amateur artists try their hand at ice-sculpture.The 200km / 124mi long Rideau Canal, only 1.6m/ 5.25ft) deep, connects Ottawa with Kingston on Lake Ontario. It was originally intended as a second strategic route between Montréal and Lake Ontario, the military need for which was demonstrated during the war with the United States in 1812.At the time of building (1826-32) the canal was a triumph of constructional engineering. More than four dozen dams were required to control the water levels, and the 83m (272 ft) ascent to the summit between Ottawa and Lake Ontario meant that boats had to pass through numerous locks.Although steamers plied the canal for over a hundred years it never came to have any major economic significance. Today the waterway with its 24 operational locks is used mainly by pleasure boats and for tourism.It is one of history's curiosities that a camp for 2000 construction workers employed on building a branch of the canal from the Ottawa River should eventually become the capital of Canada.The staircase of eight locks on Parliament Hill is highly photogenic. Ottawa's first stone building was on a site next to the canal.
Related Attractions
Jones Falls Locks
Among the many interesting features on the Rideau Canal is Stone Arch Dam at Jones Falls.Attractions along the lock include the lockmaster's house (built in 1841), the Blacksmith's shop (built 1843), and the Hotel Kenney, one of the oldest hotels in the area (built 1888).
Ottawa Locks
More Rideau Canal Pictures

Map of Ottawa Attractions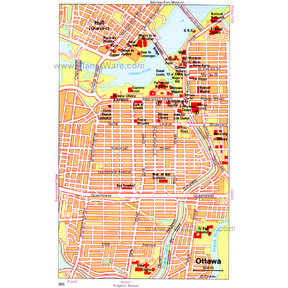 Ottawa Map
More Ottawa Attractions
Popular Destinations Nearby