Katsura Rikyu Imperial Villa, Kyoto
The villa, Katsura Rikyu, was originally constructed for Prince Hachijo Toshihito (1579-1629), brother of the Emperor Goyozei. Much of it was built by 1624, and it was completed by 1658. The landscaped garden is said to have been designed by Kobori Enshu; and it was undoubtedly the work of either Kobori himself or some member of his circle. It is also believed that Prince Toshihito himself, a great art connoisseur, was involved in its planning. It is said that when Kobori accepted the commission he laid down three conditions designed to ensure that no changes were made in the original plan: first, no limit should be set to the cost of the work; second, no time limit for completion should be fixed; and third, neither the Prince nor anyone on his behalf should visit the site while work was in progress.The garden is so designed that the visitor always sees things from the front. Around the pool are grouped a number of small gardens, and in the distance the summits of Mounts Arashiyama and Kameyama can be seen. The three parts of the building, offset from one another, have influenced modern architecture in Japan and even in other countries. The main buildings were thoroughly restored between 1974 and 1981.The visitors' entrance is the Miyuki-mon Gates (1658). The garden paths, some of the river pebbles and others of rectangular cobbles, are edged by mosses and bushes. Two further gates lead into the inner garden, in the center of which is the group of buildings known as the Goten, consisting of three parts - Furu-shoin, Naka-shoin and Miyuki-den.The veranda of the Furu-shoin was designed to permit observation of the moon. The three rooms of the Naka-shoin contain fine paintings by Kano Tanyu (first room, including a well-known picture of a crow), Kano Naonobu (second room) and Kano Yusunobu (third room). The Miyuki-den, the hall used by the Emperor, also contains a painting by Kano Tanyu. Notable too are the metal fittings (kugi-kakushi) in the form of flowers covering the heads of the nails used in construction; they are attributed t a goldsmith named Kacho.To the east of the main group of buildings, on higher ground, is the Gepparo, a building of plain and simple design. On the far side of the pool is the Shokin-tei, which contains a number of rooms including a tearoom so designed that natural light reaches into every corner. A small promontory covered with pebbles projects into the pool, in a highly stylized representation of the coastal scenery of Ama-no-hashidate. In the southwest corner of the garden is the Shoiken, with ten rooms.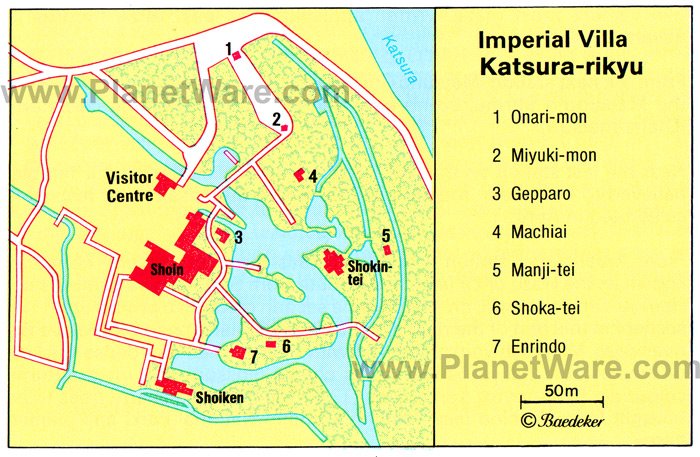 Imperial Villa - Katsura Rikyu Map
Want to use this map on your web site?
Copy and Paste the code below:
Popular Pages