Sorrento Tourist Attractions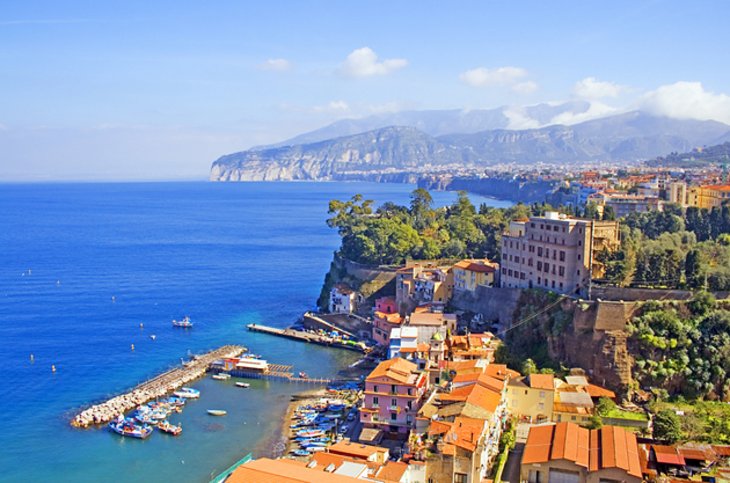 Sorrento
The little town of Sorrento (in the local dialect Surriento), the ancient Surrentum, is situated amid lemon and orange-groves on the south side of the Bay of Naples, on the edge of tufa cliffs 50m/165ft high rising precipitously from the sea.Two of the specialties of Sorrento are a lemon sherbet (Granita Di Limone) and a liquer made out of lemons that is usuaully consumed after a large meal.
Marina Grande and Marina Piccolo
The two harbors, Marina Grande and Marina Piccolo, extend along the steep coast. From the Villa Comunale, a terrace above the Marina Grande, there are far-ranging views of the Gulf of Naples. Sorrento's main street is the Corso Italia. In Piazza Tasso, near the town's center, stands a marble statue of the poet Torquato Tasso (1544-95), who was born in Sorrento. From here a road runs down to Marina Piccolo, where the boats come in.
Museo Correale
In the new part of Sorrento the Museo Correale, founded in 1924, contains a death mask of Torquato Tasso and some special editions of his works, pictures, interarsia work, furniture and porcelain, including the so-called "basis of Sorrento", reliefs from Augustan times and the remains of a medieval choir screen.
Address: Via Correale 50, I-80067 Sorrento, Italy
Archeological Museum
Some time ago the new Archeological Museum was opened in the Villa Florentino in Sorrento. On display are finds uncovered in Massa Lubrense and at other sites.
Piano di Sorrento
To the east of Sorrento extends the fertile Piano di Sorrento, in Roman times a favorite residence of the great and the wealthy and still a popular holiday resort which attracts visitors from far and wide.
Surroundings
Positano
From Sorrento to Positano
Massa Lubrense
From Sorrento the road runs southwest to the little town of Massa Lubrense or Massalubrense (120m/396ft; pop. 11,000), with the Castello di Santa Maria (224m/409ft) rearing above it.
Punta della Campanella
From Massa Lubrense it is a 2 hours' walk to the Punta della Campanella, at the farthest tip of the peninsula of Sorrento opposite the island of Capri.
Sant'Agata sui due Golfi
Beyond Massa Lubrense the road skirts Monte San Nicola and comes in another 5km/3mi to Sant'Agata sui due Golfi (391m/1,290ft), a pleasant little summer resort below the Deserto. On a hill 1km/0.75mi northwest is the Deserto (455m/1,502ft), a former monastery which is now an orphanage. From the roof there are fine views of the bays of Naples and Salerno.
Nastro Azurro
From Sant'Agata it is another 13km/8mi on a beautiful road (the stretch to Colli San Pietro being known as the "Nastro Azurro" or the "Blue Ribbon") which passes close to the conspicuous chapel of Sant'Angelo (462m/1,525ft; view), to the left of the road, before coming to Positano.
Popular Pages