Ischia Island Attractions
Isola d'Ischia
Boat servicesSeveral times daily (including car ferries) to and from Naples, Capri, Procida and Pozzuoli. Hydrofoil services.SituationThe volcanic island of Ischia, lying at the entrance to the Bay of Naples, is the largest island in the vicinity of Naples. It was known to the Greeks as Pithekousa, to the Romans as Aenaria and from the ninth century as Iscla.SceneryAn island of luxuriant vegetation (fruit orchards, pinewoods), Ischia is of great scenic beauty, particularly on the north side. Its strongly radioactive hot springs attract many visitors seeking a cure for gout or rheumatism.
Gardens of Poseidon
From Forio a beautiful road (20km/12mi) leads through the southern part of the island of Ischia. It passes above the Gardens of Poseidon (magnificent bathing facilities, with thermal springs) and continues via Panza (155m/512ft).
Monte Epomeo
From Fontana there is a rewarding climb (1 hour) up Monte Epomeo (789m/2,604ft), a massive volcano (extinct since 1302), with an almost vertical north face, in the center of the island (panoramic views).
Sant'Angelo, Italy
Casamicciola Terme, Italy
4km/2.5mi west of Ischia Porto, half-way along the north coast of the island, Casamicciola Terme (3m/10ft; pop. 6,500), surrounded by gardens, is situated on the lower slopes of Monte Epomeo, with hot springs (65 °C/149 °F) and a good bathing beach. A walk along Via Borbonica (fine views) or an excursion to Monte Rotaro are well worthwhile.
Lacco Ameno, Italy
In the northwest of the island of Ischia lies the resort of Lacco Ameno (pop. 4,000). The town's emblem is the mushroom-shaped rock ("Il Fungo") which rises out of the sea near the harbor. A small museum provides information on the old Greek colony excavated near Lacco Ameno. The best-known hot mineral springs are those of Santa Restituta and Regina Isabella.
Forio, Italy
On a flat spur of land on the west coast of Ischia lies the little old town of Forio (pop. 20,000). It has a pretty whitewashed seafarers' church of the Madonna del Soccorso and a crenellated defensive tower, "Il Torrione", built in 1480 as a protection against pirates.
Barano d'Ischia
The road to Sant'Angelo continues to Serrara (366m/1,208ft), Fontana (452m/1,492ft) and Barano d'Ischia (212m/700ft) with a large beach with hot springs, past a 16th century aqueduct and so back to Ischia Ponte.
Ischia Porto
About 2km/1.25mi west of the town of Ischia is the busier spa and seaside resort of Ischia Porto with the island's oldest harbor, a former crater lake.








Map of Ischia Island Attractions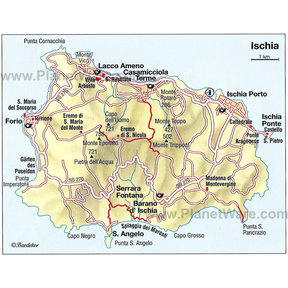 Map - Ischia