Archeological Museum, Istanbul
On the west side of the Seraglio hill in Istanbul stands the Archeological Museum (Arkeoloji Müzesi), which contains an important collection of prehistoric Greek, Roman and Byzantine antiquities.Opposite the southwest wing of the Archeological Museum is the Museum of Ancient Oriental Art (Eski Sark Eserleri Müzesi).In the courtyard of the Archeological Museum is the graceful Cinili Kösk (Tiled Pavilion), one of the oldest surviving Turkish buildings in Istanbul (1472), in a style which shows Persian influences. It has Turkish ceramic, tile (mainly from Iznik, 16th century) and faience (12th-19th century) decoration.Above the Archeological Museum is the Outer Court of the Seraglio, with the Janissaries' Plane Tree.The museum consists of two buildings, the main building which dates to the 1880s, and a new six story building.
Important Information:
Address:
Sultanahmet, Turkey
Opening hours:
9:30am-4:30pm; Closed: Mon
Archeological Museum Highlight
Sarcophagi of the Kings
Among the principal treasures of the Archeological Museum in Istanbul are sarcophagi of the kings of Sidon from the Royal necropolis of Saida (Sidon, in the Lebanon), including in particular the magnificent Alexander Sarcophagus and the Sarcophagus of the Mourners (with 18 figures of mourning women) both of the fourth century B.C.; the Sarcophagus of the Satrap (fifth century B.C.; the Lycian Sarcophagus (ca. 400 B.C.); the Sidamara Sarcophagus from Konya (A.D. third century); and some fine funerary stelae and stones with inscriptions.These Sarcophagi of the Kings can be found on the lower level of the main building.
Map - Archeological Museum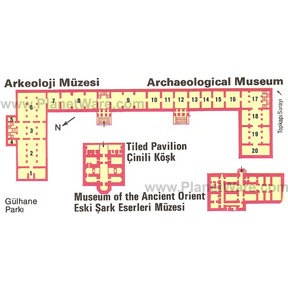 Map - Istanbul - Archeological Museum
Archeological Museum Pictures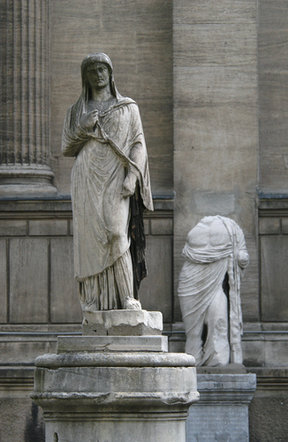 Map of Istanbul Attractions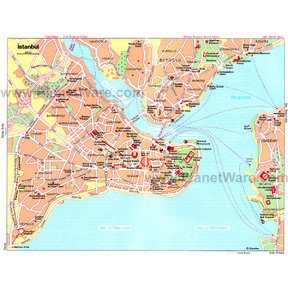 Istanbul Map
More Istanbul Attractions
Popular Destinations Nearby