Hagia Sophia (Ayasofya), Istanbul
The former church of Hagia Sophia (Holy Wisdom), in Turkish Ayasofya, from the Turkish Conquest until 1935 Istanbul's principal mosque and now a museum, is the supreme achievement of Byzantine architecture and the city's most celebrated monument. The first church on this site, built by Constantine the Great in 326, was burned down and a later church was destroyed during the Nika Insurrection.
Hagia Sophia (Ayasofya) Map
Important Information:
Address:
Sultanahmet, Turkey
Opening hours:
9:30am-4:30pm; Closed: Mon
It was rebuilt on a larger scale in 532-37, during the reign of Justinian, by Anthemios of Tralleis (Aydin) and Isodoros of Miletus, with the avowed intention of surpassing in splendor all the buildings of antiquity. Large numbers of columns were brought to Constantinople from temples in Asia Minor, the Lebanon, Greece and Italy, and the finest marbles and noblest metals were used. It is said that the total cost of the building was 360 hundredweight of gold and that 10,000 workmen were employed in its construction.Hagia Sophia (entrance on south side) is 75m/245ft long, 70m/230ft wide and 58m/190ft high to the top of the dome. In the exonarthex and narthex (outer and inner vestibules) are fine Early Christian mosaics, which were formerly concealed under whitewash but have mostly been exposed since 1931. Particularly fine is the figure of Christ enthroned (ninth century) over the main entrance into the church, the Imperial Doorway. The interior, dominated by the magnificent central dome (diameter 32m/105ft) and lit by countless windows, is of overpowering effect, though its harmonious proportions are somewhat disturbed by the huge circular wooden plaques on the main piers inscribed in gold script with the names of the first four Caliphs and by the mihrab (the niche indicating the direction of Mecca) in the apse.
Hagia Sophia (Ayasofya) Highlight
Turbes
Outside the south side of the Hagia Sophia in Istanbul are five türbes (tombs) of Sultans. To the southwest lies the busy Ayasofya Meydani (Hagia Sophia Square), on the site of the old Augusteion (Agora), from which there is a fine view of the Blue Mosque.
More Hagia Sophia (Ayasofya) Pictures
Map - Hagia Sophia (Ayasofya)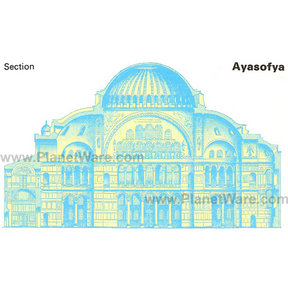 Map - Ayasofya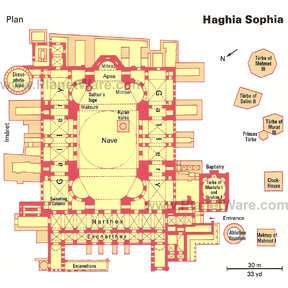 Map - Istanbul - Ayasofya
Map of Istanbul Attractions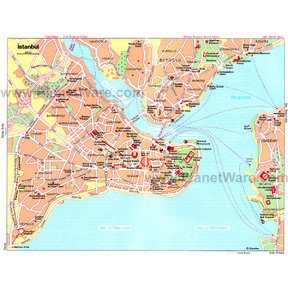 Istanbul Map
More Istanbul Attractions
Popular Destinations Nearby