Carnac Tourist Attractions
Carnac (pop. 4,443), on Quiberon Bay in southern Brittany, lies in an area with an extraordinary assemblage of standing stones and other megalithic monuments which attract large numbers of visitors. The name of the town comes from the Celtic word carn, meaning a stone monument.
Musée de la Prehistoire
Near the 17th century church of St-Cornely, notable particularly for its porch, is the Musée de la Prehistoire, with an important collection of material illustrating the development of mankind between 450,000 B.C. and A.D. 800.
Circuit des Alignements
On the west side of Carnac is the starting point of the Circuit des Alignements, which takes in the stone- settings and other megalithic monuments of Carnac, Ménec, Kermario and Kerlescan. These consist of menhirs (standing stones, which may be up to 6 m/20ft high), either free-standing, in rows (alignements) or in circles (cromlechs), dolmens (from a Celtic word for "stone table"), which were originally tombs, and tumuli containing tomb chambers - evidence of a prehistoric culture of which almost nothing is known. It is estimated that the oldest stones date from the Neolithic (about 3500 B.C.). The function of the stones has been the subject of much speculation. One suggestion is that they may have served some calendrical purpose, but there is no agreement among experts on when and why they were erected.
Tumulus St Michel
This tumulus of St-Michel, which is 125 m/410ft long and 60 m/200ft across and contains a number of tomb chambers, is topped by a small chapel. From the top of the mound a number of megaliths can be seen. There are others in the surrounding area, at Locmariaquer, Kermario, Kerlescan, Kercado and Moustoir.







Map of Carnac Attractions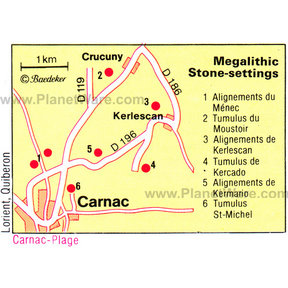 Map - Carnac Megalithic Stone Settings