Palazzo degli Uffizi, Florence
Around 1540 Cosimo I de'Medici, Duke of Florence and, after 1569, Grand Duke (Granduca) of Tuscany, moved out of the family palace into the Palazzo Vecchio, which thus became the Palazzo Ducale (Ducal Palace). This left no room for the law-courts and governing body of Florence and plans were drawn up for offices of their own, the Uffizi, to be built adjoining the Palazzo Ducale.
Important Information:
Address:
Piazza della Signoria, I-50100 Florence, Italy
Opening hours:
8:15am-6:50pm; Closed: Mon
Always closed on:
New Year's Day (Jan 1), May Day / Labor Day (May 1), Christmas - Christian (Dec 25)
Entrance fee in EUR:
Adult €6.50, Concession or reduced rate €3.25
Disability Access:
Full facilities for persons with disabilities.
Transit:
Bus: 3, 13, 14, 15, 18, 19, 23, 31, 32.
The foundation stone was laid in 1560. In 1565 a corridor was hastily built (in less than six months) from the Palazzo Vecchio through the Palazzo degli Uffizi and over the Ponte Vecchio to the Palazzo Pitti. The works which were carried out under Vasari, Buontalenti and Parigi came to a temporary halt in 1580.The Palazzo degli Uffizi took in the old customs building, the Zecca, where the famous "florins" were minted, and the Romanesque church of San Piero Scheraggio. This coincided with the construction of artists' studios and workshops. Rooms were also allocated for the study of natural sciences and alchemy. In 1585/1586 space was even found for a theater where the first operas in the history of music were performed. Today the palace houses the Uffizi Galleries and the National Archives.The Palazzo degli Uffizi is U-shaped around the Piazzale degli Uffizi, extending from the Palazzo Vecchio down to the Arno and then back to the Loggia dei Lanzi. On the ground floor the Palazzo has colonnades, columns alternating with pillars where stallholders still display their wares and which from time immemorial has been animated by the bustle of the people of Florence and visitors to the city. On the upper floors are the offices and works of art.The uniformly articulated facades conceal a disparate interior that developed from the mingling of 14th and 16th/17th century buildings. This was also the first European building to use cement and iron reinforcements.
Related Attractions
The Galleria degli Uffizi is one of the most popular tourist attractions in Florence. Showcasing an extensive display of Florentine and Italian art, the exhibited collection once belonged to the Medici royals.
Palazzo degli Uffizi Pictures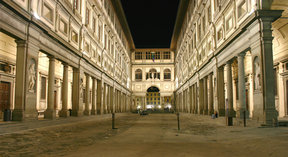 Map of Florence Attractions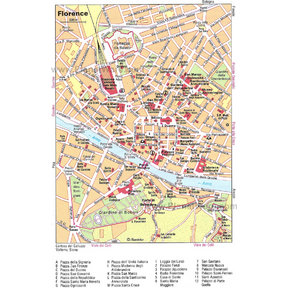 Florence Map
More Florence Attractions