10 Top Tourist Attractions in Sharm el-Sheikh & Easy Day Trips
Sharm el-Sheikh is the Sinai Peninsula's major tourism center and one of the world's top diving destinations. It was the underwater wonders of the Red Sea - particularly the waters of the Ras Mohammed Marine Park just south of town - that put "Sharm" center-stage in the first place, and the diving and snorkeling on offer here continue to attract flocks of diving enthusiasts each year. This is also one of Egypt's best destinations if you just want to chill out on the beach, and it's a particular favorite for family-friendly holidays due to the excellent facilities on offer. Whether you're here for the sand or the fish life, Sharm el-Sheikh is a great choice for a beach break after exploring the temples and tombs in the rest of the country.
1 Ras Mohammed National Park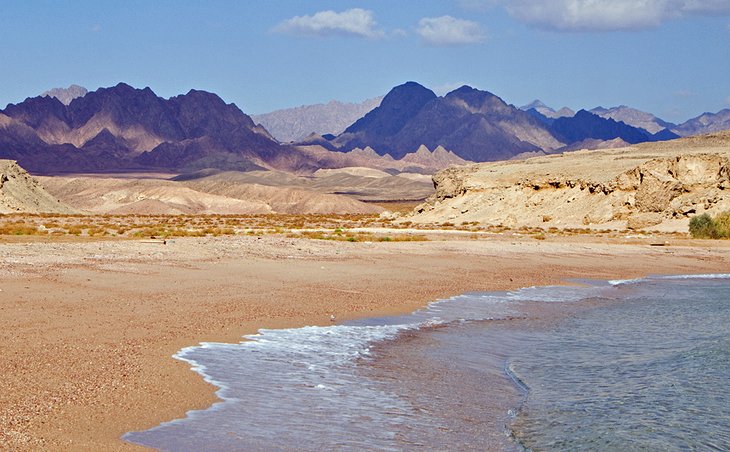 Ras Mohammed National Park is what put Sharm el-Sheikh on the tourist map. Surrounded by some of the world's most incredible dive sites, this peninsula is home to glorious beaches with excellent snorkeling just offshore, the world's second most northerly mangrove forest, and a salt water lake. A trip here is a must-do for anyone staying in Sharm el-Sheikh. The best beaches are Old Quay Beach (with its top-notch coral reef easily reached from the shore) and Aqaba Beach. Travelers seeking a good view should head to the Shark Observatory cliff top right on the southern edge of Ras Mohammed where views stretch across both sides of the Red Sea.
2 Naama Bay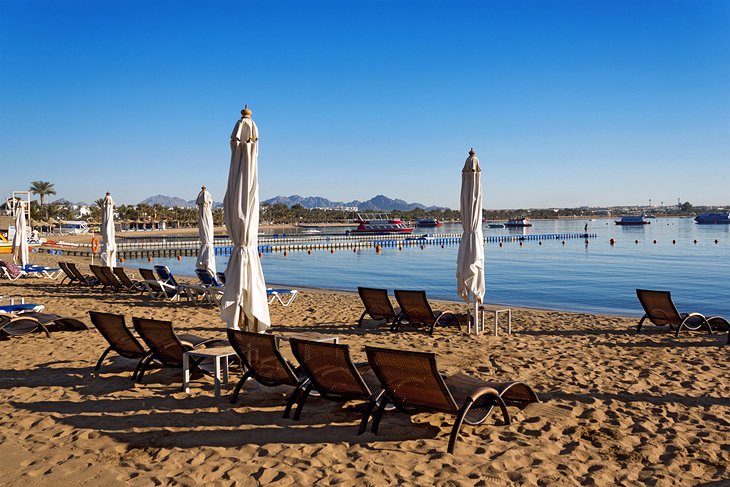 Fringed by a white sand beach and swaying palm trees, Naama Bay is the epicenter of Sharm el-Sheikh's resort life. There are plentiful restaurants, cafés, and souvenir stores if you get bored of the sand, but Naama Bay is really all about the beach. A pedestrian-only promenade rims the entire beach area, backed by a cluster of luxury resorts. For those looking for a holiday full of sloth-like sunbathing, Naama Bay is one of Egypt's top choices. The entire beach area has excellent facilities including ample sun-shades and loungers, and the beachside cafés mean you don't even have to move from your patch of sandy bliss all day.
3 Jolanda Reef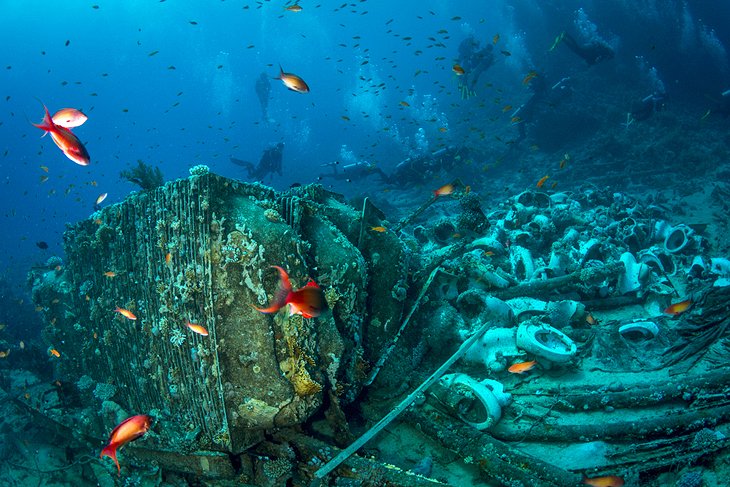 Jolanda Reef (also called Yolanda Reef) is one of the most popular dive sites in the northern section of the Red Sea and lies within the Ras Mohammed Marine Park. Divers flock here to explore the remains of the Jolanda, an old Cypriot freighter ship that ran aground in 1980. It's more than just a wreck dive though, as Jolanda Reef also encompasses the coral walls of Shark Reef with its huge numbers of fish life and enchanting coral gardens.
4 Ras Um Sid Beach and Reef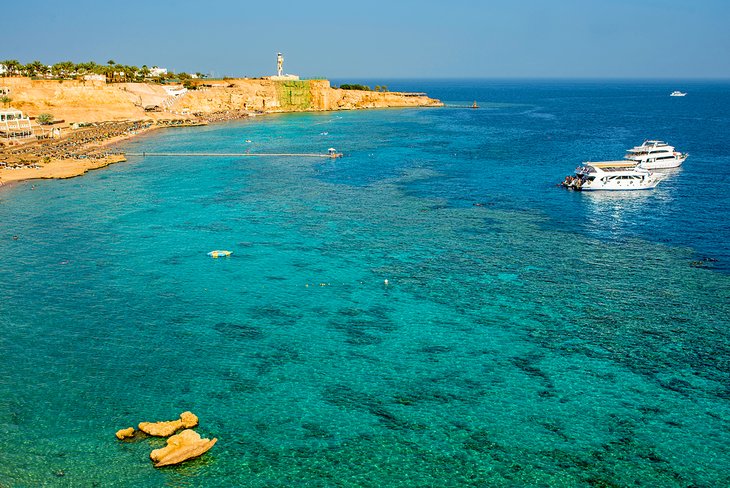 One of Sharm el-Sheikh's best beaches is Ras Um Sid, right at the southern tail of the town, near the lighthouse. Here, people slouch on the beach between snorkeling trips into the water where an excellent coral reef is just offshore. Further away from the sand, Ras Um Sid Reef is perfect for first-time forays into diving and is used as a try-dive site by many local dive operators. Even if you're just snorkeling, there is plenty of fish life to see.
5 Shark's Bay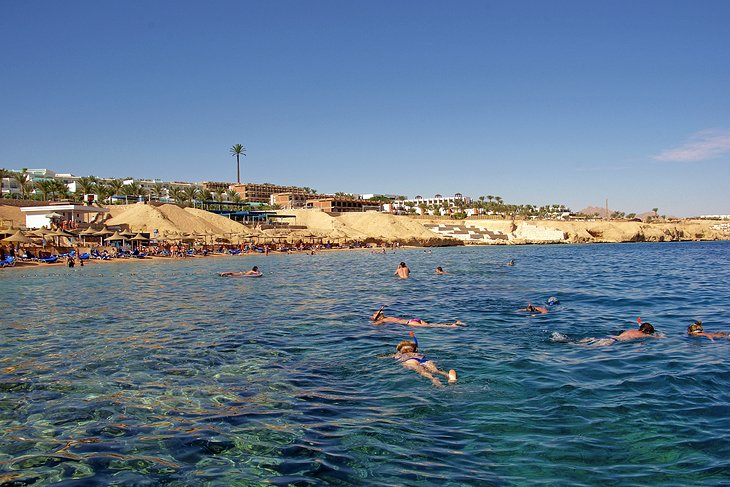 Further north from Naama Bay is slightly more exclusive Shark's Bay, which has some of Sharm el-Sheikh's most luxurious five-star resorts and hotels clustered across its sweep of sand. This is where you head if you want total tranquility on your holiday. The recent Soho Square Centre in the area means you don't have to miss out on the buzz if you choose to stay here either. This entertainment center is packed full of top-dining restaurants and shops.
Address: 7 kilometers north of Sharm el-Sheikh
6 Jackson Reef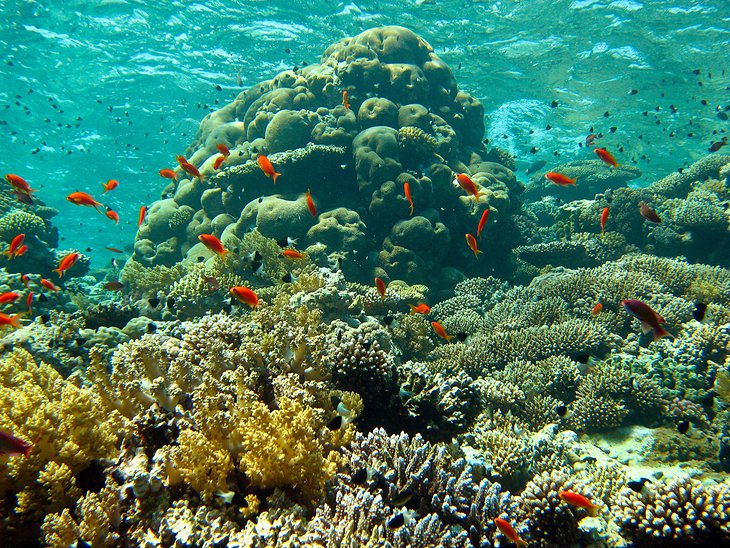 In the Straits of Tiran between the Sinai Peninsula and the southern tip of Saudi Arabia, Jackson Reef is one of Sharm el-Sheikh's prime dive sites. There are masses of large pelagic fish to be seen here, and it's one of the Red Sea's top spots for shark sightings. The reef is also home to the wreck of the Lara, and exploring this freighter ship wreckage adds an extra element to this dive.
7 Sharm Old Market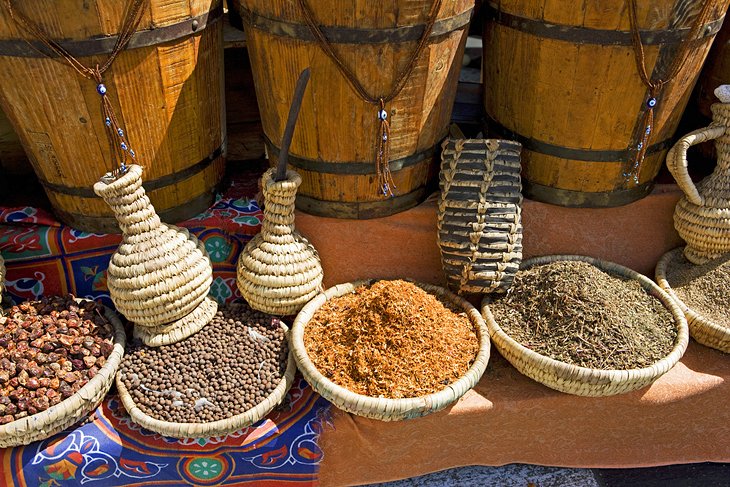 Sharm Old Market (also known as Sharm al-Maya) is the town's souq (bazaar) area where twinkling Arabic lamps, traditional shisha pipes, and finely engraved woodwork can be found in abundance. It's best to come at sunset or later when the worst heat of the day has dissipated, and you can shop and browse in comfort. The area is full of cheap and cheerful restaurants and cafés
as well, so it's a good place to spend the entire evening. There's a distinctly different feel here than the rest of Sharm el-Sheikh - the market is imbued with a much more higgledy-piggledy local atmosphere than the rest of the city.
Address: Sharm al-Maya Road
8 Gardens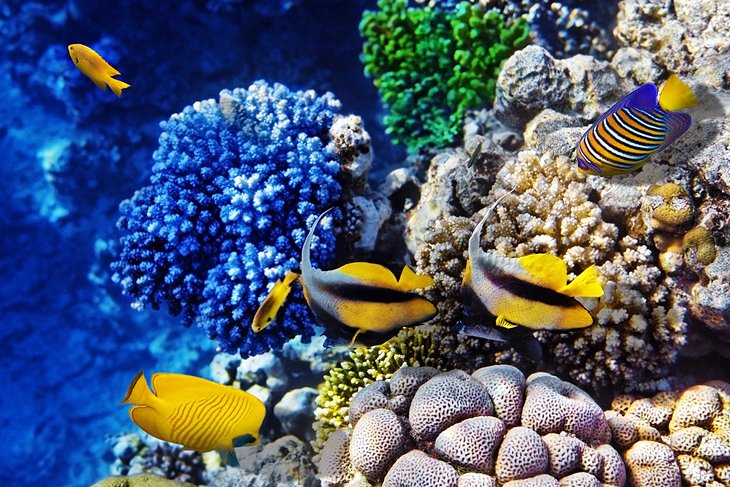 At the northern end of Naama Bay, the Gardens Reefs stretch out just offshore from the coast. This reef system is actually three different snorkeling and diving sites called Near Garden, Middle Garden, and Far Garden that can be accessed by both the shore and by boat. If you just want to snorkel, Near Garden is the best (and easiest) site to access and is home to some amazing coral pinnacles with plenty of flitting clownfish and butterfly fish in residence.
Location: Offshore Naama Bay
9 Thomas Reef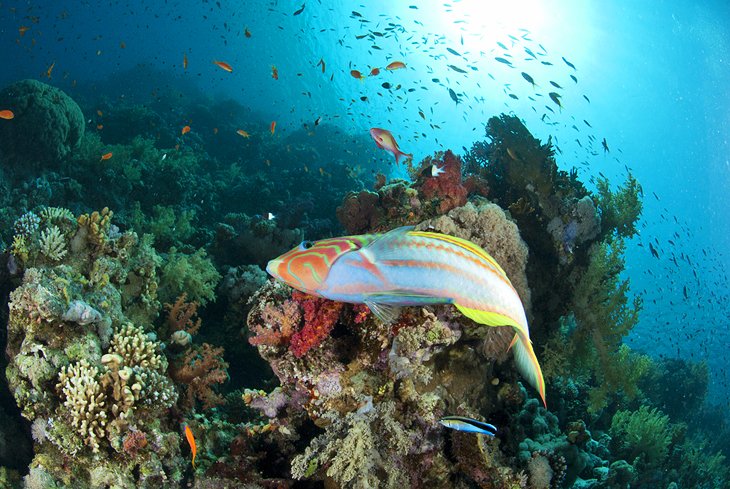 Part of the Tiran Straits set of dive sites, Thomas Reef offers incredible underwater vistas of soft coral and vast schools of fish. It's a deep wall reef dive that is popular with experienced divers for the fantastic array of colored coral on display. This is one of Sharm el-Sheikh's top dives for those who really want to experience the abundance of sea life that calls the Red Sea its home.
10 Nabq Protectorate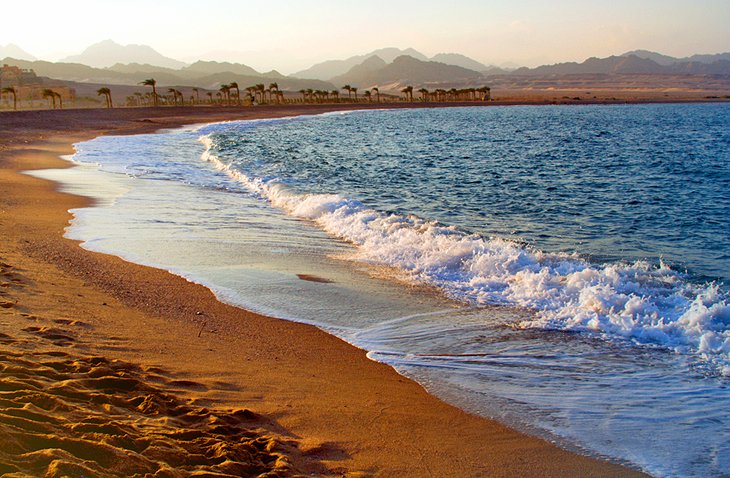 North of Sharm el-Sheikh, Nabq Protectorate is a coastal desert landscape of arid beauty and home to the world's most northerly mangrove forest. The landscape here is a vista of sand dunes, lonely beaches, and arak bushes, and it's one of Egypt's most important protected wilderness sites with a huge amount of birdlife as well as endemic gazelles and ibexes. There are also excellent snorkeling opportunities just offshore from the beaches here.
Location: 20 kilometers north of Sharm el-Sheikh
Day Trips from Sharm el-Sheikh
Saint Catherine's Monastery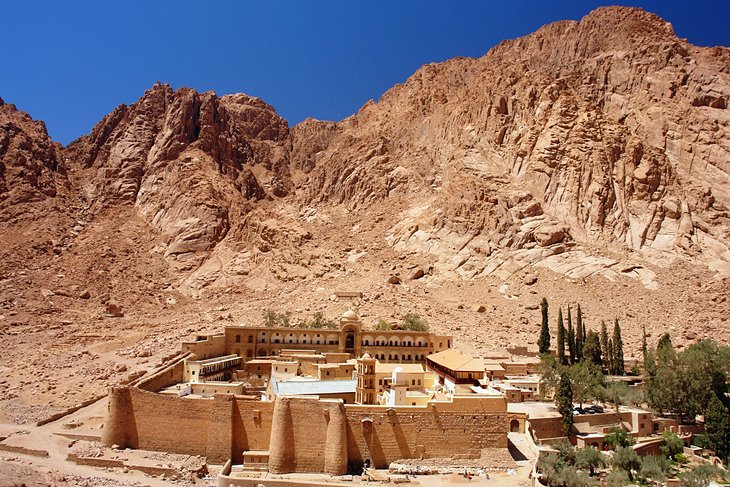 The Sinai Peninsula's top historical destination, St. Catherine's Monastery sits at the foot of Mt. Sinai, where Moses is said to have received the Ten Commandments. One of the oldest working monasteries in the world, this Greek Orthodox hermitage is home to the famous "burning bush" of the Old Testament as well as a glittering collection of religious icons and ancient manuscripts that is revered as one of the finest in the world. A day trip here is a must for any history-lover staying in Sharm el-Sheikh and can also include a hike up to the summit of Mt. Sinai.
Location: 209 kilometers northwest from Sharm el-Sheikh
Dahab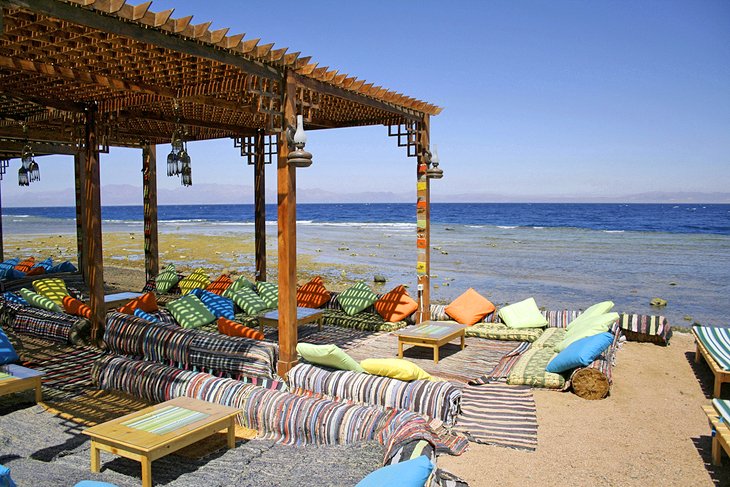 Dahab is the Sinai's backpacker beach resort and a chilled-out alternative to the holiday package feel of Sharm el-Sheikh. Along the shore is a huge number of casual restaurants and cafés while a cute shopping district winds its way up to the main highway in a jumble of souvenir shops. There is some excellent diving and snorkeling here, which is the reason most people come but Dahab's laidback atmosphere is also great for a day out from Sharm el-Sheikh.
Location: 90 kilometers north of Sharm el-Sheikh
The Blue Hole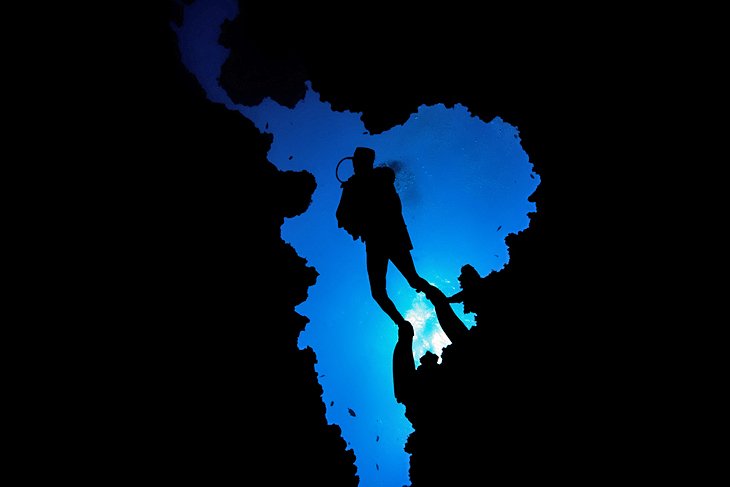 Sinai's most notorious dive site is the Blue Hole, and people come from far and wide just to dive here. This sinkhole claims the lives of a few divers every year, mostly through people diving way beyond their limits and experience. Despite the site's reputation for danger, divers who stick within sensible limits are perfectly safe here, and the fish life and incredible vistas of ethereal blue below make this an incredibly beautiful dive.
Location: 100 kilometers north of Sharm el-Sheikh
Coloured Canyon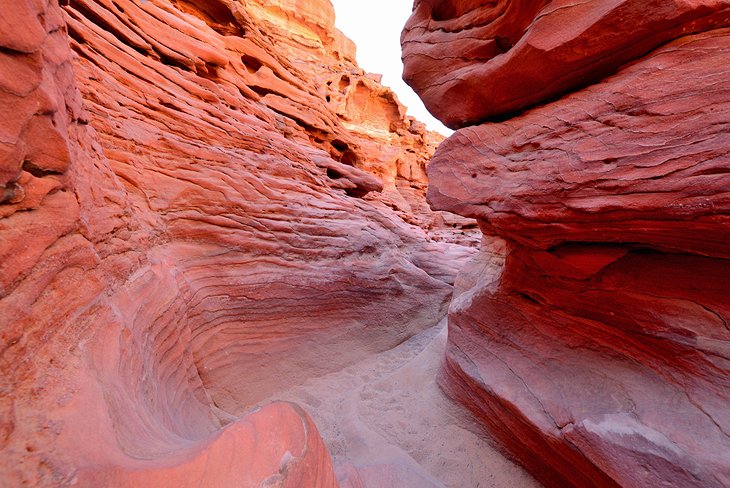 The swirling mineral-rich layered rock formations of this canyon are one of the Sinai's top out-of-the-water natural attractions. It's a showcase of the natural beauty of the desert with plenty of opportunities for scrambling around the rock faces and hiking fun. For nature lovers, this is one of Sharm el-Sheikh's top days out, and exploring the bizarrely shaped pinnacles and boulders, which have been brushed with shimmering red and orange hues makes for some fantastic photography.
Location: 177 kilometers north of Sharm el-Sheikh
More on Egypt