Philae Attractions
Once renowned as the "pearl of Egypt" by virtue of its rich vegetation and its magnificent assemblage of temples, the island of Philae now lies beneath the waters of Lake Nasser; but fortunately, thanks to a spectacular rescue operation carried through with financial and technical assistance from Italy and West Germany, it was possible to save at least the most important monuments and re-erect them on the higher neighboring island of Agilka.
The Temple of Isis Complex
The Temple of Isis maintains six of the original 14 columns, between which are screens. Above is a a frieze of royal cobras and reliefs of Nectanebo presenting offerings.
Temple of Hathor
Some 55yd/50m east of the Temple of Isis we find the little Temple of Hathor, built by Philometor and Euergetes II in honor of Hathor-Aphrodite; the vestibule and the sanctuary (destroyed) were added by Augustus. The columns of the vestibule are decorated with charming reliefs: flute-players and harpists, Bes with a tambourine, Bes dancing and playing a harp, monkeys playing the lyre, priests bearing an antelope, etc. On the screens between the columns Augustus is depicted making offerings to various personifications of Hathor. The best preserved part of the structure is the main temple chamber, on the front of which are two plant columns linked to the walls by screens.
Kiosk of Trajan
Southeast of the Temple of Hathor, on the bank of the river, is the most attractive little building on the island, the Kiosk of Trajan. As its name implies, it dates from the Roman Imperial period, but was left unfinished: the capitals of the plant columns were intended to be surmounted by sistrum capitals.
Christian Buildings
Various structures at the north end of Philae in particular two Coptic churches and the remains of a Coptic monastery, the ruins of a Temple of Augustus dating from the 18th year of the Emperor's reign and the large Roman town gate to the northeast were left where they stood and not transferred to Agilka. It is hoped to recover them at a later date.
Bigga
From the rocky neighboring island of Bigga (ancient Egyptian Senmet) there is a good view of Agilka and the temples of Philae. The principal deities of Bigga were the fire goddess Ups and Hathor. There are the remains of a colonnaded court belonging to a temple built by Ptolemy XII Neos Dionysos, with plant columns linked by screens. On the east side is a doorway with an apse built into it. On this island there once stood the famous Abaton, the sacred shrine containing the Tomb of Osiris.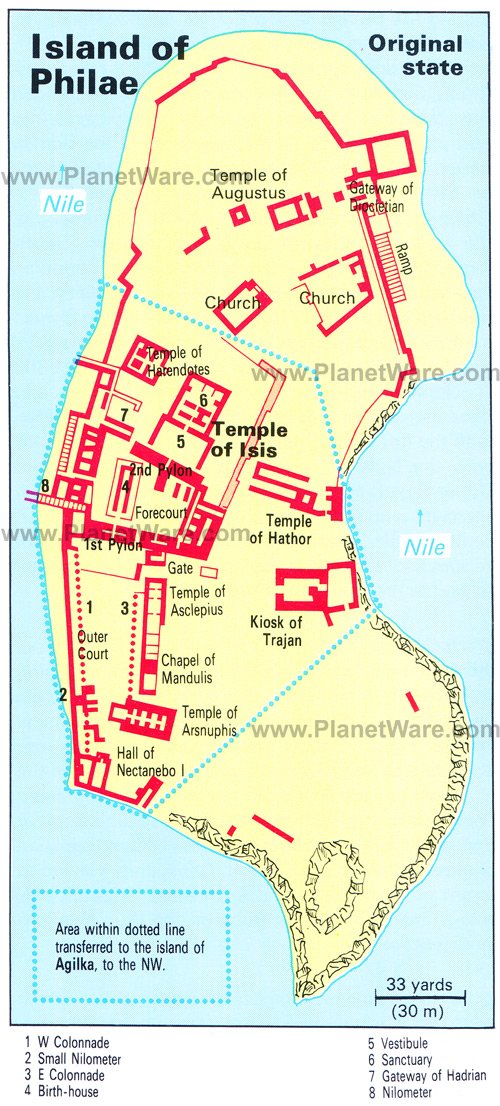 Island of Philae Map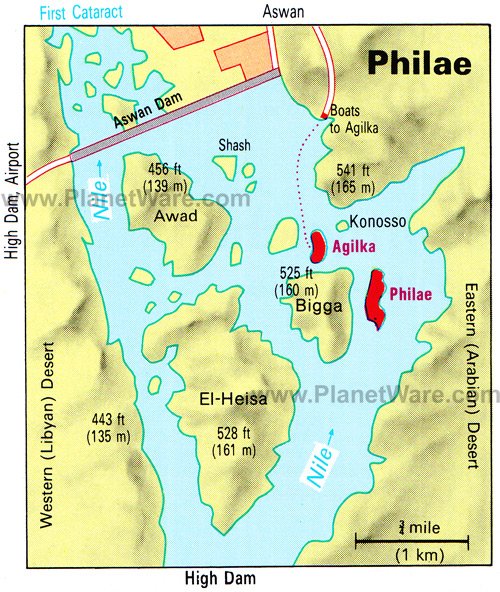 Philae Map
Popular Pages