Boulevard de la Croisette, Cannes
In Cannes, the center of tourist activity is the Boulevard de la Croisette which extends eastward from the new Palais des Festivals along the Rade de Cannes, with its fine sandy beach; from it there is a magnificent view of the gulf and the offshore Lerin Islands. The boulevard is dominated by luxury hotels - some from the Belle Epoque period - and high class shops.In the yacht harbor lies the pirate ship Neptune, built as the backdrop for an adventure film.The eastern section of the boulevard bends south at the fine Parc de la Roseraie, skirts the new port layout of the Port Pierre Canto and ends at the southern tip of the Pointe de la Croisette by the Port du Palm-Beach. On the east side of the peninsula the pleasant Boulevard Eugène- Gazagnaire, with its fine beach, leads north to the Port du Moure Rouge.
Boulevard de la Croisette Map
Important Information:
Related Attractions
Palais des Festivals et des Congrès
The Palais des Festivals et des Congrès was completed in 1982 and provides year-round activities. The palais offers 25,000 square meters for exhibitions as well as numerous rooms and 18 auditoriums equipped with sophisticated sound and lighting systems.Palais des Festivals is a modern sand-colored building that hosts events such as the international music trade show MIDEM, MIPTV (International Television Programme Market) and the world-renowned Cannes Film Festival.
Galerie du Carlton
Galerie du Carlton presents a collection of paintings, sculptures and glassware featuring works by Chagall, Matisse, Picasso, Renoir, Utrillo and Vlaminck. The gallery specializes in acquiring and selling art.
Festival International d'art Pyrotechnique
The Bay of Cannes lights up each year when the Festival International d'art Pyrotechnique brings together the best fireworks designers in the world. The festival began in 1967 and brings out thousands of spectators along the beaches. The top pyrotechnic team receives the Vestal prize at the end of the fireworks competition.
More Boulevard de la Croisette Pictures

Map of Cannes Attractions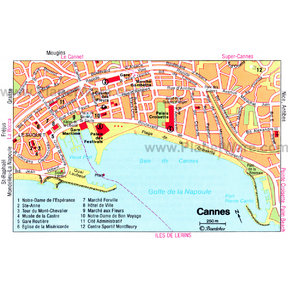 Cannes Map
More Cannes Attractions
Popular Destinations Nearby