Cote d'Azur Attractions
The Côte d'Azur ("Azure Coast"), as the French Riviera is known in France, extends along the Ligurian Sea from Marseilles to the Italian frontier at Menton.
Natural Area
With its Mediterranean climate, the Côte d'Azur has an extraordinarily rich flora. The original vegetation, including various species of pine (Aleppo pine, maritime pine, northern pitch pine) and deciduous trees (holm oak, cork oak, English oak, hornbeam, sweet chestnut), has suffered from human intervention and catastrophic forest fires and is much reduced from its former extent. The plants which are now characteristic of the landscape - the silver-green olive trees which cover the hills to a height of 500m/1,650ft, the orange and lemon plantations, the palms, vines, cypresses, pines, agaves, aloes, cacti, etc. have come from all over the world, some of them in Roman times.Near the sea is found the maquis (macchia, garrigue) characteristic of the whole Mediterranean area - an impenetrable scrub of kermes oaks, lentisks, myrtles, strawberry trees, tree heaths, carob- trees, liana-like climbing plants and much else besides. Particularly prominent are strongly aromatic herbs and shrubs like lavender, thyme and rosemary.
Saint-Raphael, France
The port of St Raphaël, half-way between St Tropez and Cannes, has a charming situation on the north side of the Gulf of Fréjus at the foot of the Esterel range.In the old heart of the town stands the 12th C. Eglise des Templiers (a Templar church), with a tower which was built as protection against pirates. Adjoining the church on the north side is the Musée d'Archéologie Sous-Marine (Museum of Underwater Archeology) with a notable collection of amphorae which were mostly rescued from ancient wrecks. Parallel to the shore runs the Promenade René-Coty, which is beautifully laid out and extremely popular in season. From here and also from the pleasant avenue de Gaulle there is a good view of the strange rock formations, the Lion de Terre (Lion of the Land) and Lion de Mer (Lion of the Sea) near Port Santa-Lucia.
Agay
A very charming, winding road along the red rocky Mediterrnean coast from St-Raphaël leads (9km/5.5mi eastwards) to the delightful resort of Agay on the bay of the same name, which is enclosed by Cap Drammont and the Pointe de la Baumette. At the latter there is a lighthouse and a memorial to the French airman and author Antoine de Saint-Exupéry.Agay is a good starting-point for trips to the Esterel mountain range.
Monastery, Saorge, France
Franciscan monks selected the Roya gorge to build Monastère de Saorge in 1633. The church of Notre-Dame des Miracles is of baroque design and the cloister is decorated with frescos of the 18th C.
Map of Cote d'Azur Attractions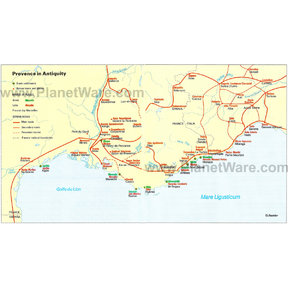 Map - Provence in Antiquity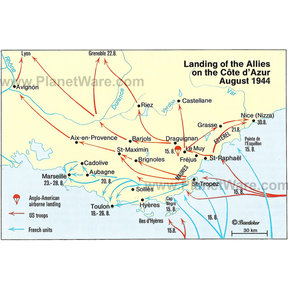 Map - Landing of the Allies on the Côte dÁzur August 1944