Ibn Tulun Mosque, Cairo
From the Midan Salah el-Din Shari el-Saliba leads southwest to the Ibn Tulun Mosque, the second oldest in Cairo. Built in 876-879 by Ahmed ibn Tulun on the 65ft/20m high rocky plateau of Gebel Yashkur and modeled on the Kaaba in Mecca, it was then the largest mosque in existence. The outer walls, almost without decoration, are topped by crenelations.
Related Attractions
Ibn Tulun Mosque Minaret
The 130ft/40m high minaret in the north forecourt, with a fine horseshoe arch over the entrance and a spiral staircase in the interior, is modeled on the minarets of the Great Mosque of Samarra on the Tigris. From its platform (173 easy steps) there are superb views, particularly in the evening, extending in the north over the sea of houses and the Nile Valley to the Delta, in the west and south to the Pyramids and in the east to the Moqattam Hills.
Ibn Tulun Mosque Main Court
From the main entrance we enter the east forecourt and turn left through the sanctuary to reach the Main Court (Sahn), 295ft/90 m square, with a fountain in the middle. This is surrounded by liwans with two rows of columns five rows in the main liwan on the south side, the prayer hall or sanctuary. The facades have pointed relieving arches above the columns and a frieze of rosettes along the top. The oldest parts of the decoration of the interior, in carved (not moulded) stucco and wood, are without the intricate interlace patterns of the later Byzantino-Arab style.
Ibn Tulun Mosque - Prayer Hall
In the prayer hall is a prayer recess (mihrab) with elegant capitals and remains of gold mosaic decoration. Above the dikka are remains of the original wooden ceiling.
Map - Ibn Tulun Mosque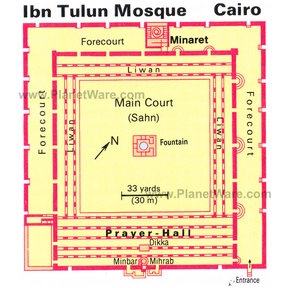 Map - Ibn Tulun Mosque
Map of Cairo Attractions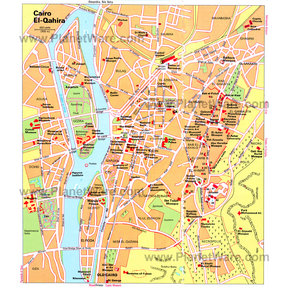 Cairo Map