Antwerp Zoo
Dierentuin
Located right in the midst of the city, immediately behind Centraal Station, the 10ha/25 acre Antwerp Zoo was founded in 1843. It is widely regarded as one of the finest zoos in Europe on account of its variety of species, its success in breeding, the care bestowed on the animals, kept in the most natural environment possible, and, last but by no means least, its architecture.
Important Information:
Address:
Kon. Astridplein 26, B-2018 Antwerp, Belgium
Opening hours:
Jan 1 to Feb 28:
10am-4:45pm
Mar 1 to Apr 30:
10am-5:30pm
May 1 to Jun 30:
10am-6pm
Jul 1 to Aug 31:
10am-7pm
Sep 1 to Sep 30:
10am-6pm
Oct 1 to Oct 31:
10am-5:30pm
Nov 1 to Dec 31:
10am-4:45pm
Entrance fee in EUR:
Adult €15.50, Child 11 & under €9.90, Senior €9.90, Child 3 & under FREE
Useful tips:
Book guides one month in advance. Guides are also available only for groups of 15 or more. No pets are allowed in the zoo.
Guides:
Guided tour available as optional extra.
Transit:
Bus: 2, 12, 15, 18, 23.
Antwerp Zoo Highlights
Antwerp Zoo Architecture
While the Art Déco facades of the entrance area are the first features to catch the eye, inside the zoo there are several buildings of note, among them the giraffe and elephant house (1855) in the style of an Egyptian temple.
Natural History Museum
The Antwerp zoo also has a natural history museum concentrating mainly on native fauna. One rather unusual section is devoted to a collection of old microscopes and specimens.
Antwerp Zoo Animals
More than 6,000 animals of 950 species live in the zoo, including rare breeds such as white rhino, okapi and mountain gorilla.
Antwerp Zoo Terrarium and Aquarium
The terrarium and aquarium are filled with many interesting animals, among them the komodo dragon and exotic fish from the Zaïre River.
Antwerp Zoo Aviary
In the cleverly designed aviary occupants and visitors are able to mingle freely.
Antwerp Zoo Dolphinarium
A dolphinarium seating over a 1,000 has recently been added.
Antwerp Zoo Nocturnal House
A nocturnal house has recently been added.
Planetarium
A planetarium has recently been added to the Antwerp Zoo.
Map of Antwerp Attractions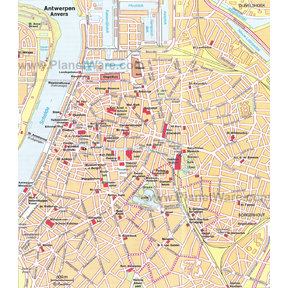 Antwerp Map