14 Best Things to Do in Jordan
Jordan brims with ancient wonders. This Middle Eastern country's top attraction, Petra, features exquisite rock-cut architecture that dates back more than 2,000 years, giving tourists a sense of traveling back in time.
Up north, the Roman ruins of Amman and Jerash inspire similar levels of awe, sans the crowds. Plus, antique desert castles confetti the landscape throughout the country.
Beyond historical attractions, Jordan also has tons of other things to do that can turn your visit into an unforgettable travel experience.
You can go glamping in the astounding Wadi Rum desert, take a mud bath in the Dead Sea, soak in the Ma'in hot springs, and tuck into local cuisine on Amman's Rainbow Street–just to name a few highlights.
Ready to start planning your trip? Check out our list of the top things to do in Jordan.
1. Tour the Ancient City of Petra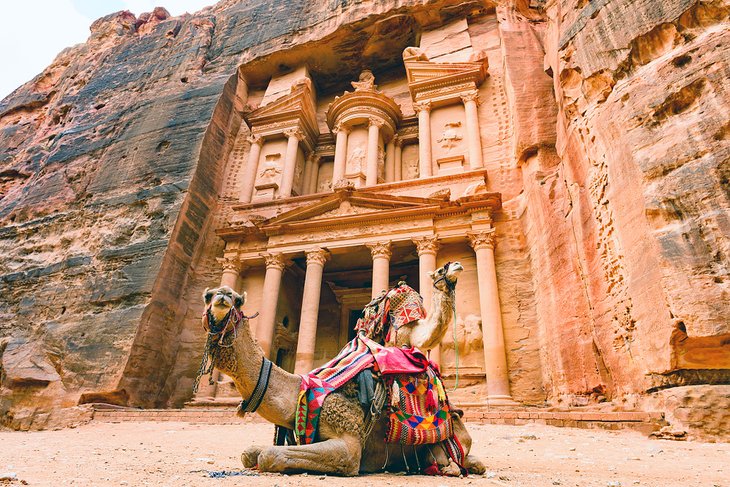 Without a doubt, the top thing to do in Jordan is tour Petra. One of the world's top UNESCO World Heritage Sites, the ancient Nabataean city is famous for its well-preserved buildings and tombs carved straight into the pink-hued sandstone cliffs.
Petra's best-known attraction, the Treasury, astonishes tourists with its Hellenistic façade and finely crafted columns and ornamental figures. And it's just one place to visit among more than 800 registered sites in the attraction.
Just after you enter Petra, you'll see the Djinn Blocks, a set of three massive structures of mysterious origin, and make your way through the Siq, a 1.2-kilometer winding path through a canyon whose walls feature ancient terra-cotta pipes for water.
There's also a theater with thousands of chiseled seats; royal tombs with arched entryways and impressive views; the Colonnaded Street, which once served as the gateway to the city center; and an elegant monastery located up 800 hand-hewn steps.
With so many things to do here, try to reserve at least two or three days in your itinerary for exploring Petra. Don't miss the famous Petra By Night show–seeing the glow of more than 1,500 candles light up the Treasury and Siq is downright mesmerizing.
2. Float in the Dead Sea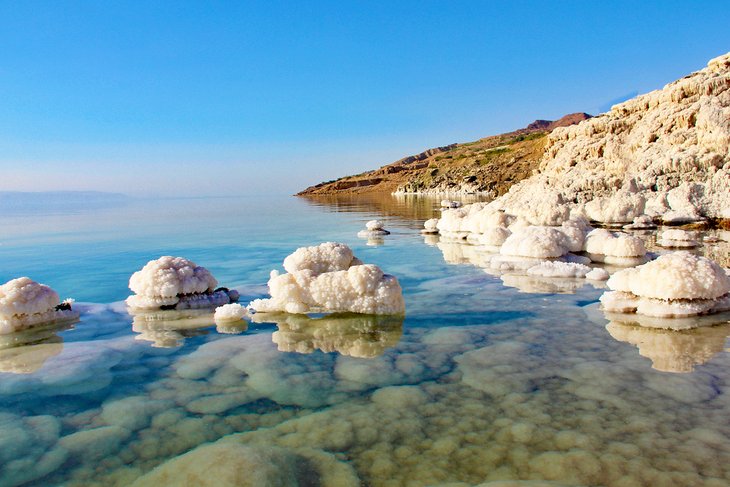 Just an hour's drive from Amman, the Dead Sea is the go-to destination for tourists in search of rest and relaxation in Jordan. The aquamarine-colored water is renowned for its high salinity.
While the salty water can be brutal on your eyes if you accidentally get splashed, its density also makes it impossible for you to sink–and floating in this landlocked lake makes you feel light as air.
What's more, the Dead Sea's mineral-rich waters and mud are believed to have healing properties–hence why you'll see tourists coating themselves in the slate-gray sludge and baking in the sun before taking a dip. It will leave your skin feeling as smooth as butter.
Luxurious resorts scattered throughout the Dead Sea region offer day passes to their private wading areas, as well as opulent spas, should you wish to continue getting pampered.
3. Camp Out in Wadi Rum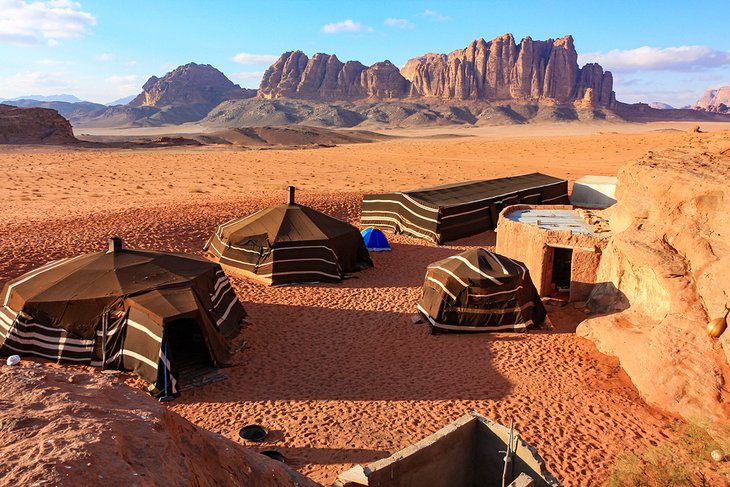 Perhaps the biggest movie star to come from Jordan isn't an actor, but the landscape of Wadi Rum.
The legendary desert landscape, nicknamed the "Valley of the Moon" for its lunar-like scenery, has been depicted in Lawrence of Arabia, Star Wars: The Rise of Skywalker, The Martian, and several other blockbuster films.
The sheer drama of the steep dunes, craggy cliffs dotted with tens of thousands of petroglyphs, and red sand stretching to the horizon also makes it an amazing place for tourists to take a jeep safari.
Better yet, consider spending the night in Wadi Rum at one of the friendly Bedouin camps or glamping sites. On a clear night, you'll experience some of the world's best stargazing.
4. Visit Roman Ruins in Amman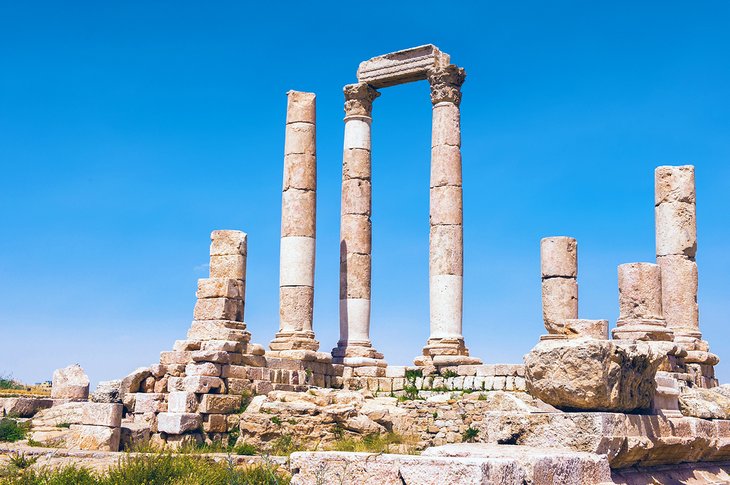 Don't write off Amman as simply a pit stop on your way to Petra. Jordan's bustling capital has its own collection of remarkable Roman ruins, most of which are located downtown or can be reached on short walks from the city center.
Start your sightseeing in Amman on top of the city's tallest hill at the Amman Citadel. Here, you can see the remains of the Temple of Hercules, including crumbling pillars that somehow still stand, and a stone sculpture of three bent fingers. It's believed to have once been part of a statue of Hercules that was at least 12 meters tall.
A 20-minute walk from the Citadel takes you to another popular ruin: the Roman Theater. The impressive amphitheater still retains its 2nd-century Roman aesthetics, but is now used for a range of cultural events, like live music performances.
Nearby, you can also see a few columns that were once part of the Forum (a large public plaza), the Odeon (a small theater), and the Nymphaeum (an 1,800-year-old public fountain).
5. Travel Back in Time in Jerash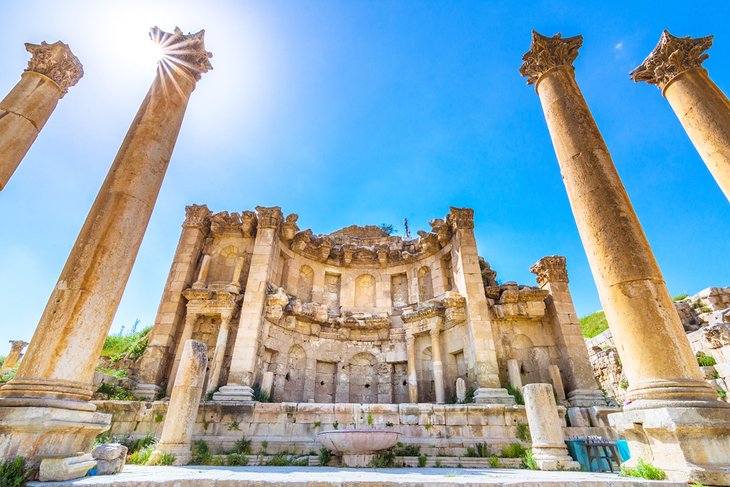 Continue your journey through Jordan's wonders in Jerash. An easy day trip from Amman, this city has been inhabited since Neolithic times. Its well-preserved Roman ruins haven't yet earned the fame of others in the country, so you may have the unique opportunity to experience them with little to no crowds.
The entrance, Hadrian's Arch, gives you a sense of how grand this ancient city was during its heyday–especially considering that the entryway was likely twice as large as it is today.
Another impressive site is the Forum, a round plaza with original paving that's flanked by dozens of columns. Nearby, you can visit the Hippodrome, where chariot races once entertained audiences of thousands.
Along the Cardo Maximus (the main thoroughfare through the city), you can see the space that was once used for the Marcellum (food market). Keep your eyes peeled for the thick stone slab with knife marks–a clue that it was likely a butcher's block at one point in history.
6. Marvel at Madaba's Ancient Mosaics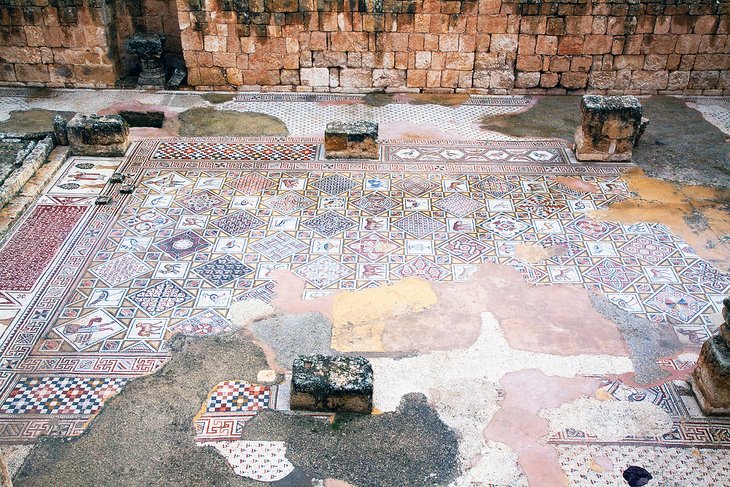 St. George's Church is usually tourists' first stop in Madaba. The Greek Orthodox church contains the prized Madaba Mosaic Map, a 1,500-year-old floor mosaic that once offered a complete depiction of major biblical sites of the Middle East.
While some of the original two million tiles have gone missing, the artifact is still intact enough to give you a sense of its complexity. It's considered to be the oldest surviving map of the Holy Land.
The map alone can get just about anyone excited about mosaics, and fortunately, it's far from the only ancient tiled art you can see in Madaba. Check out the fantastic carpet-like mosaic of the four seasons in Archeological Park I, as well as tiles portraying a lion attacking a bull in Archeological Park II.
A number of private mosaic workshops around the city also sell tilework souvenirs, so you can take a piece of this creative heritage home with you.
7. Enjoy the Beaches and Dive in the Red Sea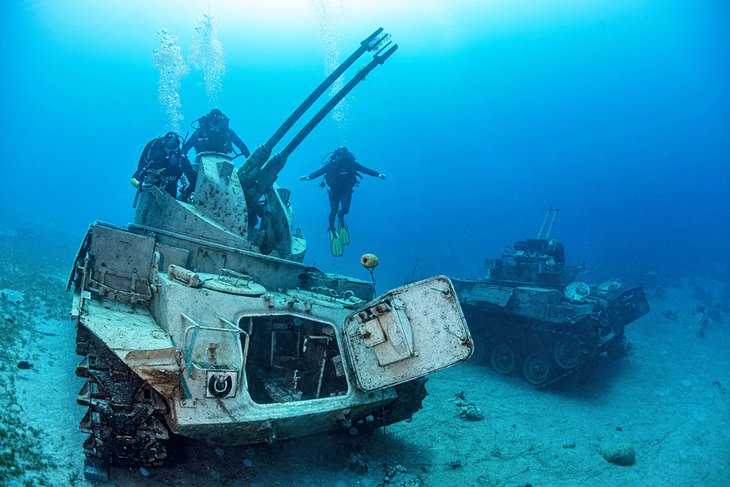 It might be hard to believe that one of the top things to do in Jordan is visit the beach, but this desert country also offers a stretch of stunning coastline along the Red Sea.
The best place to experience it is in Aqaba, a port city at the southwestern tip of the country.
While lounging on the golden sand beach is certainly satisfying, it's worth arranging a snorkeling or scuba diving experience with a local tour operator.
The waters here contain a vibrant underwater world filled with damselfish, seahorses, clownfish, lionfish, sea turtles, and moray eels.
8. Walk along Amman's Rainbow Street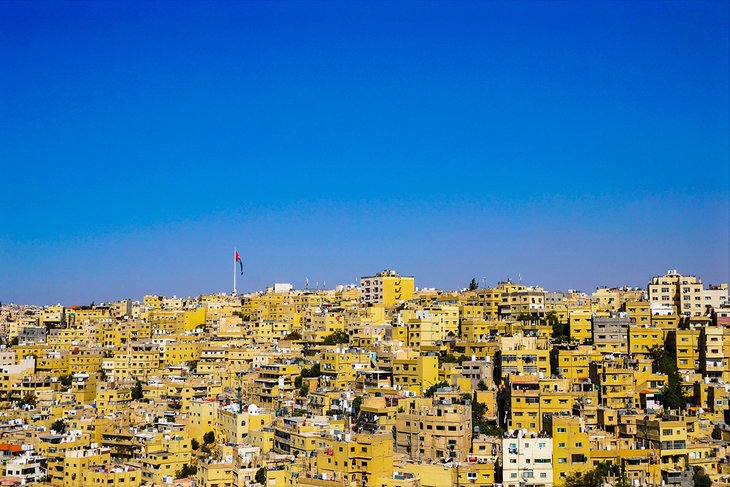 Contemporary urban life is just as interesting as the ancient sites in Amman, and the best place to experience it is on Rainbow Street.
The colorful street makes the perfect place to sip tea and eat your weight in falafel on a rooftop terrace. Rainbow Street's location atop a tall hill also gives you wonderful views of the city.
If you're looking for great souvenirs, shops along and around Rainbow Street have you covered. The tourist-favorite shop Wild Jordan Center sells an array of local goodies, including handicrafts, necklaces, bags, and trinkets, to support conservation efforts.
If you happen to be visiting on a Friday night in mid-May through mid-September, you can also shop at the Souk Jara, an open-air flea market with a huge variety of vendors.
9. Go Canyoning in Wadi Mujib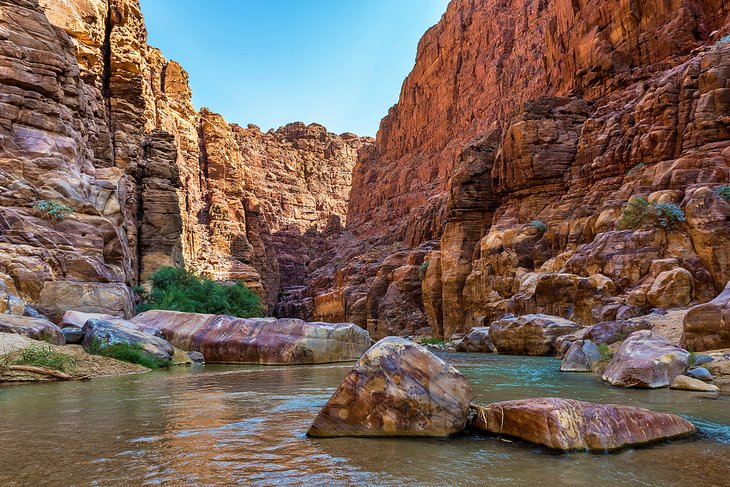 Looking for an adventure in Jordan? Head to Wadi Mujib, an incredible canyon that stretches from the Dead Sea to the Desert Highway.
It's one of the only places in the country where freshwater flows, and its dramatic rock formations offer the perfect setting for canyoning.
Most tourists who want to try canyoning head to the Siq Trail. It challenges visitors to scramble over rocks, wade through running water, swim, and cling to ropes going up waterfalls.
While the adventure might sound difficult, trained guides can help you maneuver the gorgeous landscape with relative ease. They can also hook you up with any gear you forgot to pack.
10. Drive the Desert Castles Loop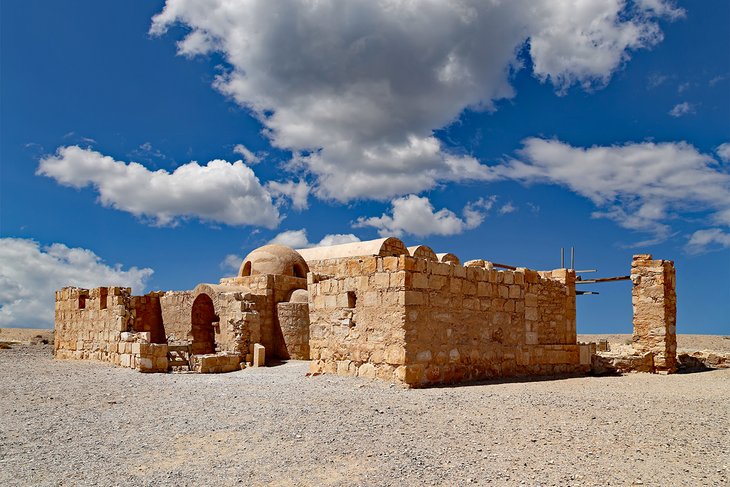 For a truly unique road trip experience, tackle the Desert Castles Loop.
Typically starting and ending in Azraq (although you can begin in Amman), the circular route will show you a series of "Desert Castles"–Islamic structures built in the 7th century for a range of purposes, including hunting lodges, military outposts, and caravan rest stops.
Highlights include the beautiful frescoes inside Quseir Amra and the Azraq Castle, a fort which once provided shelter to T. E. Lawrence.
The 250-kilometer-long route can be tackled in a day, but be sure to start early and pack supplies (water and snacks are a must). It's also worth bringing a spare phone battery–you'll be snapping lots of photos at these cool attractions all day long.
11. Trek in the Dana Biosphere Reserve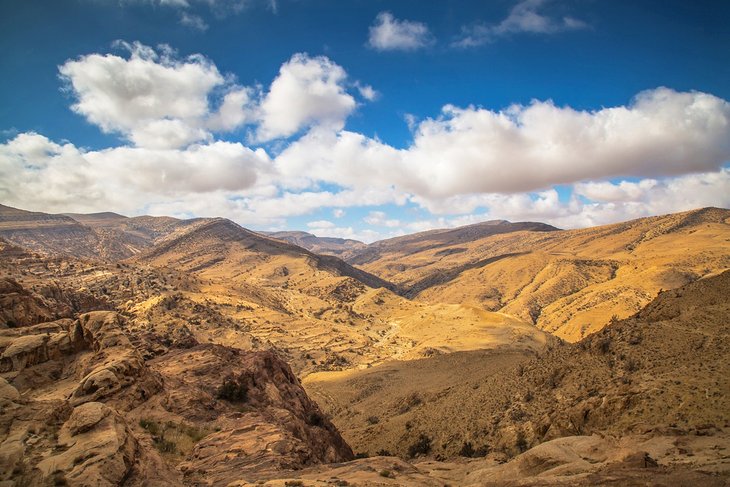 Jordan's largest nature preserve, the Dana Biosphere Reserve, is a treat for outdoors lovers. Its 320 square kilometers contain everything from spectacular mountains and gushing waterfalls to imposing sand dunes and jagged cliffs.
The best time to visit Jordan is in the spring, and this is especially true here, when the hillside transforms into a colorful landscape of wildflowers.
But no matter when you visit, you can experience the majesty of the Dana on one of its trails, which range from easy two-hour self-guided walks to more strenuous treks, such as the 16-kilometer-long Al-Ghuweir Trail.
More than 200 bird, mammal, and reptile species live in the park, so keep an eye out for rare creatures like the sand cat and the spiny-tailed lizard.
12. Ascend Mount Nebo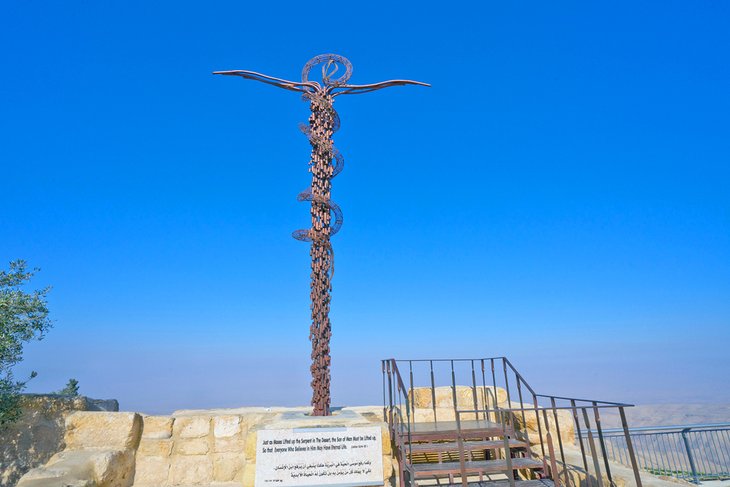 Making a pilgrimage to Mount Nebo is one of the quintessential things to do in Jordan for spiritual travelers.
This historic mountaintop site is said to be the spot where Moses caught a view of the Promised Land before his death, and the devout believe he was laid to rest in the area.
The attraction nods to its religious significance with a towering Serpentine Cross, as well as the Moses Memorial Church.
Tourists can also get the same vantage Moses is said to have experienced from Memorial Viewpoint. It offers a panoramic vista of Jerusalem and the Dead Sea, although it can be somewhat hazy.
13. Soak in the Ma'in Hot Springs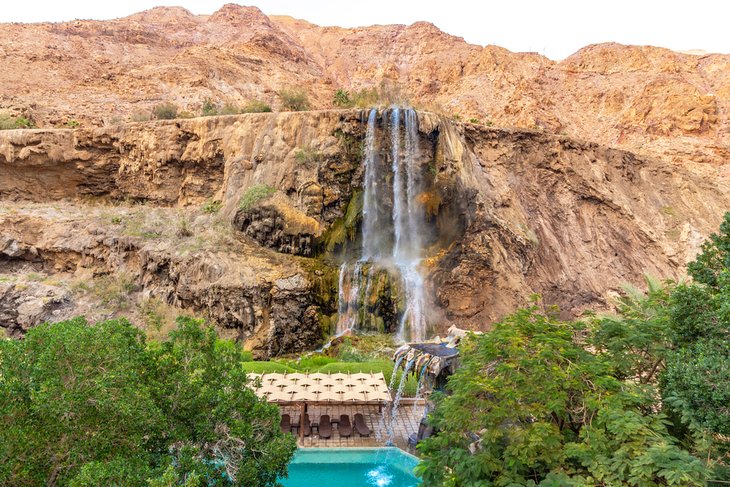 Just 27 kilometers away from Madaba is one of Jordan's best wellness experiences: the Ma'in Hot Springs.
Soaking in these mineral-rich hot springs is believed to help soothe joint pain and skin conditions, and provide a general sense of relaxation–just the thing tourists need after many days of sightseeing.
While some of the springs have been privatized by a nearby resort, a public section is available for anyone willing to pay a small fee. Enjoy terraced pools and a picturesque waterfall.
14. Hike in the Ajloun Forest Reserve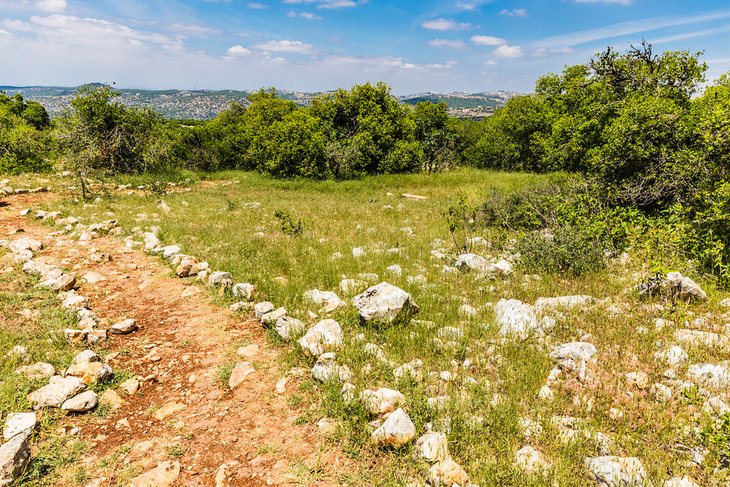 The Ajloun Forest Reserve plays an important role in the local ecosystem, offering protection to the endangered roe deer and woodlands comprised of pine, wild pistachio, wild strawberry, carob, and evergreen oak trees.
But it's also a worthwhile place for travelers who want to stretch their legs on rolling hills and explore the forest.
You can hike the Roe Deer Trail in about an hour, or embark on the Houses Trail with a guide, who will take you through a series of handicraft workshops along the way.
For a great view, opt for the Soap House Trail. The guided seven-kilometer journey showcases the reserve's oldest strawberry tree and a 1,100-meter-tall lookout point.
Map of Things to Do in Jordan