Cathedral, Valencia
Calle de San Vicente leads north into the Plaza de la Reina, the central square of the old town of Valencia. On the north side of the square stands the Cathedral (La Seo), built between 1252 and 1482 on the site of an earlier mosque. It is an imposing building with a predominantly Gothic exterior but a Baroque facade. In the south transept is the Romanesque Puerta del Palau, in the north transept the Gothic Puerta de los Apóstoles, richly decorated with sculpture and surmounted by a 14th century rose window. Every Thursday morning the ancient Water Court (Tribunal de las Aguas) meets in this doorway to deal with disputes over water rights in the huerta.
Important Information:
Address:
Plaza de la Reina, Spain
Opening hours:
7:30am-1pm, 4:30pm-8:30pm
Cathedral Highlights
Torre del Miguelete
At the Cathedral's southwest corner is the 68m/223ft high bell-tower (unfinished) known as the Torre del Miguelete (Micalet), with the bell of the same name (originally consecrated on Michaelmas Day, 1418), which with its chimes formerly regulated the irrigation of the huerta. From the outlook platform at a height of 50m/165ft (entrance from north aisle) there is a magnificent view of the city.
Cathedral - Interior
The interior of the Cathedral (98m/322ft long) was completely remodeled in the 18th Century. It contains many valuable pictures, including works by Goya (in the second chapel in the south aisle) and Palomino. The choir has fine 16th Century stalls. Over the crossing is a majestic octagonal dome (cimborio). The Capilla Mayor has a magnificent 15th century high altar, with side panels painted by Fernando de Llanos, a pupil of Leonardo da Vinci, and Fernando Yáñez de la Almedina (1509). In the Capilla de la Buen Muerte, behind the Capilla Mayor, are a crucifix by Alonso Cano and an alabaster altar with a reliquary containing San Vicente Mártir's forearm.
Capilla del Santo Cáliz
The Capilla del Santo Cáliz, originally the chapterhouse (1369), with fine Gothic stellar vaulting, is entered from the south aisle. In this chapel is preserved the Santo Cáliz (Holy Chalice), set with rubies and pearls, which is believed to be the cup used at the Last Supper and by some is thought to be the legendary Holy Grail in which Christ's blood was caught at the Crucifixion. Until the 15th century the chalice was kept in the monastery of San Juan de la Peña in the Pyrenees. The Cathedral Museum has pictures by Zurbarán and by Juan de Juanes and other artists of the Valencian school.
Map of Valencia Attractions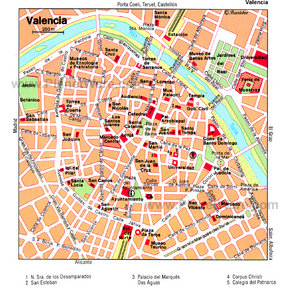 Valencia Map
More Valencia Attractions
Popular Destinations Nearby