Tarragona Tourist Attractions
The old port town of Tarragona, chief town of its province and the see of an archbishop, is picturesquely situated, some 100km/60mi southwest of Barcelona, on a hill rising 160m/525ft above the Mediterranean. On the highest point of the hill, which was the site of an ancient fortified settlement, is the Cathedral.HistoryThe origins of the ancient stronghold known to the Romans as Tarraco go back to the third millennium B.C. The first town walls were built by an Iberian tribe, the Cessetani. After its capture by the Romans in the Second Punic War (218 B.C.) the town became the main Roman base in Spain and from the time of Augustus capital of the whole province of Hispania. The remains of many splendid buildings still testify to the wealth of ancient Tarraco. In later centuries the town was several times destroyed - in 475 by the Visigoths, in 713 by the Moors, who held it until the beginning of the ninth century, and in 1811 by the French.
Roman Remains
Built largely in the 12th and 13th C, Tarragona's Cathedral shows a fine progression from Romanesque to Gothic.
Western Districts
Early Christian Necropolis
Some distance farther west from the Roman Forum, beyond the Plaza de Toros (Bullring) on the banks of the Río Francoli, are the remains of an early Christian necropolis (third-sixth C.), discovered during the building of a tobacco factory. The most important finds from the site (lead and marble sarcophagi, urns, mosaics, jewellery and ornaments, etc.) are displayed in the Museo Paleocristiano (Catalan Museu Paleocristià).
Map of Tarragona Attractions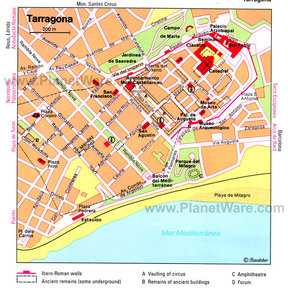 Map - Tarragona