Vigo Tourist Attractions
The important naval and commercial port of Vigo, one of the largest centers of sardine-fishing in Europe, lies in the west of Spain on the south side of the Ría de Vigo, a long inlet which penetrates 30km/19mi inland.
Forts
Vigo lies on the slopes of a hill crowned by two old forts, the Castillo de San Sebastián (alt. 55m/180ft) and the Castillo del Castro (125m/410ft), from which there are extensive views in clear weather.
New Town
On the east side of the hill is the newer part of the town, with modern tower blocks, broad avenues and beautiful parks. The town's main traffic arteries are the Avenida de García Barbón and its continuation Calle de Policarpo Sanz, on the northern slopes of the hill, Calle Urzaiz, which ascends the hill, and its continuation Calle del Príncipe, Vigo's main commercial and shopping street. Below Calle de Policarpo Sanz is the Plaza de Compostela (Alameda), with numerous monuments. This is continued eastward by the Avenida de Felipe Sánchez, which runs alongside the Puerto Comercial (Commercial Harbor).
Old Town
Northwest of the new town, between the hill and the sea, is the old town of Vigo with its narrow and usually steep and winding streets.
Colegiata de Santa María
In the Old Town's center is Vigo's principal church, the Neo-Classical Colegiata de Santa María, built in the early 19th century.
Parque Quiñones de León
On the southwestern outskirts of the town is the Parque Quiñones de León, with a large open-air theater.
Provincial Museum
Also in the Parque Quiñones de León is the 17th century Pazo de Castelos, flanked by two large battlemented towers, which now houses the Provincial Museum. This has a collection of pictures, mainly by Galician artists, and a section containing prehistoric antiquities and exhibits illustrating the history of the town.
Beaches
Within easy reach of the town are the beaches of Alcabre, Samil, Coruxo, O Bao, Canido and Saians.
Pazo de Castrelos
Pazo de Castrelos is a large wooded park with a house (now a museum). Behind the house is a formal box garden, flanked by a terrace wall and a rose walk. Aveunes of magnolias and plane trees traverse a romantic garden in which grow a tulip tree.
Surroundings
Numerous towns and other places of interest are to be found beyond the boundaries of Vigo.
Map of Vigo Attractions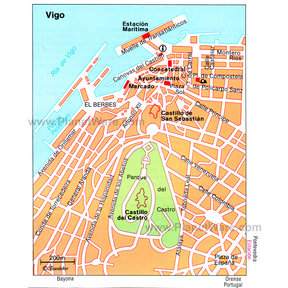 Map - Vigo