Salamanca Tourist Attractions
Top Tourist Attractions in Salamanca
The ancient and famous university town of Salamanca, chief town of its province and the see of a bishop, lies in southwestern León on the right bank of the Río Tormes.
Amongst the most impressive town square's in Spain is the Plaza Mayor, which served as the site for bullfights in the 19th Century. The lively square features several cafes and bars and is a popular hang-out.
The University in Salamanca, with its impressive front entrance, was once a world-famous Institution.
The Patio de las Escuelas is surrounded by Plateresque style buildings, and contains a monument to Fray Luis de León.
The New Cathedral was built between the early 16th and 18th C and displays Late Gothic, Plateresque, and Baroque elements.
The Old Cathedral of Santa María de la Sede is a lovely 12th to 13th C Romanesque building. It adjoins the New Cathedral.
Museo Art Nouveau-Art Deco
The main feature at this museum is the collection of porcelain dolls. Also on display are bronze figures and jewelry, glass bottles, furniture, fans, paintings, and other works of art.
San Benito
The church of San Benito, commissioned by Alfonso de Fonseca, dates to the 15th C. One of the doorways is in late Gothic style. The altarpiece of the high altar is in neo-Classical style.
Surroundings
Castle of True Love, Villanueva de Canedo
28km/17mi north of Salamanca on N 630, off the road to the right, is the little town of Villanueva de Cañedo, dominated by the massive round towers of the Castillo de Buen Amor. The castle, built by Alfonso VII of León in the 13th century, was used by the Catholic Monarchs as a base in their conflict with Isabella's half-sister, Juana la Beltraneja, for the crown of Castile. The most notable features of the castle are the inner courtyard and the sumptuous decoration of the interior, in particular the Mudéjar-style paneled ceiling in the Great Hall.
Map of Salamanca Attractions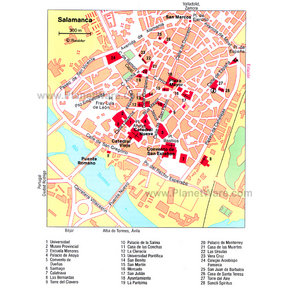 Map - Salamanca