Sligo Tourist Attractions
Sligo (Sligeach, "Shelly River"), county town of Sligo county, lies in the northwest of Ireland, on a well-wooded plain encircled by hills. Most of the town is on the south side of the broad River Garavogue, which flows from Lough Gill, to the east, into Sligo Bay. Sligo is the most considerable town in northwestern Ireland, the see of both a Catholic and a Protestant diocese and an important road junction, at the meeting place of the N14, N15 and N16. It is also the terminus of a railroad line from Dublin, with the Republic's most northerly railroad station.The poet W.B. Yeats lived for some time in Sligo. Courses for foreign students are run in the Yeats English Language School in July and August every year.Sligo appears in the records for the first time in 537. In 807 it was plundered by Norse pirates. It became the residence of Maurice Fitzgerald, Earl of Kildare, in 1245. Later rival clans vied for possession of the castle. The town was destroyed by Cromwell's troops in 1641 and again in 1645.
Sligo County Library & County Museum
In Sligo's Stephen Street, on the north side of the River Garavogue, is the County Museum and adjoining Art Gallery. The County Museum, in the old rectory, contains material on the history of the region and mementos of W. B. Yeats, including first editions of his works, letters and family photographs.
Sligo Art Gallery
Sligo Art Gallery has pictures by a variety of artists; of particular interest are the works by Jack Butler Yeats, the poet's brother.
Sligo Abbey
From the Sligo County Library in Stephen Street a bridge leads over to the south bank of the River Garavogue. To the left are the oldest buildings in Sligo - the church, cloister and conventual buildings of Sligo Abbey (National Monument), a Dominican friary founded by Maurice Fitzgerald in 1253 and rebuilt in 1416 after a fire.The church has a double aisled nave and transepts; the choir dates from the original foundation, the transepts from the 16th C. Notable features are the canopied tomb of Cormack O'Crean, on the north side of the nave, with a Crucifixion and other figures in low relief, and the O'Conor Sligo monument (1624) on the south side. Three sides of the beautiful 15th C. cloister have survived, with the sacristy and chapter house (13th C).550yd/500m to the west are the town's two principal churches, St John's Church (Church of Ireland) in John Street, a neo-Gothic building of 1812, and the Roman Catholic St John's Cathedral (neo-Romanesque, 1869-74) in Temple Street.
Yeats Memorial
Sligo's O'Connell Street branches off north from John Street and comes to the Yeats Memorial Building by Hyde Bridge. The art gallery here puts on periodic exhibitions, and in summer an audiovisual show documenting the connection of Yeats with Sligo.
Map of Sligo Attractions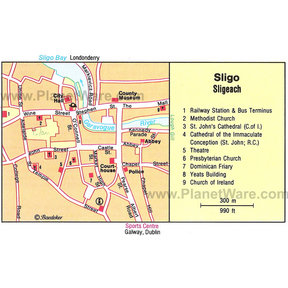 Map - Sligo