12 Top-Rated Tourist Attractions in Cork
Cork is the Irish Republic's third largest city after Dublin and Belfast. It lies on Ireland's south coast and is connected to the sea by Cork Harbour and a slim channel called Passage West. There's a strong seafaring and trading tradition here and all along the adjacent coastline.
In effect, the original city is an island enclosed by two arms of the River Lee. During the 7th century, St. Finbarr (Fin Barre) established a monastery on a small marshy tract where the cathedral of the same name now stands. Over the coming centuries, the town survived and, in turn, flourished despite Viking raids and later occupation by English forces. In 1920, during the Irish Civil War, large parts of Cork were destroyed by fire and the city saw its share of violence and bloodshed. Locals will happily tell visitors, as if it's a foregone conclusion, that Cork is 'the real capital.'
1 The English Market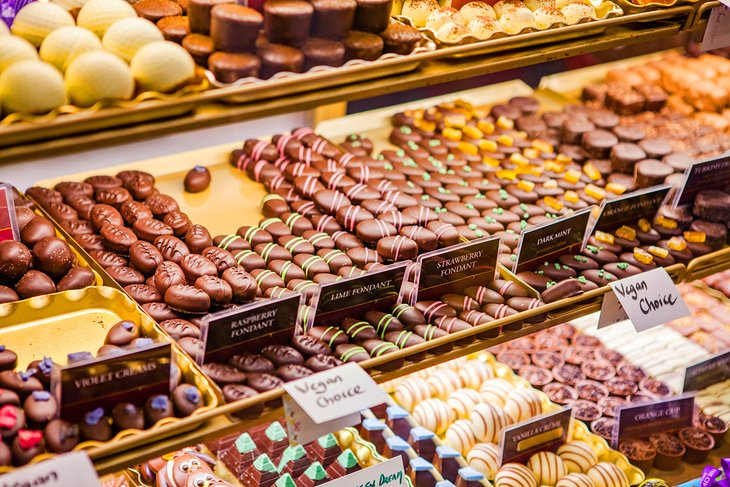 In the heart of Cork City and with an eye-catching fountain at its center, this quirky roofed food market has been trading since 1788. Under the possession of the Cork City Council, it's one of the world's oldest municipal markets. Artisan breads, fruit, and freshly caught seafood are just some of the specialities on offer. In recent years, the market gained worldwide fame when Queen Elizabeth II of Great Britain dropped by on her first ever state visit to the Republic of Ireland in 2011. In addition to a wide range of produce, visitors can grab a coffee here or sample local fare at Farmgate Restaurant.
Hours: Open 8am-6pm Monday to Saturday, closed Sundays and bank holidays
2 St. Patrick's Street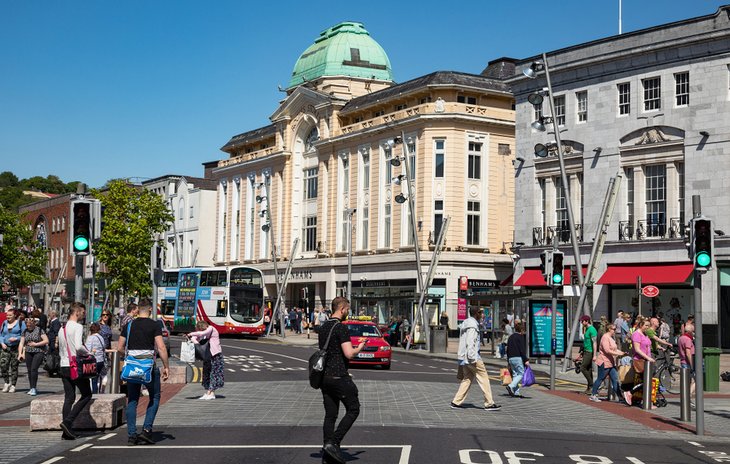 Initially conceived in the early 18th century by wealthy merchants presumably anxious to part their fellow citizens from their cash, this has remained Cork's main shopping hub. An easy couple-of-minute's stroll from The English Market and known locally as "Pana" the broad, curving street boasts many fine shops including upmarket department store Brown Thomas. Shopping, of course, is one thing, but the citizens of Cork are a sociable bunch and, particularly during fine weather, visitors will see groups of friends and family simply chatting and spending time together. Various architectural styles reflect change over the past two hundred years or so. Dating from 1786, and rebuilt on several occasions since then, St. Patrick's Bridge abuts the thoroughfare.
3 St. Fin Barre's Cathedral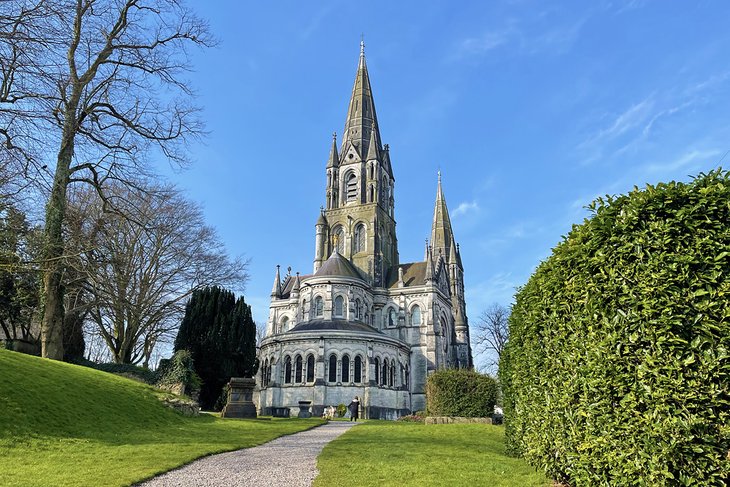 A leisurely 11-minute walk from St. Patrick's Street takes visitors to this Anglican Cathedral. If preferred, a bus journey (No's 214, 208, 203) will shave a couple of minutes off the journey time. The eye-catching structure in French Early Gothic style was designed by William Burges and consecrated in 1870. It's situated on a site where Christian worship has been taking place since the 7th century. By its completion, in excess of £100,000 was spent on the building, an enormous amount of money at the time. Prior to the re-design a more modest Georgian style building and bell tower stood in its place. The interior is richly decorated with fine mosaics in the choir and sumptuous artwork in the chancel.
Hours: Open Monday-Saturday 9.30am-5.30pm, Sunday 12.30pm-5.00pm (April-November only)
Admission: Adult €5, children & students €3
Address: Bishop Street, Cork
4 Fitzgerald Park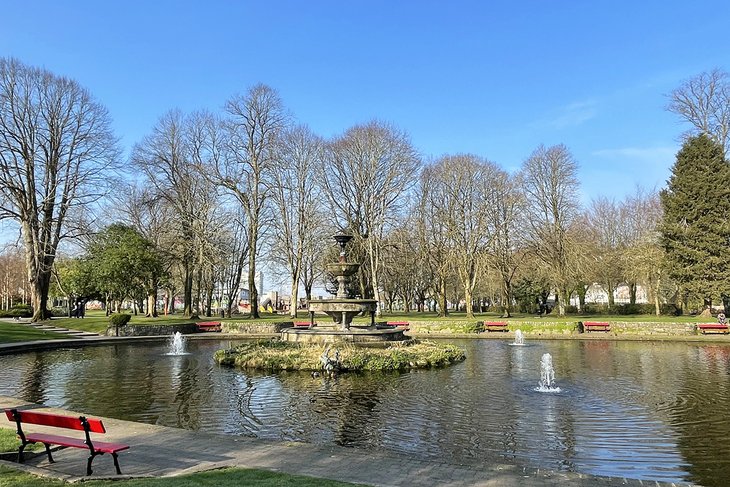 Named after Edward Fitzgerald, the city's Lord Mayor who organized Cork's International Exhibition in 1902, Fitzgerald Park is a tranquil oasis on the outskirts of Cork city. It still features the original pavilion and ornamental fountain from the era. In the gardens here, visitors will find Cork Public Museum, a cafe, sculptures, a skate park, and a water-lily pond. Picturesque Daly's Bridge, built in 1926 and known locally as the "Shaky Bridge," connects to Sundays Well Road.
Hours: Museum - open 11am-4pm, closed for lunch 1pm-2.15pm
Admission: Free
Address: Mardyke Walk, Cork
5 Shandon Bells - St. Anne's Church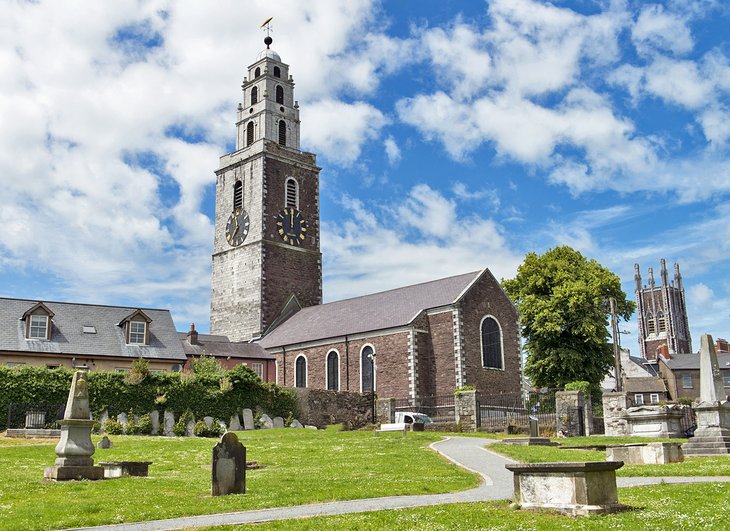 Crossing the River Lee to the north side of the city and two kilometers from Fitzgerald Park brings visitors to St. Anne's Church (1722) with the famous Shandon Bells tower. The church retains its original 18th century bells, which have become one of the city's must-see sights. The Tower is a distinctive landmark on the city skyline, with its red sandstone (north & east) and white ashlar limestone (south & west). Visitors get the chance to ring the bells from the first floor, view the internal workings of the clocks, see the bells first hand, and take in spectacular 360° views of Cork City and beyond from the balcony.
Hours: Open summertime Monday-Saturday 10am-5pm, Sunday 11.30am-4.30pm, seasonal variations
Admission: Adults €5, seniors & students €4, children €2.50, family €12 (2 adults & up to 4 children), free into church
Address: Church St, Shandon, Cork
6 Cork City Gaol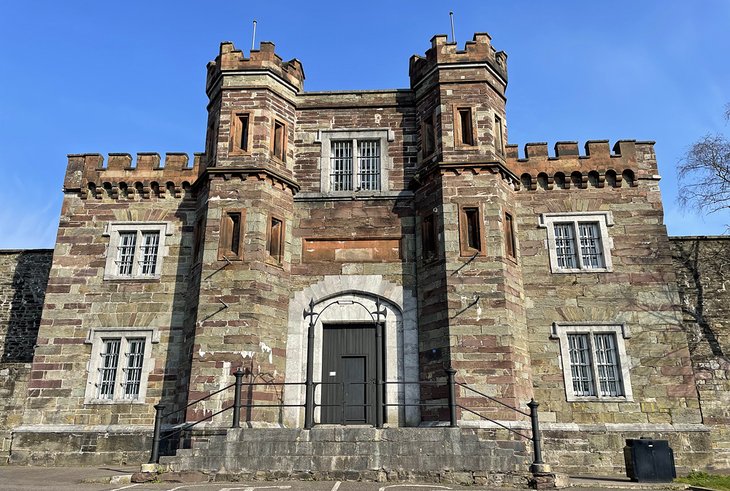 An easy four-minute drive from St. Anne's will take visitors to another one of Cork city's must-do's, the atmospheric and historic City Gaol, which opened in 1824 and closed in 1923. Originally the prison housed both male and female prisoners who committed crimes within the city borders. In 1878, the City Gaol became an all female prison, which it remained until men opposed to the 1920 Anglo-Irish Treaty were incarcerated there in 1922-1923. The complex then deteriorated until its restoration and re-opening to the public as a tourist attraction in 1993.
Hours: Open daily all year, March-October 9.30am-5pm, November-February 10am- 4pm
Admission: Adults €8, seniors & students €7, children €5
Address: Convent Avenue, Cork
7 Crawford Art Gallery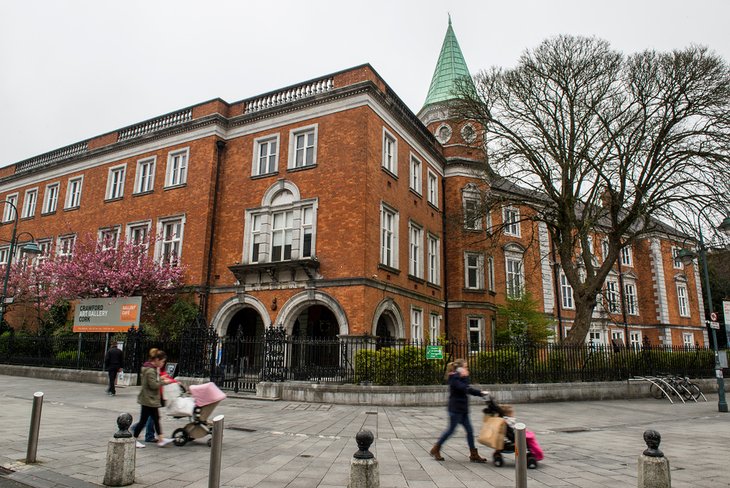 Heading towards the city center, a two-minute walk from St. Patrick's Street, art-lovers may like to take in this regional museum dedicated to the visual arts, both historic and contemporary. The gallery receives in excess of 200,000 visitors per annum and hosts a range of permanent exhibitions including 18th-century European and Irish sculpture, a collection of Greek and Roman sculpture casts, and contemporary video installations. The collection has grown steadily, particularly in recent years, and now houses more than 2,500 items. A popular café is on the ground floor.
Hours: Open Monday-Saturday 10am-5pm (Thursday late opening 8pm), closed Sunday
Admission: Free
Address: Emmet Place, Cork
8 Blackrock Castle Observatory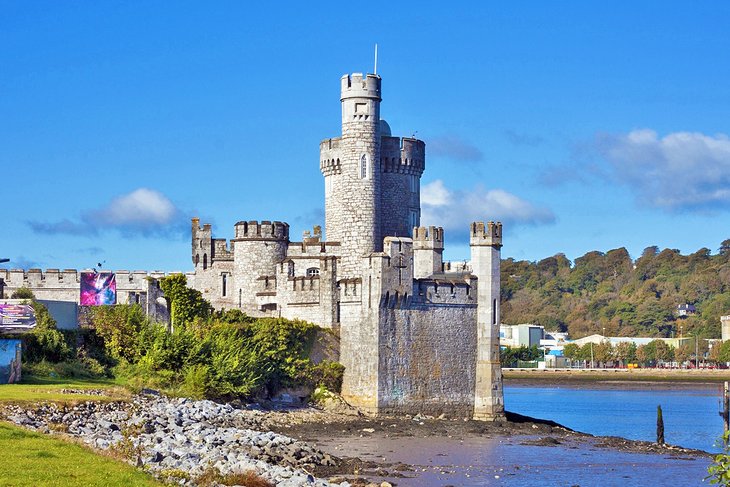 The restored castle, dating from 1828 and the star of countless images and postcards, is now owned by Cork County Council and houses an impressive observatory and visitor center. Set in an enviable location on the shores of the River Lee where it meets Cork Harbour, it's well worth making the ten-minute trip by car, not only to visit the castle, but also to take in the scenic surroundings. The observatory features fun and educational things to do for kids, families, school groups, and science enthusiasts. A variety of special events also take place throughout the year.
Hours: Open Monday-Friday 10am-5pm, Saturday-Sunday & Bank Holidays 11am-5pm
Admission: Adults €6.50, seniors & students €4.50, children (under 4) free, family (2 adults, 2 children) €18
Address: Castle Road, Blackrock, Cork
9 Editor's Choice Kinsale
A little under a half hour's southerly drive from Cork, and at the gateway to scenic West Cork, is the quaint deep-sea fishing and yachting town of Kinsale. Once a medieval fishing port, historic Kinsale is one of the most scenic resorts on Ireland's southwest coast. Visitors will find no shortage of cafés and restaurants to suit every taste, and the surrounding scenery is quite simply breathtaking. In recent years, the town has also become a world-class golf destination. Other activities include heritage town walks, an annual gourmet festival, a wine museum and, in neighbouring Summercove, 17th-century Charles Fort.
10 Blarney Castle and the Blarney Stone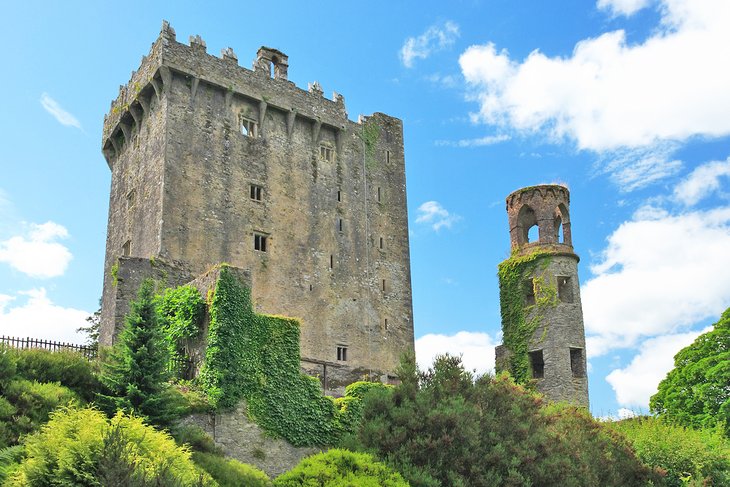 A ten-kilometer road trip northwest from Cork city takes visitors to one of Ireland's most talked about attractions, Blarney Castle, home to the world famous Blarney Stone, which is said to instantly give those who kiss it the Irish 'gift of the gab.' Built more than six centuries ago by one of Ireland's greatest chieftains, Cormac MacCarthy, the castle attracts millions of tourists from around the world. The famous stone is found at the top of the tower. Beautiful gardens surround the castle, and there's a range of activities and events year round.
Hours: Open June-August Monday-Saturday 9am-7pm, Sunday 9am-6.30pm, off-season variations
Admission: Adult €12, seniors & students €10, children (8-14) €5, under 5 yrs free, family (2 adults, 2 children) €30
Address: Blarney, Co. Cork
11 Fota Wildlife Park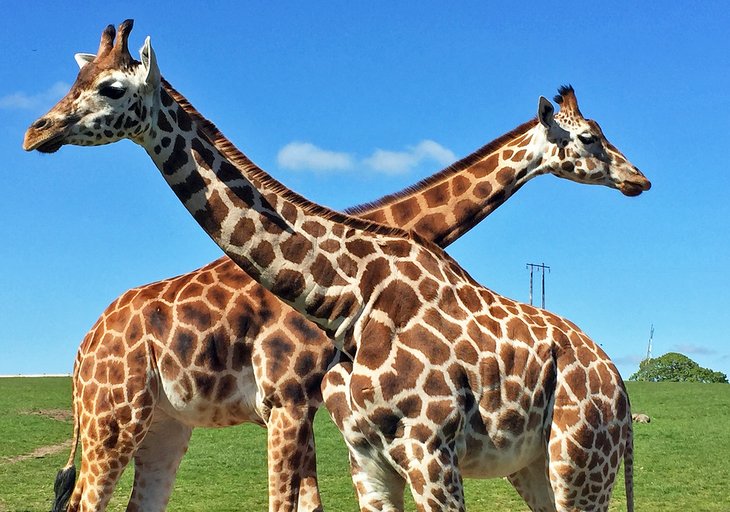 Regularly featuring as one of Ireland's must-see attractions this 70-acre wildlife park, which opened in 1983, is an easy 17 kilometer drive east from Cork City. As much as is possible, animals are free to roam and visitors can observe and interact with them in a natural environment. For example those taking a well-earned break may be joined at their picnic table by ring-tailed lemurs (although of course they should not be fed) and giraffes wander freely in the central enclosure. Unlike many safari parks Fota is not a drive-through experience. On that, a word of warning, it's a lengthy walk around the park, and to get the most from it, at least half a day should be put aside for a visit.
Hours: Open Monday-Saturday 10am-6pm (last entry 5pm), Sunday opening 10.30am
Admission: Adults €14.50, seniors & under 16 yrs €9.50, under 3 yrs free, family (2 adults, 2 children) €44
Address: Carrigtwohill, Co. Cork
12 Cobh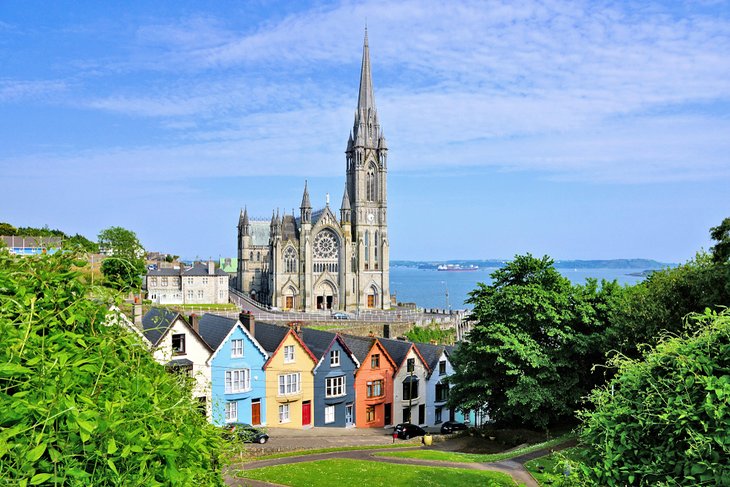 A 25-minute drive south east of Cork city takes visitors to the historic port of Cobh (formerly Queenstown). The town is famous as the last port of call of the doomed Titanic on its first voyage in 1912. These days it's still a favorite dock for cruise liners from around the world. Millions of those Irish who emigrated to North America and elsewhere during the 1800 and 1900s departed here, most never to return. The town is dominated by St. Colman's Cathedral, which dates from 1868. There's a 60-minute Titanic Trail walking tour, and other attractions include the Titanic Experience, the Cobh Museum, and the Queenstown Story Heritage Centre.
Sponsored Links

Cork Deals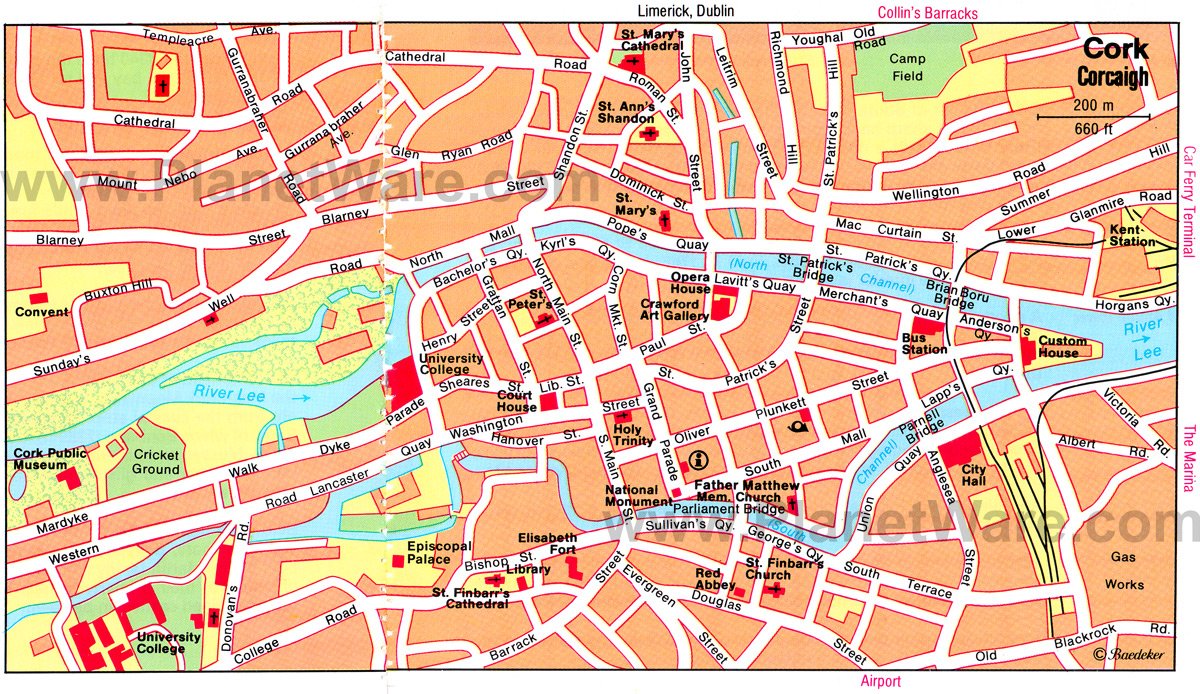 Cork Map - Attractions
Want to use this map on your web site?
Copy and Paste the code below:
More on Ireland