16 Top-Rated Tourist Attractions in Dublin
Residing in a wide bay, Dublin lies between Howth in the north and the headland of Dalkey to the south. The River Liffey, which flows into the harbor, slices the city in two. Several bridges span the north-south divide, the most famous of which is O'Connell Bridge. Pre-independence Dublin was once the second city of the British Empire, the graceful Georgian architecture and picturesque parks bearing testament to a troubled legacy. Ireland's capital has given the world such renowned literary figures as Yeats, Beckett, Joyce, Shaw, and Wilde. Dubbed a UNESCO City of Literature in 2010, Dublin's written tradition stretches back to 800 A.D. with The Books of Kells, which is now on permanent exhibition at Trinity College. Although Dublin sprawls rather than soars, the city center is easily explored on-foot and a convenient transport network takes you wherever you wish to go.
1 Trinity College and College Green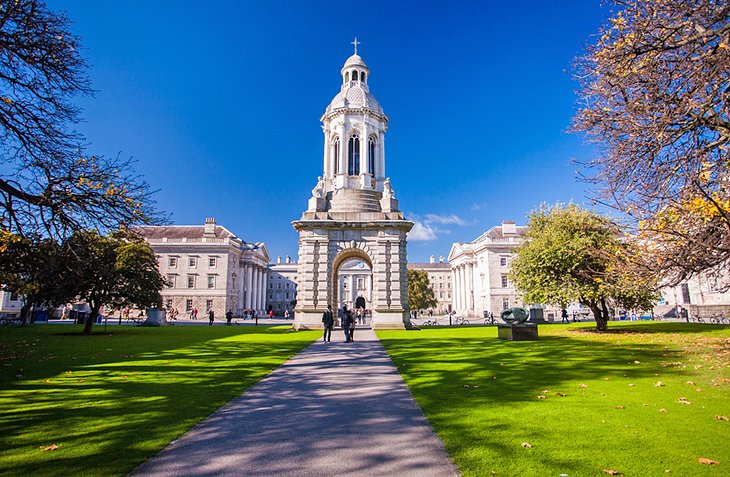 Trinity College is probably the best spot to kick off your Dublin tour. It's at the heart of the capital, packed full of incredible history, and it's the oldest university in Ireland having been founded in 1592 by Queen Elizabeth I. Occupying an enviable 40-acre site, Trinity retains some of its ancient seclusion of cobbled squares, gardens, and parks and is famed throughout the world for its collection of great treasures. These include, on permanent exhibition, the 9th century illuminated manuscript, the Book of Kells, the Books of Durrow and Armagh, and an ancient Irish harp. The priceless artefacts are displayed in the Treasury and the awe-inspiring 18th-century Long Room, which houses more than 200,000 of Trinity's oldest books and hosts regular literary exhibitions.
Trinity is a haven in an otherwise bustling area. Alumni over the centuries include such figures as Jonathan Swift (most famously known as the author of Gulliver's Travels), Oscar Wilde, Bram Stoker (author of Dracula), and playwright Samuel Beckett. Entering through a timber-tiled archway, you are instantly brought back in time. The immaculate green lawns, 18th- and 19th-century buildings, and cobbled pathway are reminiscent of a more gentile age and ooze a sense of hushed academia. It's best to time your visit as buildings open to the public can become crowded during peak season. As well as taking in the must-see sights do make time to relax and simply enjoy the atmosphere. Opposite the college on College Green is the old Irish Parliament building now a branch of the Bank of Ireland.
Hours: Open Monday-Saturday 9:30am-5pm, Sunday (May-September) 9.30am- 4.30pm, Sunday (October-April) 12pm-4.30pm
Admission: Adults €9, senior citizens & students €8, children (under 12) free
Address: Trinity College, College Green, Dublin 2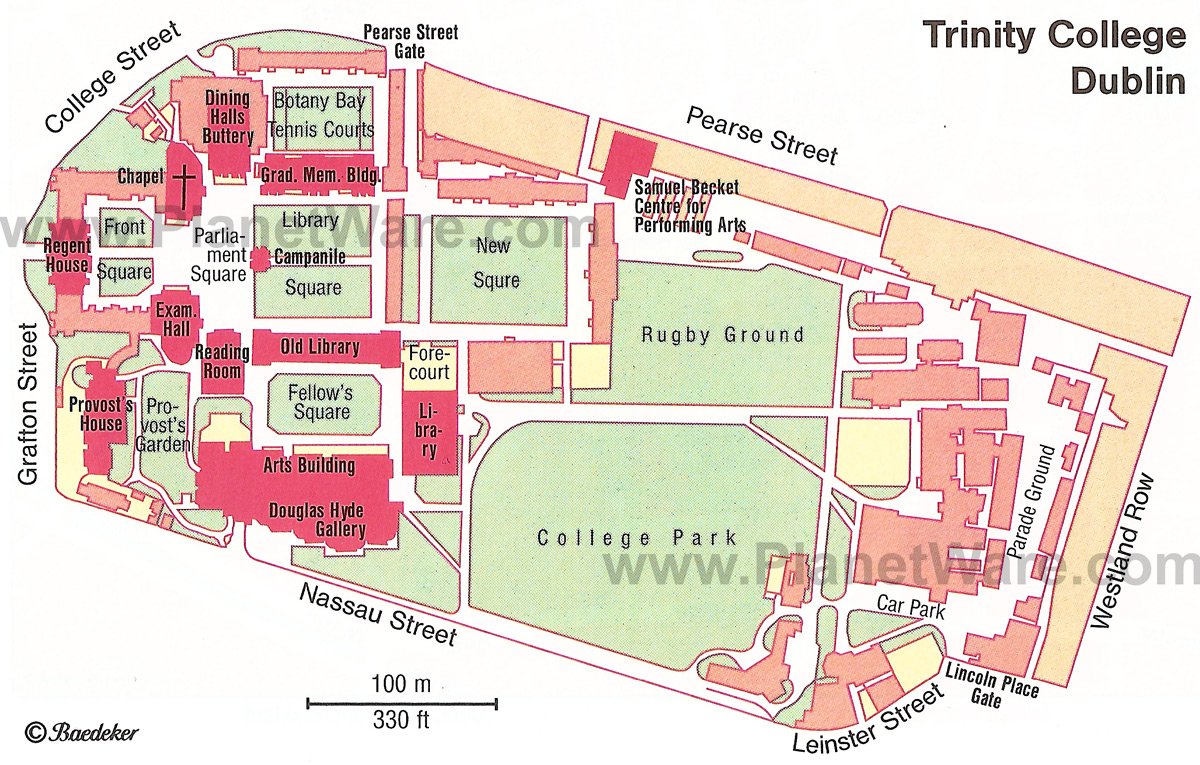 Trinity College of Dublin Map
Want to use this map on your web site?
Copy and Paste the code below:
2 Grafton Street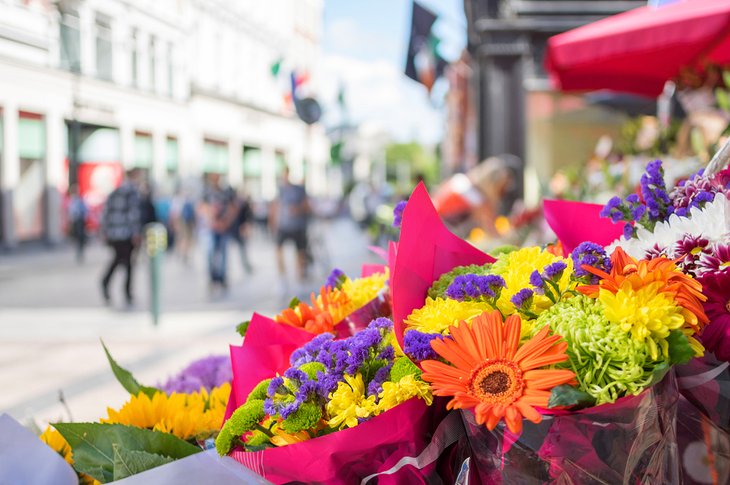 A short southerly stroll from Trinity College takes you down towards Dublin's premier shopping location, Grafton Street. A statue of Molly Malone sits at the bottom of the street, so it's impossible to miss. This eclectic stretch buzzes morning, noon, and night and is a magnet for buskers, from classical quartets to traditional fiddle players and singer-songwriters. Many famed bands and musicians have given impromptu performances here, including Bono of U2. Aside from buskers, you will find a broad range of boutiques, jewelers, and department stores including upmarket Brown Thomas. Many would say that the jewel in the crown is Bewley's Oriental Café, a Dublin institution at this location since 1927. If on a shopping spree it's well worth taking a slight diversion to the arty Powerscourt Townhouse Centre with its designer shops and trendy places to eat.
Bewley's Café - Open 8am-10pm Monday-Wednesday, 8am-11pm Thursday-Saturday, 9am-10pm Sunday
Address: 78/79 Grafton Street, Dublin 2
3 St. Stephens Green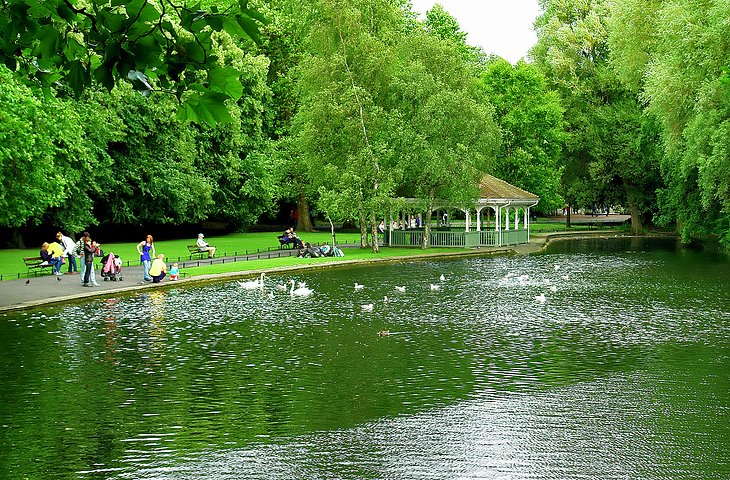 After eating your fill at Bewley's Oriental Café, an easy stroll to the top of Grafton Street brings you to Fusilier's Arch, the main entrance to St. Stephen's Green. Georgian buildings surround 'the Green' (as it's known locally), although some sadly fell by the wayside during redevelopment, mainly in the 1960s, 70s, and 80s. The 22-acre park is a Dublin gem and an oasis of calm away from the hustle and bustle of downtown city life. When weather permits, you should do as the locals do and stretch out on the grass for some rest and relaxation, or grab a picnic lunch. Immaculate flowerbeds fringe the lawns. Also in the park is an ornate fountain at its center, a bridge over a duck pond, and a children's playground. Incidentally, the park was the scene of bitter combat during the 1916 Uprising, however it was agreed by both sides that hostilities should cease while the park-keeper fed the ducks.
Hours: Open all year Mon-Sat 7.30am, Sundays and holidays 9.30am, gardens close according to daylight hours
Admission: Free
Address: St. Stephen's Green, Dublin 2
4 Editor's Choice The Little Museum of Dublin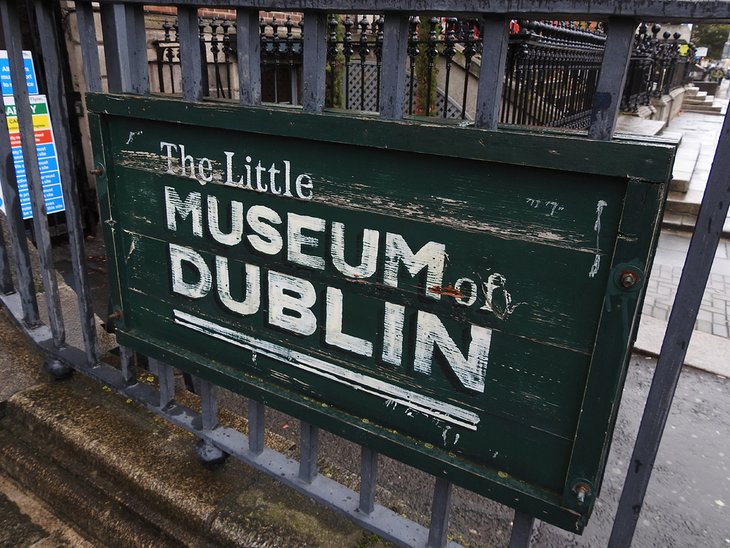 A couple of minutes stroll from Fusilier's Arch, at the top of Dawson Street is a must-see for those interested in how Dublin and its people lived their lives and evolved over the past century. James Joyce once famously said, 'in the particular is contained the universal,' which neatly sums up the ethos of this treasure trove. In the minutiae of people's belongings, history is indeed writ large. Opened in 2011 following an appeal for mementos and artefacts, the museum has gone from strength to strength and now hosts an array of temporary exhibitions and events as well as permanent installations, including a U2 retrospective with exhibits donated by band members. Other treats include the lectern used by John F. Kennedy when he addressed both houses of the Irish Parliament (Oireachtas) in June 1963.
Hours: Open Monday-Sunday 9.30am-5pm, Thursdays 9.30am-8pm
Admission: Adults €7, senior citizens (over 65) €5.50, students/under 18 €4.50,
family €14 (up to 2 adults and 3 children), children under 3 free
Address: 15 St. Stephen's Green, Dublin 2
5 Kildare Street Museums and Houses of Parliament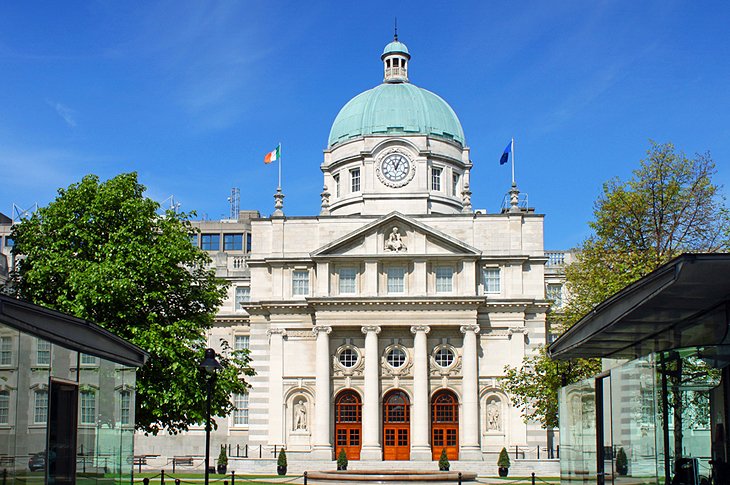 From the Little Museum of Dublin, a saunter past the legendary Shelbourne Hotel will take you to the top of Kildare Street, home to the Irish Parliament (Dáil Éireann) on the left hand side. The parliament building was once known as Kildare House after James Fitzgerald, the Earl of Kildare, who commissioned its construction in 1745 and set out to create a grand Georgian mansion to reflect his loft social status. When he became Duke of Leinster in 1766, the house was renamed Leinster House. On the opposite side is a branch of the National Museum of Ireland (Archaeology) with outstanding permanent exhibitions including Ireland's Gold, Prehistoric Ireland, the Viking Collection, and the Treasury, including the magnificent Ardagh Chalice. If you're interested in literature you should visit the National Library close by, which has a permanent W.B. Yeats exhibition.
Hours: National Museum (Archaeology) open 10am-5pm Tuesday-Saturday, 2-5pm Sunday
National Library exhibitions - Open Monday-Wednesday 9.30am-7.45pm, Thursday-Friday 9.30am-4.45pm, Saturday 9.30am-4.45pm, Sunday 1pm-4.45pm
Admission: Free
Address: Kildare Street, Dublin 2
6 The National Gallery of Ireland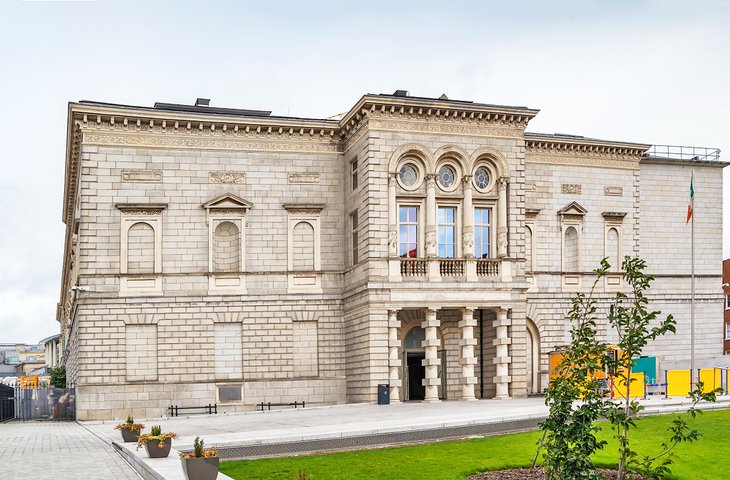 A right turn at the end of Kildare Street will bring you to the National Gallery of Ireland with entrances on Clare Street and Merrion Square West. Housing the finest collection of Irish art in the world alongside an outstanding collection of European art from the Middle Ages to the present day, this is a must-see while in the capital. The gallery opened in 1864 with wings being added in 1903, 1968, and most recently, 2002. Collections include the Yeats Museum, seven rooms devoted to Irish art, Italian Painters, the Shaw Room, and Baroque Room. The gallery, which is spread over four levels, regularly hosts impressive temporary exhibitions, and there's an excellent café popular with locals and visitors alike.
Hours: Open Monday-Wednesday 9.30am-5.30pm, Friday-Saturday 9.30am-8.30pm, Thursday 12 midday-5.30pm
Admission: Free
Address: Clare Street & Merrion Square, Dublin 2
7 Merrion Square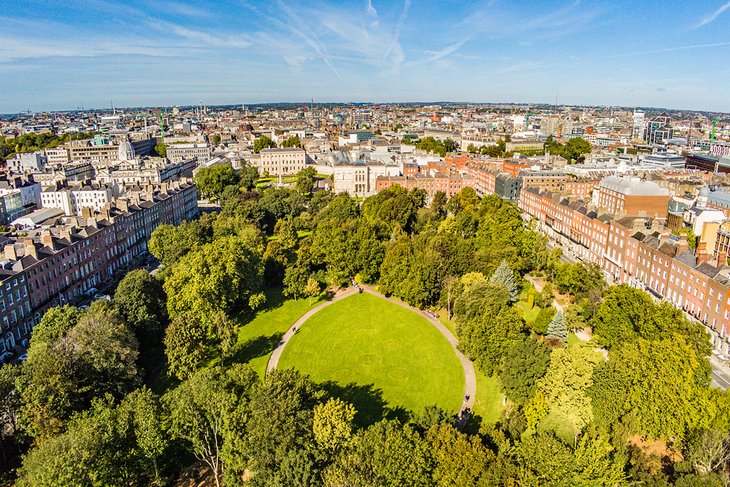 Exit the National Gallery's main portal and you're on Merrion Square. Made up of stately private houses and offices, this is arguably Dublin's grandest Georgian square and stars in countless images and postcards of the city. At its center is a pretty park with a vibrant statue of that most colorful writer and renowned Dublin wit, Oscar Wilde. An amiable stroll around the square is a journey back in time to the Georgian era. You may notice that the top windows in many buildings are smaller than those lower down. This was done in order to create an optical illusion, that of the houses being taller than they really are. At weekends, local artists line the perimeter of the park and display their paintings on the railings.
Hours: Open daily in daylight hours
Admission: Free
Address: Merrion Square, Dublin 2
8 The GPO (General Post Office)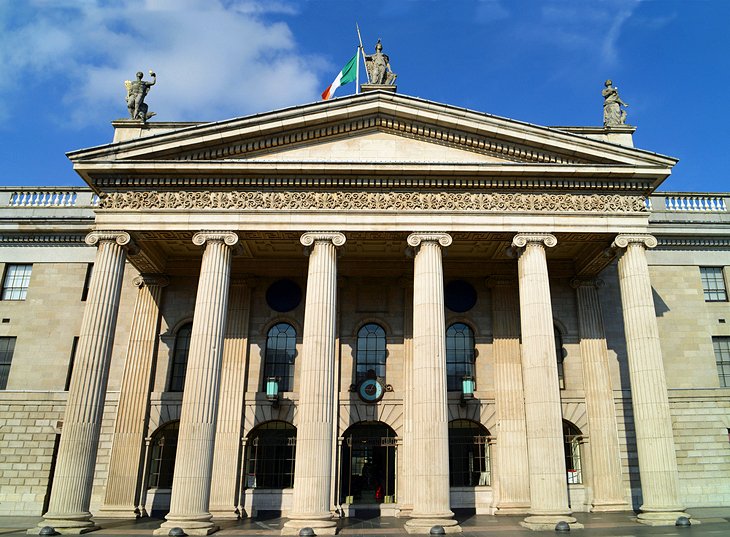 O'Connell Street, Dublin's main thoroughfare, is home to the iconic GPO (General Post Office) built in 1814. The failed 1916 Uprising began here and bullet holes still dot the neo-classical portico. Inside, the An Post Museum houses the Letters, Lives & Liberty exhibition featuring a 1916 Uprising installation and a copy of the Proclamation of Independence.
Hours: Open Monday-Saturday 10am-5pm, closed Sundays
Admission: €2
Address: O'Connell Street, Dublin 1
9 The James Joyce Centre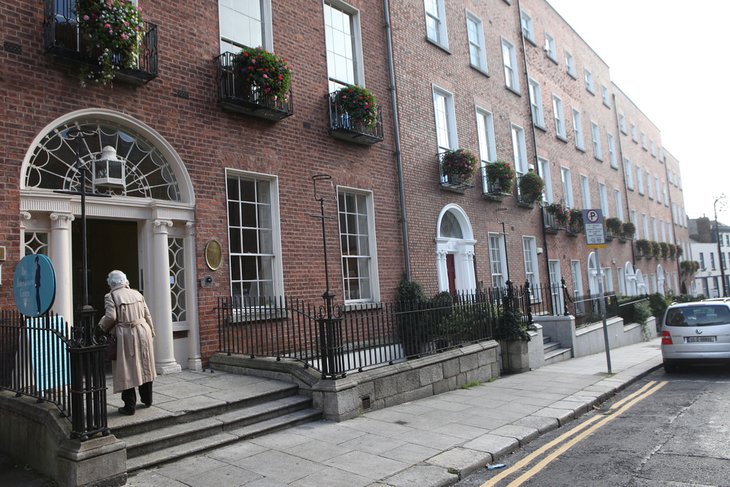 Around an eight-minute walk from the GPO, in a beautiful Georgian house is the James Joyce Centre founded by Irish Senator, one-time Presidential Candidate, and renowned Joycean scholar, David Norris. The museum is dedicated to all things Joycean, and although the writer never lived in the property, he had a connection to it through a real-life character featured in Ulysses, Prof. Denis J. Maginni, who ran a dance academy here. The building was condemned in the 1980s, but was ultimately saved and restored through a campaign spearheaded by David Norris.
Hours: Open Monday-Saturday 10am-5pm, Sunday 12 midday-5pm, off-season & holidays restricted hours
Admission: Adults €5, seniors/students €4
Address: 35 North Great George's Street, Dublin 1
10 National Museum of Ireland - Decorative Arts and History (Collins Barracks)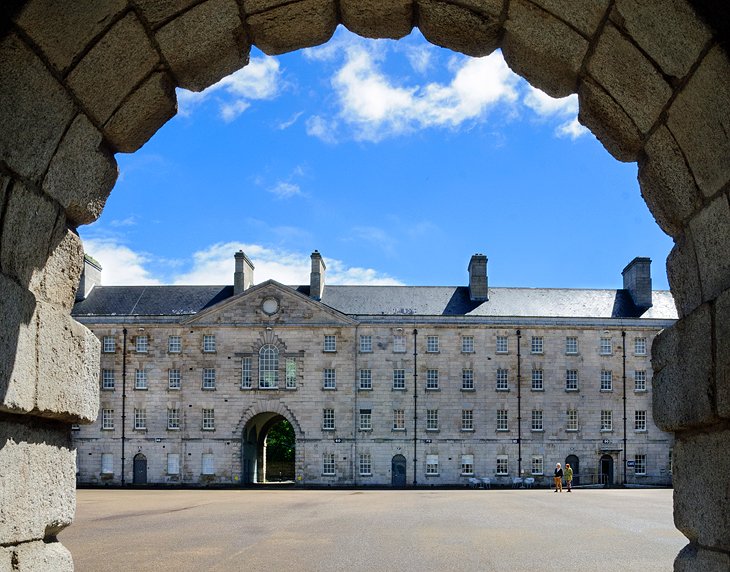 Originally an army barracks, the National Museum of Ireland - Decorative Arts and History opened in 1997. The collections include silver, ceramics, jewelry, furniture, Irish haute couture fashion, and exhibitions exploring Irish military history. There are several other permanent exhibitions including a retrospective of modernist designer Eileen Gray, Irish Silver dating from the 17th to 20th centuries, Asian Art, Irish Country Furniture, and Soldiers and Chiefs, which displays historic military artefacts and uniforms.
Hours: Open Tuesday-Saturday 10am-5pm, Sunday 2pm- 5pm, closed Mondays
Admission: Free
Address: Collins Barracks, Benburb Street, Dublin 7
11 Phoenix Park and Dublin Zoo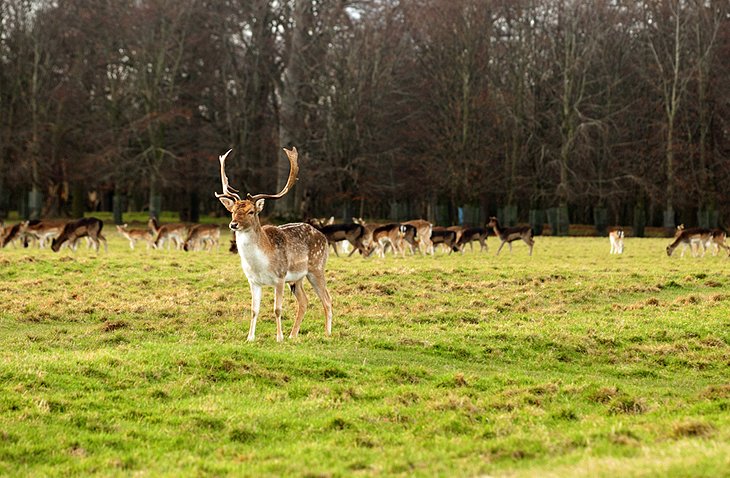 An 18-minute walk from Collins Barracks is Dublin Zoo in Phoenix Park. This is the largest enclosed urban park in Europe, some 1,750 acres, which is surprising given that Dublin is a relatively small capital city. Hundreds of deer roam the parkland, the President of Ireland's official residence (Áras an Uachtaráin) is here along with Deerfield, a beautiful 18th-century property home to the American Ambassador to Ireland. There's a Visitors Centre located close to a 17th-century tower house, Ashtown Castle, for those wishing to find out more about the park and its environs. At the far Castleknock Gate end and on some 78 acres stands stately Farmleigh House dating from the 1800s and purchased by the Irish state from the Guinness family in 1999.
For generations of Dubliners and those coming from abroad, the main draw is Dublin Zoo, which attracts more than one million visitors annually, dates back to 1830, and is the second oldest zoo in Europe. A trip to the zoo is a day out in itself. Amongst other rare and exotic animals there are Asian lions, Asian elephants, a Reptile House, an orangutan enclosure, sea lions, tigers, hippos, bats, and penguins. Facilities include restaurants, kids play areas, and a family farm.
Hours: Phoenix Park - Open daily 7am-11pm, Visitors Centre - Open June-October 10am-6pm, seasonal variations, Dublin Zoo - Open daily Monday-Saturday 9.30am-6pm, Sunday 10.30am-6pm, seasonal variations
Admission: Adult €16.50, under 16s €11.80, seniors €12.80, under 3 years free
Location: Phoenix Park, Dublin 7
12 Kilmainham Gaol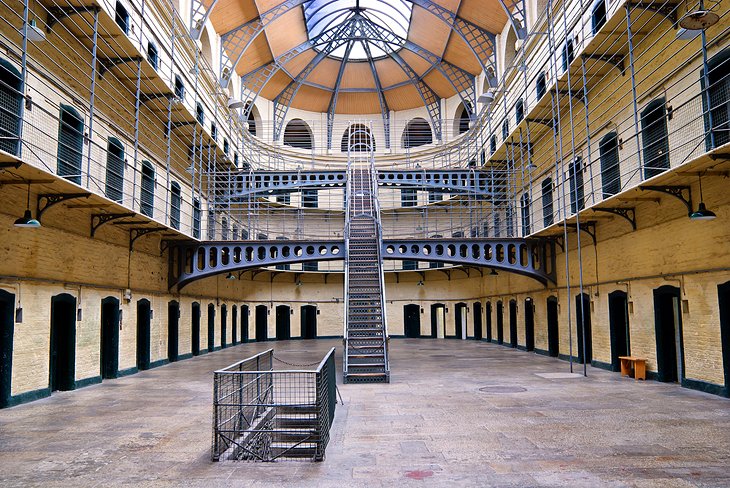 The forbidding gaol (jail), dating from 1789, truly is a notorious site in the history of Irish nationalism. It was here that the leaders of the 1916 rebels were first incarcerated and then executed for what was seen as an act of high treason. The exhibition in a modern hall gives a taste of what conditions were like and outlines the struggle for Irish independence. There are excellent guided tours throughout the rest of the jail, which cover Irish history from 1796-1924. The Stonebreaker's Yard is sure to send shivers up the spine, as this is the spot where the leaders of the uprising met their grisly fate.
Hours: Open Monday-Saturday 9.30am-5.30pm, Sunday 10am-6pm
Admission: Adults €6, seniors €4, child/student €2
Address: Inchicore Road, Dublin 8
13 Christ Church Cathedral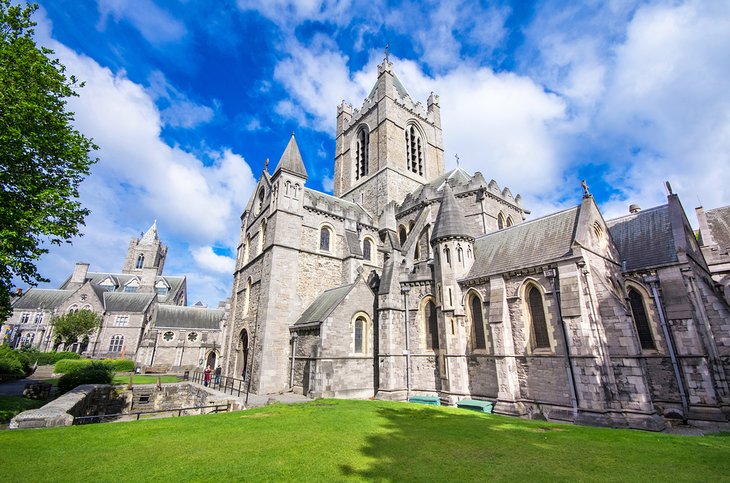 Restored in the 19th century and dominating the surrounding area, Christ Church Cathedral is built on the site of Dublin's first church, which was founded in 1028 and made of timber. The Great Nave has magnificent early gothic arches, and here you can see the 14th-century replica of the tomb of legendary Norman conqueror Strongbow, who is buried elsewhere in the cathedral. The fragment that lies alongside is said to be part of the original tomb and has the nickname, 'Strongbow's son.' Parts of the vast crypt, which runs the length of the building, date from the 13th century.
Hours: Open 10am-5pm daily (6pm summer)
Admission: Adults €6, donation expected - Cathedral crypt & treasury
Address: Christchurch Place, Dublin 8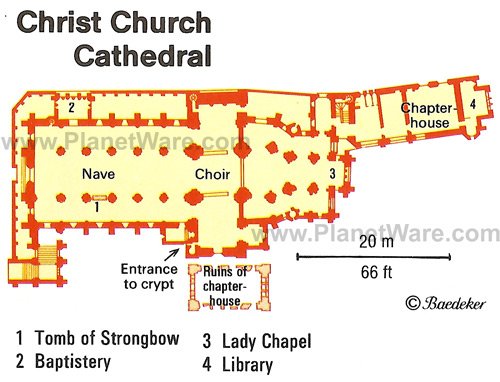 Christ Church Cathedral Map
Want to use this map on your web site?
Copy and Paste the code below:
14 St. Patrick's Cathedral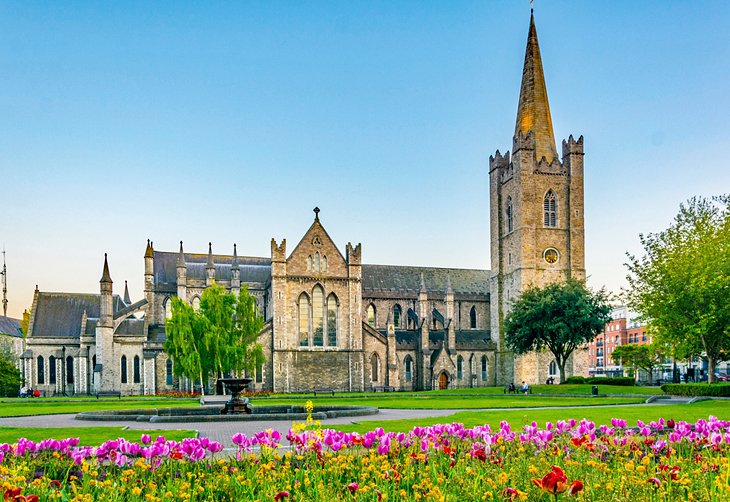 An easy 7 minute-walk from Christ Church Cathedral, St. Patrick's Cathedral is the national cathedral of the Church of Ireland. Tradition has it that here, St. Patrick baptized converts to Christianity in AD 450. Like Christchurch, the original edifice was timber. In 1192, another church was founded and constructed of stone. Just over a century later, another reconstruction took place and its status was raised to that of cathedral. Over the centuries, much embellishment has occurred, chiefly in the mid 1700s when the steeple was built, and during the late 1800s when there were substantial renovations. Gulliver's Travels author and satirist Jonathan Swift (1667-1745), who was Dean of St. Patrick's for 35 years, is interred in a tomb to the right of the entrance beside his long time love 'Stella' (Hester Johnson 1681-1728).
Hours: Open Monday-Friday 9am-5pm, Saturday 9am-6pm (November-February 9am-5pm), Sunday split opening times
Admission: Adults €5.50, seniors & students €5.50, group rates available
Address: St. Patrick's Close, Dublin 8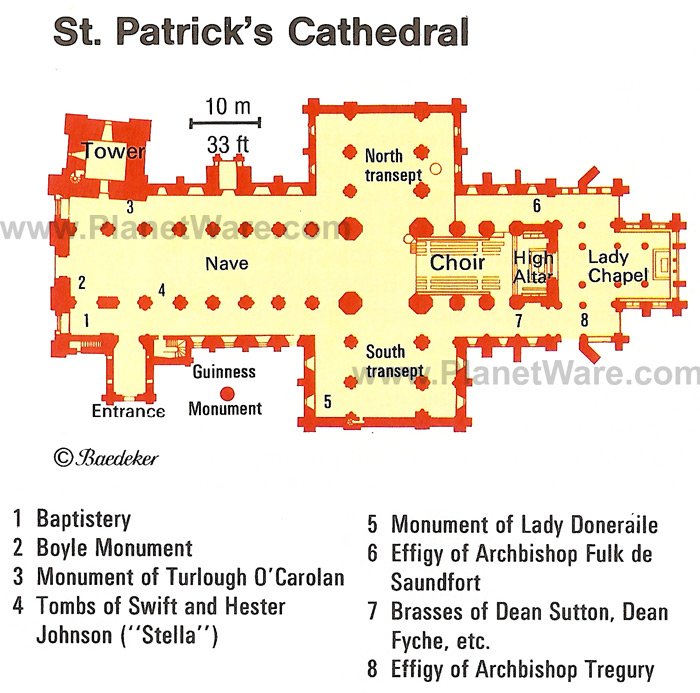 Dublin - St Patrick's Cathedral Map
Want to use this map on your web site?
Copy and Paste the code below:
15 Dublin Castle and the Chester Beatty Library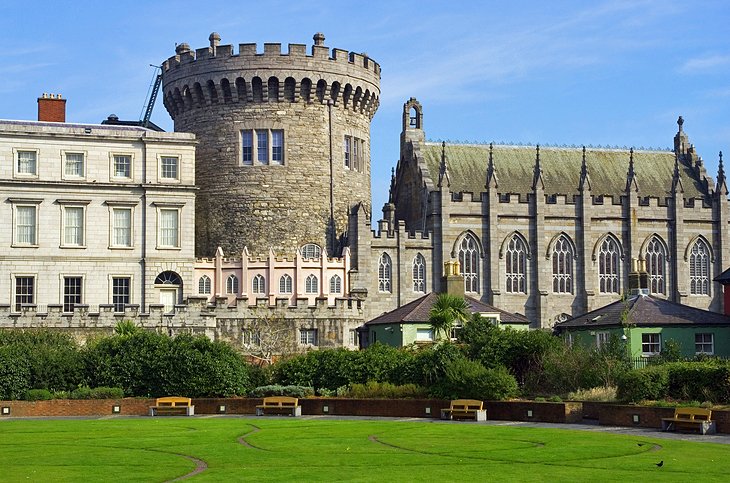 Dublin Castle was the site of central administration during 700 years of British rule until 1922. The castle has seen many guises: medieval fortress, vice-regal court, and function of government. In 1534, Irish rebel Silken Thomas (so named for his fine clothes) launched an attack and besieged the castle. Currently, the castle is mainly used for ceremonial occasions, exhibitions, and even concerts. The ornate state apartments are open to visitors and there are a number of museums to explore including the Chester Beatty Library and Gallery.
The museum, founded in 1953 by an American living in Dublin, Chester Beatty, features a fine collection of oriental art and several collections of manuscripts, books, and ancient texts. Among the treasures are French Books of Hours of the 14th and 15th century and a prayer book, which belonged to Philip II of Spain; works of Far Eastern art; Islamic prints; Sanskrit manuscripts (12th-13th century); Indian miniatures; and Babylonian clay tablets (2,500-2,300 BC). There are also European medieval and renaissance manuscripts, Egyptian papyrus texts, and copies of the Qur'an, and the Bible. Buddhist paintings and Turkish and Persian miniatures are also on display, as are woodblock prints from Japan and Chinese dragon robes.
Hours: Dublin Castle - Open Monday-Friday 10am-4.45pm, Saturday-Sunday 2pm-4.45pm Chester Beatty Library - Open Monday-Friday 10am-5pm May-September, Tuesday-Friday 10am-5pm October-April, Saturday 11am-5pm, Sunday 1pm-5pm
Admission: Self-guided tours, adults - €4.50, students & seniors €3.50, under 12 years €2, under 6 years free, Chester Beatty Library - free
Address: Dame Street, Dublin 2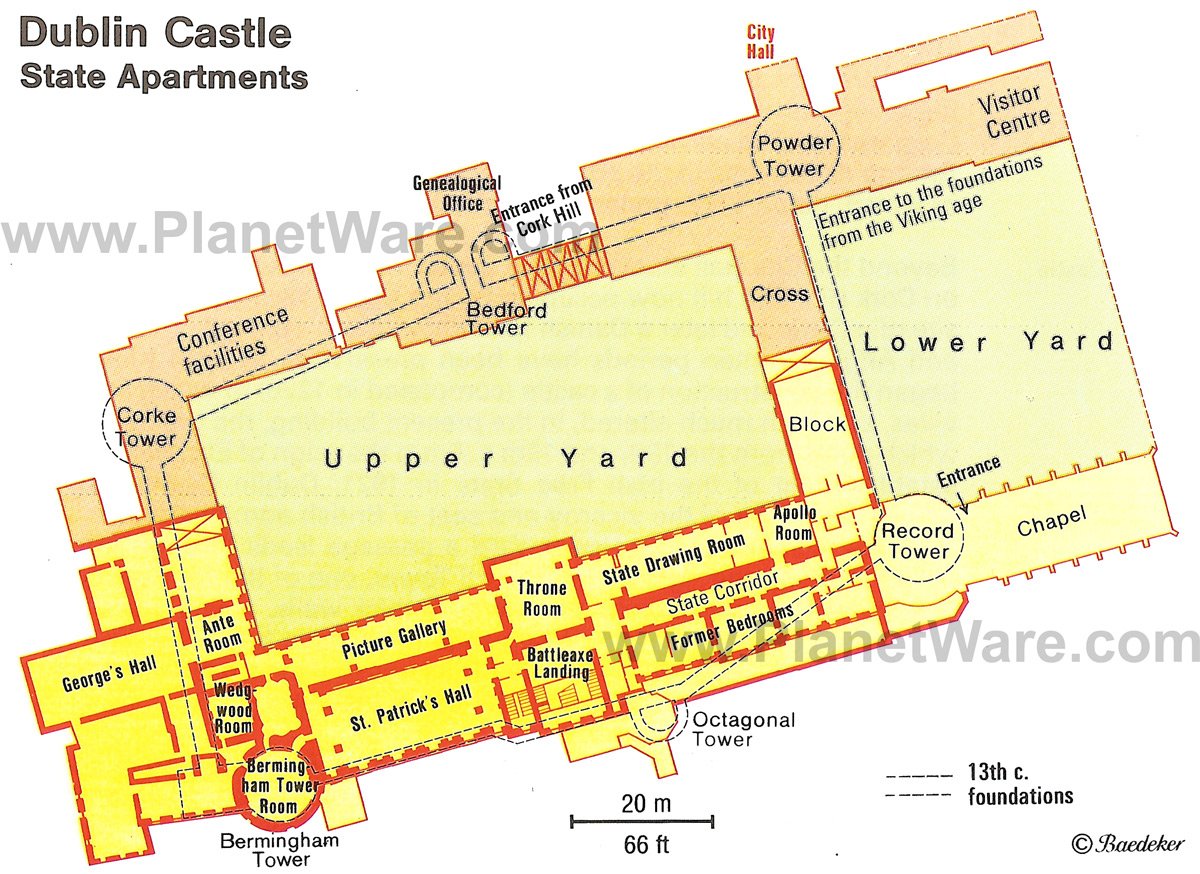 Dublin Castle Map
Want to use this map on your web site?
Copy and Paste the code below:
16 Dalkey/Killiney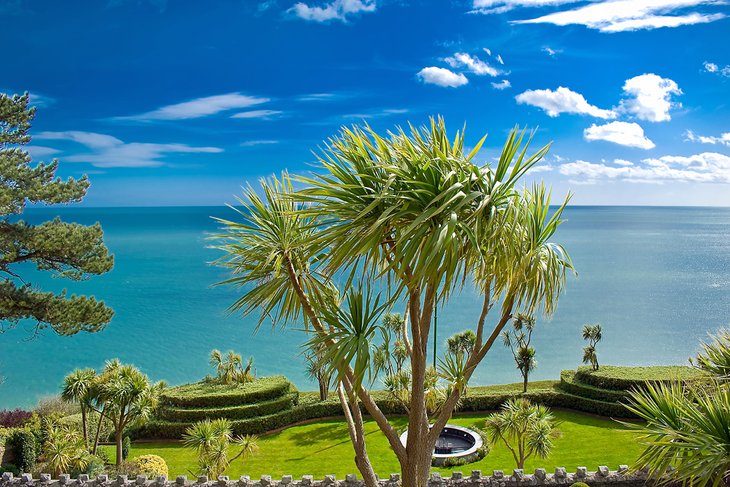 A must see and, surprisingly, just a 25-minute southbound trip on a DART (Dublin's light rail network) from the city-center is Dalkey and one stop further along, Killiney, although both areas can easily be explored from Dalkey town. It's recommended to disembark at the earlier stop as there's an excellent visitor center at Dalkey Castle, which includes information about the area, historic and cultural exhibitions, and best of all, live theater performances as part of a fun guided tour, which scales the heights of the castle ramparts. Dalkey was once the main trading post on Dublin's east coast, and the harbor at Coliemore Road was the place where medieval cargo ships could off-load their wares. Opposite the harbor is breathtaking Dalkey island, and an uphill stroll of around 15 minutes brings you to Vico Road with stunning views out over Killiney Bay. For more panoramic vistas, continue up to the top of Killiney Hill, a public park that is home to many species of wildlife and birds.
Hours: Dalkey Castle - Open Monday-Friday 10am-5pm, weekends 11-5pm, closed Tuesdays
Admission: Adults €8.50, seniors & students €7.50, under 12 years €6.50, under 4 years free
Address: Castle Street, Dalkey, Co. Dublin
Editor's Tips
Of course there's plenty more to see and do in and around Dublin. The Discover Ireland Centre on Suffolk Street (just off Grafton Street) dispenses handy information on the city's tourist attractions. Although it may sound like a cliché, Ireland's capital really is its people. Unexpected conversations and snippets of Irish 'banter' are most likely some of the strongest memories you will take away with you. Dubliners are a sociable, knowledgeable, and quite often, an opinionated bunch, so don't be afraid to have a chat and ask their advice about where to go and what to see. In particular, taxi drivers love to talk and will often regale anybody who'll listen with views on everything from politics to history and current affairs.
If staying in the capital for a few days, the DART (Dublin's light rail network) is a leisurely way to explore the coastline. The village of Howth, at the far extremity of Dublin's north side is well worth a visit. Here, visitors will find a range of restaurants, many serving fresh seafood as Howth remains a fishing village, albeit an upmarket one these days. The views from Howth Head are spectacular. Also on the north side, and on the DART line is Malahide, a quaint village with a beautiful castle open to the public. Day trips from the city should include magical Glendalough, home to a ruined medieval monastery, breathtaking lakes, and forest walks. Spectacular Powerscourt House and gardens, adjacent to the pretty village of Enniskerry is a must-see for those with a little extra time on their hands. There's a terrific restaurant, craft shops, and superb grounds to explore at your leisure.
More on Ireland