Reno Tourist Attractions
Reno "the biggest little city in the world", lies in western Nevada. A rather smaller version of Las Vegas, it allows visitors to get married or divorced and lose their money just as expeditiously as in the larger city.Reno boasts of having over 5 million visitors a year come to their city to enjoy the multitude of entertainment options. Reno also makes a good base if you are planning to visit Lake Tahoe, located 45 minutes away.
National Automobile Museum
Car enthusiasts will want to be sure to visit the National Automobile Museum in Reno. This museum is one of the highlights of Reno, with everything from vintage cars right through to modern vehicles. The museum is divided into four galleries: 1890's-1910, teens - 1930's, 1930's - 1950's, and 1950's and beyond. Also on display are two art collections that encompass auto related pieces, as well as costumes and accessories.Check the museum's calendar for upcoming events, activities, and exhibits.
Animal Ark
Friends of animals will want to stop by the Animal Ark, just outside Reno. It is here that a dedicated staff helps non-releasable wildlife survive in a rural setting. Spread out over 38 acres, the Animal Ark allows visitors to see the wildlife in their natural settings through glass partitions. The animal collection is quite diverse, ranging from tortoises and cheetahs to bears and wolves.The zoo is small but each animal has its own unique story.
Nevada Museum of Art
Fans of art who are visiting Reno will want to stop in at the Nevada Museum of Art. Considered one of the finest art museums in the state, the Nevada Museum of Art, features its own unique collections and frequently hosts national and international traveling exhibitions. Of particular note in the permanent collection is the work by E.L. Wiegand and the Sierra Nevada/Great Basin works.The museum is a good cultural addition to the city and a great escape from the resort entertainment.
Boomtowns Family Fun Center
For a fun afternoon of noise and amusement when in Reno, look no further that the Boomtowns Family Fun Center. Here visitors will find over 200 video and arcade games, a 3D movie theater, a miniature golf course, and antique carousel. For the more adventurous, there is the Rodeo Rider rock-climbing wall. Boomtowns Family Fun Center is easily accessible off Interstate 80 at exit 4.
Wilbur D May Museum, Arboretum and Botanical Garden
The Wilbur D Day Museum, Arboretum and Botanical Gardens is located in Reno. This fantastic, multifaceted facility is a great place to spend a day. The museum highlights rare and unique items from around the world and frequently hosts traveling exhibits. The arboretum showcases interesting plant species and the botanical gardens are a wonderful place to enjoy the spectacular blooms from a variety of plants.
Wilbur D May Great Basin Adventure (closed)
The Wilbur D May Great Basin Adventure in Reno is a great spot to take the family. Here visitors of all ages will find something interesting to do. The attraction has a petting zoo, a pony ride, a climbable dinosaur, and a log flume amusement ride. Also on site is the Discovery Room and Mine building, especially equipped for the explorative aspirations of little ones.
Nevada Historical Society Museum
The Nevada Historical Society Museum in Reno is one of Nevada's oldest museum. The Nevada Historical Society Museum was founded in 1904 and has been going strong ever since. Some of the permanent exhibits include "Living on the Land", "Neon Nights", and "Riches of the Earth".
Pioneer Center
The Pioneer Center in Reno is this city's premier performing arts center. The center hosts a wide variety of performing artists ranging from opera to ballet to rock concerts. The Pioneer Center posts all the upcoming events on its website, be sure to check it out to see what's playing when you are in town.
Riverboat Hotel
The Riverboat Hotel is located in Reno. This large hotel complex offers all the amenities visitors would expect to find in a resort hotel. The Riverboat has multiple restaurants and features regular performances by talented entertainers. This can be a fun place even if you are not staying here.
Sierra Safari Zoo
The Sierra Safari Zoo in Reno makes for an excellent family outing. Here visitors will find a wonderful collection of native and exotic animals from around the world. The zoo has three main focus areas: reptiles, mammals, and birds. One of the zoo's main attractions is Claude, an African lion.
Reno Arch (current)
Lighting up the night sky as it towers over Virginia Street and Commercial Row in the entertainment district is the Reno Arch. The sign reads: Reno - The Biggest Little City In The World.
Reno Arch (original)
The old Reno Arch that once graced Virginia Street and Commercial Row in Reno is now located by the National Automobile museum. It is one of three arches that have been created since 1926.
Surroundings
Lake Tahoe
Lake Tahoe is a wonderful lake set high in the Sierra Nevada Mountains. The lake is a Mecca for outdoor enthusiasts who enjoy swimming, sailing, diving, and fishing. The water is crystal clear and has sandy beaches in areas surrounded by hills of pine trees. The higher altitude allows for a cooler climate than some of the surrounding areas making it a pleasant destination in summer.
Incline Village
If you happen to be visiting Lake Tahoe on the Nevada side, you will most likely pass through Incline Village. This pleasant mountain town has fantastic views out over the lake with the mountains providing a scenic backdrop.
Lake Tahoe Nevada State Park
Lake Tahoe Nevada State Park located near Incline Village is an outdoor enthusiast's paradise. Here visitors will find the massive Lake Tahoe in a majestic setting. Hiking, walking, biking, swimming, fishing, sailing and other aquatic activities all await the intrepid outdoorsman. Lake Tahoe Nevada State Park consists of three main areas: Lake Spooner, Memorial Point and Hidden Beach, and Sand Harbor.
Ponderosa Ranch (Closed)
Ponderosa Ranch is closed to the public.
Map of Reno Attractions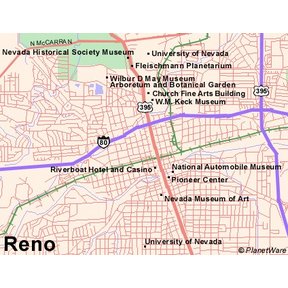 Map - Reno