Quanzhou Tourist Attractions
Quanzhou lies in the southeast of the Fuijian province on the Jinjiang estuary. From Xiamen and Fuzhou it is accessible by air or by sea.Already in the 6th C Malayan ships docked in Quanzhou, and it was founded in about 700. Quanzhou grew until in the 10th C, under the Tang, it had become with Canton and Yangzhou one of the three largest Chinese international trading ports. From the 11th C to the 14th C the city had its greatest flowering. At this time the woven satin which was manufactured here was even sold in the European market. Some expert linguists think that the word satin is taken from ''Zaiton'', which is the name Marco Polo gave to Quanzhou in his work ''Millions''. The Venetian traveled back to Italy from Quanzhou in 1292, and noted in his travel journal: ''Zaiton is the biggest port in the world''.During the following centuries, the city attracted many foreign dealers, missionaries, and travelers, many of whom finally settled here. In the 15th C the city lost its status as a trading center.
One of China's largest temples, the Temple of the Beginning of the New Age at one time held more than 1,000 monks. The structure dates to the 7th C.
Mosque of Peace and Clarity
The Mosque of Peace and Clarity, situated in the Tumen Jie in the southeast of the city, was erected in 1009 in the style of a prayer house of Damascus. The construction was financed by donations from foreign Muslims. It was restored in 1310. Islamic merchants were already coming here in the 7th C to seek trade.As the mosque is one of the oldest in the whole of China, the government placed it under its protection. For this reason an order by the Ming Emperor Chengzu is engraved on a stone tablet inside the mosque which dates from 1407. The order begs respect for this important building and reverence for the Islamic faith. The impressive main gate is still preserved. On the mosque walls passages from the Koran are engraved in old Arabic.
Museum of the History of Foreign Trade
To the east of the Kaiyuan Si temple is the Museum of the History of Foreign Trade (founded 1959). It is divided into three sections: in the first section is a 24m/72ft long, 9m/27ft wide sailing ship from the Song period (960-1279). It was discovered in 1974, near the port of Houzhu in Quanzhou Bay about 10km/6mi south east of the city. The second section displays hundreds of sculptures and stone tablets with inscriptions in old Chinese, Latin, Syrian and old Arabic; they date back to the Song and Yuan era (10th-14th C). In the last section over 300 ceramic pieces are displayed; these were crafted in Quanzhou from the 10th C onwards and were intended for export.
Map of Quanzhou Attractions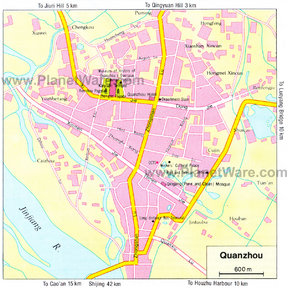 Map - Quanzhou