Top-Rated Tourist Attractions in Oban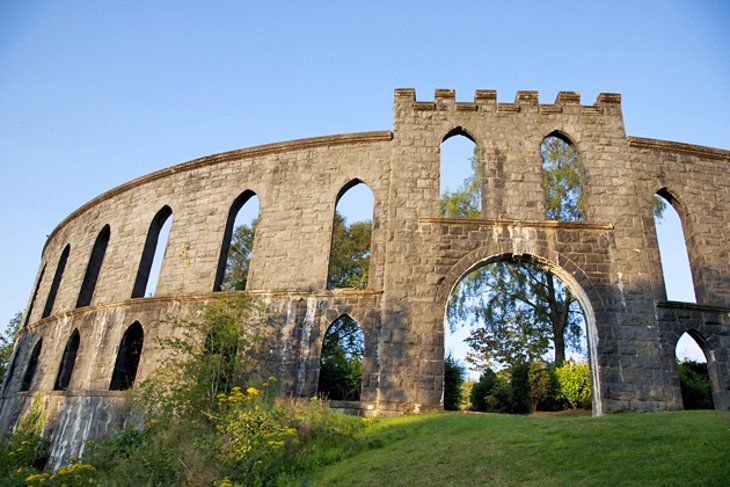 Oban
View slideshow
The busy town of Oban lies by a sheltered bay in the lee of the island of Kerrera (49mi/78km south of Fort William). Since Victorian times the town has been one of Scotland's most popular resorts and it is also an important harbor for services to the West Highlands and the Hebrides. It also makes a good base for excursions into the Highland mountains and lochs. Ganavan Sands behind Dunollie Castle offers opportunities for bathing.
McCaig's Tower

McCaig's Tower makes a good vantage point for viewing Oban. This replica of the Colosseum in Rome was built on Battery Hill at the end of the 19th C by a wealthy banker named John Stewart McCaig. He claimed that the construction of the tower would provide work for the townsfolk but this "folly" was almost certainly intended as a memorial to himself and his family.
Promenade
Shops, hotels and restaurants line the Corran Esplanade which in summer bustles with activity. West Highland Yachting Week at the beginning of August and the Argyll Gathering in mid-September attract many visitors to the town, but other places of interest include the Caithness Glass Factory and Oban Experience, an audio-visual presentation on the town's Victorian past.
World in Miniature
An unusual exhibition by the North Pier displays miniature furniture, toys, musical instruments and paintings all at a scale of 1:12.
Address:
North Pier, Scotland
Dunstaffnage Castle and Chapel
Dunstaffnage Castle 4mi/6.4km north of Oban stands guard on a rock over the entrance to Loch Etive. The three round towers and the walls, in places 10ft/3m thick, date from the 15th C when the castle belonged to the Campbell clan, while the residential tower was built in the 17th century. The cannon on the ramparts was salvaged from a Spanish galleon that sank in Tobermory Bay. A few yards further on, the ruins of a 13th C chapel deserve special attention, as several early Scottish monarchs are said to be buried here alongside members of the Campbell family. At one time it was thought that Dunstaffnage was the capital of the Scottish kingdom of Dal Riata but that theory has now been discounted.
Address:
Dunstaffnage Castle Dunbeg, Oban PA37 1PZ, Scotland
Oban Sea Life Centre
The underwater world on view in the Sea Life Centre by Loch Creran offers something for everyone. Sharks, rays, squid, seals and other sea creatures can be seen in their natural habitat. Children will be thrilled by the magnificent playground (6mi/9.6km north of Oban).
Glenfeochan House
Many of the trees in the parkland surrounding Glenfeochan House (1875; 1mi/1.6km to the south of the Rare Breeds Park) are about 150 years old. Other colorful plant species to admire here include rhododendrons and peach and nectarine trees.
Sightseeing Nearby: