Top-Rated Tourist Attractions in Ayr, Scotland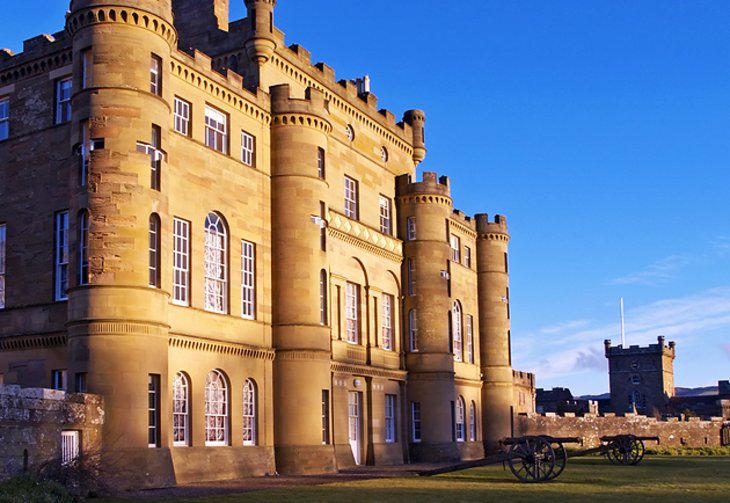 Ayr
View slideshow
Ayr is not only a good shopping center but also a good base for exploring the Lowlands. It faces the island of Arran and is the main town in the county of Ayrshire. Robert Burns described the local people as "honest men and bonnie lasses". A memorial at the station, Tam o'Shanter Inn is an examples of the Burns legacy in the region. Devotees can even follow the Burns' Heritage Trail, a literary tour through southwest Scotland as far as Dumfries that takes in all the places connected with Burns. Ayr boasts an important racecourse, no fewer than three golf courses and a long sandy beach.
Alloway - Burns' Cottage & Museum
The thatched house where Burns was born is situated in Alloway, a suburb to the south of Ayr. It was built by his father and Burns spent the first seven years of his short life here. Exhibits include memorabilia, manuscripts and the old family Bible.
Address:
Murdoch's Lone, Alloway KA7 4PQ, Scotland
Alloway - Land o'Burns Centre
A few yards from the Burns Cottage in Alloway, an account of Burns' life and times is given with the help of an audio-visual presentation.
Alloway - Robert Burns' Monument
There is a fine view over the River Ayr and its two bridges from the Burns' Monument (1823) where more than 600 exhibits relating to the celebrated Scottish hero are displayed.It was across one of the bridges, the 13th century "Auld Brig", that Tam o'Shanter fled from the witches - he remembered that they were not allowed to cross flowing water - only his horse's tail remained in the hands of his pursuers. In line with Burns' prophecy, the bridge of 1788 had to be rebuilt in 1877.
Kirkoswald - Souter Johnnie's Cottage
Souter Johnnie's Cottage in Kirkoswald is in fact a museum dedicated to the souter (cobbler) John Davidson who with his friend Douglas Graham is immortalized in Burns' narrative poem "Tam O'Shanter". Tam O'Shanter and Souter Johnnie sit in the museum garden as life-sized statues, both the work of James Thorn (1802) who later emigrated to America and became an architect.
Address:
Main Road, Kirkoswald KA19 8HY, Scotland
Kilwinning Dalgarven Mill
Kilwinning Dalgarven old mill has recently undergone careful restoration and its displays now record country life in Ayrshire. The museum's premises on the Dalry Road (A737) date from 1753. Fresh bread made from flour ground at the mill is sold in the bakery.
Ayrshire Arts Festival and Robert Burns Festival
These two annual festivals run concurrently for 10 days in early June. The festivals promote local performers while at the same time bringing together internationally-acclaimed names from throughout the world. The events include ballet and theatrical performances, operas, jazz sessions, poetry readings and folk nights.
Address:
Wallace Tower, High Street, Scotland
Sightseeing Nearby: