10 Top-Rated Tourist Attractions in Glasgow
Located on the River Clyde, Glasgow has been transformed from an industrial city to the country's cultural center and is home to excellent museums, art galleries and festivals. Its Gaelic name meaning "lovely green place" is apt name given its 70 parks and open spaces. Theatregoers, too, are spoilt for choice, with venues such as the King's Theatre and the Theatre Royal (home of the Scottish Opera) and the Concert Hall (home of the Royal Scottish Orchestra). Important cultural events include the Celtic Connections Music Festival and the Gourock Highland Games, and it's also a busy sports town - home to two major league football (soccer) clubs and a rugby club.
1 Glasgow Cathedral: St Mungo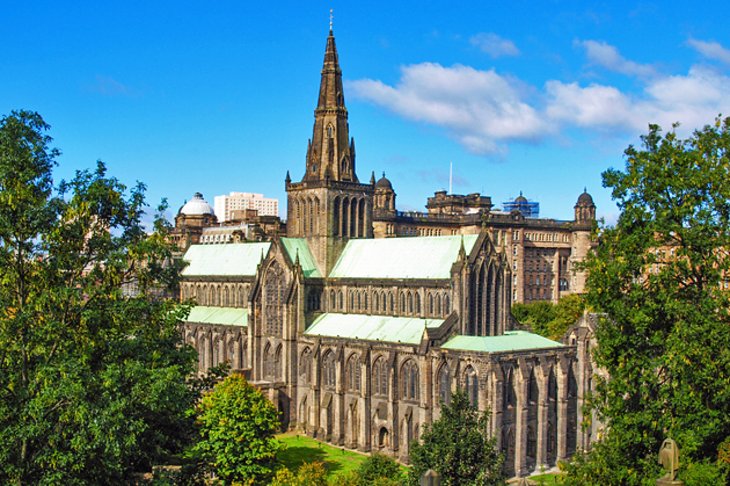 The city's most significant historic building is 12th century Glasgow Cathedral, also known as St Mungo Cathedral or the High Kirk of Glasgow. Seen from both inside and out, it looks as if it dropped out of a giant mold: the lines are clear, and there's no superfluous ornamentation. Projecting from the south transept is the Blacader Aisle named after the first bishop of Glasgow. The grandest room in the cathedral, however, is the crypt housing the tomb of St Mungo, founder of the bishopric and who was buried here in 603 AD.
Also of interest is the nearby St Mungo Museum of Religious Life and Art, which examines the world religions, their rites and how their doctrines deal with the issues of life and death. Exhibits range from Egyptian mummies and Hindu statues to Salvador Dali's Christ of Saint John of the Cross (1951), as well as a Zen Buddhist garden in the courtyard.
Hours: Mon-Fri, 9:30am-5:30pm; Sat, 9:30am-5:30pm; Sun, 1-5pm
Admission: Free (donations welcome)

Glasgow Cathedral Map
Want to use this map on your web site?
Copy and Paste the code below:
2 George Square: The Heart of Glasgow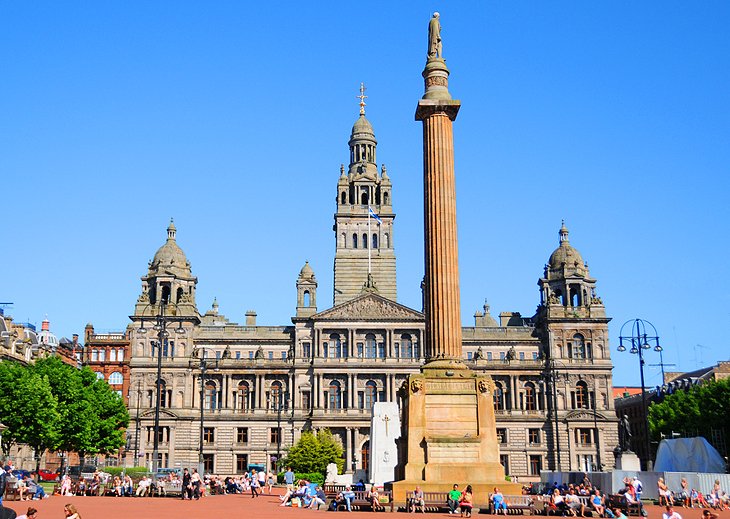 At the heart of Glasgow's historic Victorian city center stands the flower-bedecked George Square with its 12 statues of famous people associated with the city, including Robbie Burns, Walter Scott and Queen Victoria. The east end of the square is dominated by the Town Hall and its 230 ft tower completed in 1890, while the Merchants' House is the headquarters of Britain's oldest Chamber of Commerce founded in 1605. A group of mid-19th century warehouses are part of the city's trendy Merchant City district that, along with The Italian Centre, offer unique cafés, restaurants and designer boutiques. Also of interest is the huge Barras Street Market which every week attracts as many as 1,000 traders selling food, antiques, bric-à-brac and clothing.
3 Glasgow School of Art and Mackintosh's Art Academy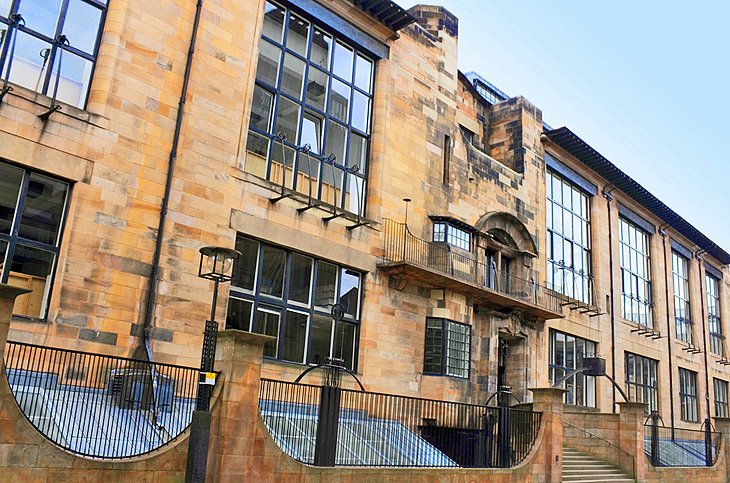 Mackintosh's Art Academy is essential viewing for lovers of fine architecture. Completed in 1909, this Art Nouveau building confirmed the reputation of 28-year-old designer Charles Mackintosh, not just as a master of the exterior (the grand west facade is dominated by three 65 ft high oriel windows, and the smaller windows on the east front are reminiscent of Scottish castles) but also as a superb interior designer. Of special interest: the Principal's Room, one of the first of Mackintosh's "White Rooms"; the Mackintosh Room where meetings of the Academy of Art are held; and the unique Library and Gallery. Admission is via guided tours only (they fill quickly, so book well in advance). Charles Mackintosh's Art Lover's House is another interesting architectural gem featuring some of his finest interiors. Although plans were drawn up in 1901, work didn't start until 1989.
Hours: Guided Tours Only - daily, 10am, 11am, 1pm, 3pm, 5pm
Admission: Adults, £9.75; Children (under 18), £4.75 (under 5, free)
Address: 167 Renfrew Street, Glasgow
4 Kelvingrove Art Gallery and Museum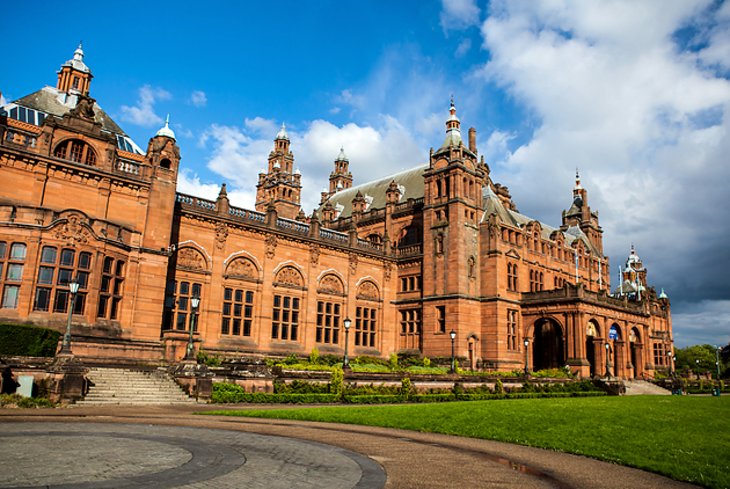 The bustling entertainment and shopping mecca of Sauchiehall Street, now almost entirely given over to pedestrians, is over 1.5 mi long and offers the largest range of shops in the city. Sauchiehall Street ends at Argyle Street in the city's West End, a trendy area of cafés, restaurants, high-end shops, posh hotels and, perhaps most importantly, the wonderful Kelvingrove Art Gallery and Museum. Opened in 1901, the museum boasts a fine collection of British and continental paintings, including such gems as Van Gogh's Portrait of Alexander Reid (Reid was a well-known Glaswegian art collector). Scottish archaeological finds include Bronze Age tools and jewelry from Arran, Kintyre and Glenluce. Other exhibits of interest include weapons and armor, such as helmets, crossbows and swords from the 15th and 16th centuries as well as Flemish tapestries, Glasgow-made jewelry, silverware, glassware and pottery from various periods.
Hours: Daily, 10am-5pm
Admission: Free
Address: Argyle Street, Glasgow
5 The University of Glasgow: The Hunterian Museum and Art Gallery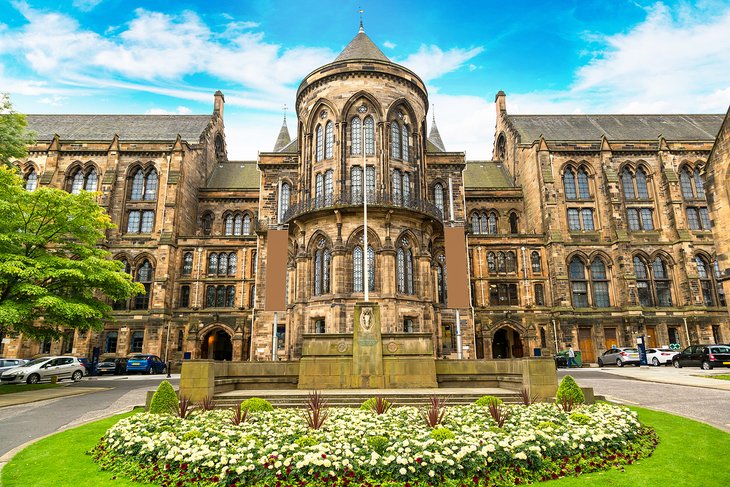 The University of Glasgow dates from 1451 and is the second-oldest school of higher education in Scotland. The University boasts many illustrious teachers including James Watt, Adam Smith and the "father of antiseptic surgery", Joseph Lister. A permanent exhibition at the Visitor Centre in University Avenue goes into more detail about the important discoveries made by these and other scientists who taught here. Another famous scientist with connections to the university was William Hunter, an 18th century Glaswegian doctor who bequeathed his collection of anatomical parts, coins and objets d'art to form the basis of the Hunterian Museum. The museum now includes collections from the departments of ethnography, zoology, geology and archaeology, including many finds from Roman sites. Artwork on display includes works by Rubens, Rembrandt and Reynolds. The gallery also houses the reassembled principal interiors from architect Charles Mackintosh's Glasgow home.
Hours: Tues-Sat, 10am-5pm; Sun, 11am-4pm
Admission: Free
Address: University Avenue, Glasgow
6 Riverside Museum and Tall Ship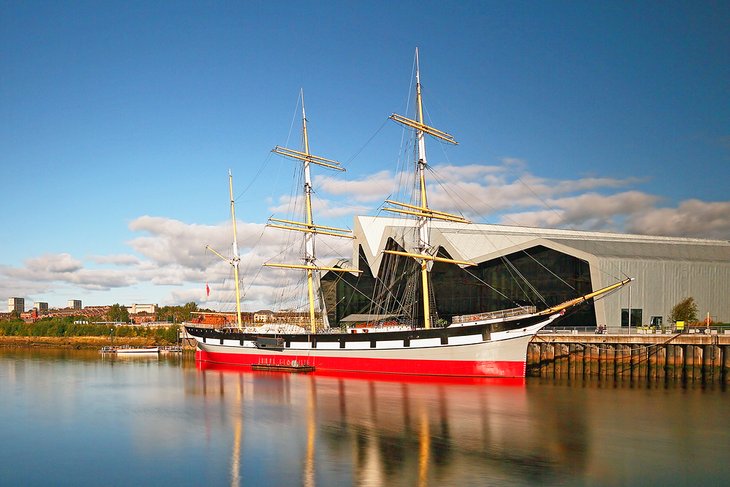 Glasgow's award-winning Riverside Museum includes many of the exhibits from the city's former Transport Museum, including model ships, locomotives, trams, vintage cars and horse-drawn carriages. The majority are Glasgow-built. New additions include a superb reconstruction of a 1938 Glasgow street, as well as the excellent Tall Ship, the only floating Clyde-built sailing ship in Britain. Other highlights include a painting by famed artist LS Lowry (Cranes and Ships, Glasgow Docks).
Hours: Daily, 10am-5pm
Admission: Free
Address: 100 Pointhouse Place, Glasgow
7 Pollok House
Close to 4 mi southwest of Glasgow's city center, the grounds of Pollok House cover an area of 355 acres. The home of the Maxwell family, this mansion was built in 1752 by William Adam and his sons. Its collection of Spanish paintings by El Greco, Goya, Murillo, Velazques and others is particularly interesting. Also on view are several significant works by William Blake and numerous antiques.
Hours: Daily, 10am-5pm
Admission: Adults, £6.50; Families, £16.50
Address: 2060 Pollokshaws Road, Glasgow
8 Kibble Palace and Glasgow Botanic Gardens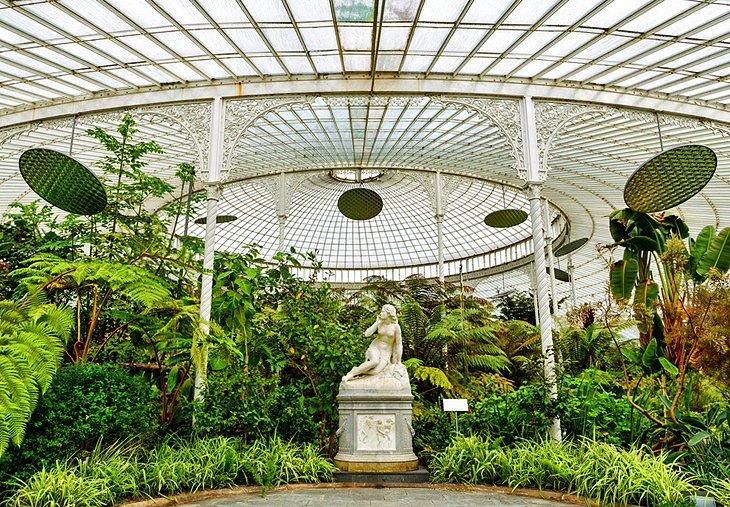 Built in 1873, Kibble Palace is one of the largest glasshouses in Britain and contains a collection of rare orchids, tree ferns from Australia and New Zealand, as well as plants from Africa, the Americas and the Far East. Also of interest in this spectacular glasshouse located in the grounds of Glasgow's Botanic Gardens are a number of Victorian sculptures. Afterwards, be sure to stroll through the extensive parkland and the Botanic Garden's numerous other greenhouses and displays. Another nice park to visit is Bellahouston Park, site of the 1938 Empire Exhibition attended by over 13 million visitors and still popular for its colorful flowerbeds.
Hours: Grounds - Daily, 7am-dusk; Glasshouses - 10am-6pm
Admission: Free
Address: 730 Great Western Road, Glasgow
9 Glasgow Green and the People's Palace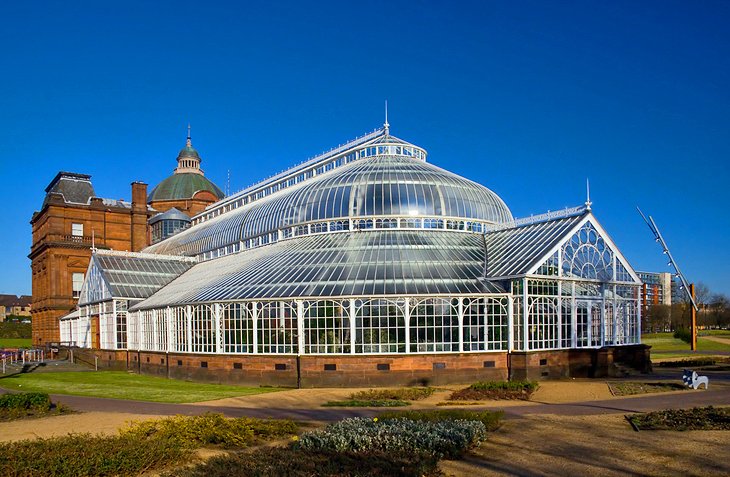 Laid out in 1662, Glasgow Green is by far the oldest of the city's parks and is an easy walk from the city center. One of the park's main attractions is the People's Palace, a museum built in 1898 that illustrates the development of trade and industry, the trade unions, the women's movement, as well as entertainment and sport in the city from 1750 to the 20th century. The other important attraction is the Winter Gardens, a large conservatory at the back of the palace that contains a fine collection of tropical and sub-tropical plants. Be sure to also visit the lovely Doulton Fountain, the world's largest terracotta fountain. An impressive 46 ft high and 70 ft across, it was built to commemorate Queen Victoria's Golden Jubilee and contains figures from across the Commonwealth. Another attraction worthy of a visit is Nelson's Monument, an impressive column built in 1806 to commemorate Horatio Nelson's numerous victories.
Hours: Daily, 10am-5pm
Admission: Free
Address: Glasgow Green, Glasgow
10 The National Piping Centre and the Bagpipe Museum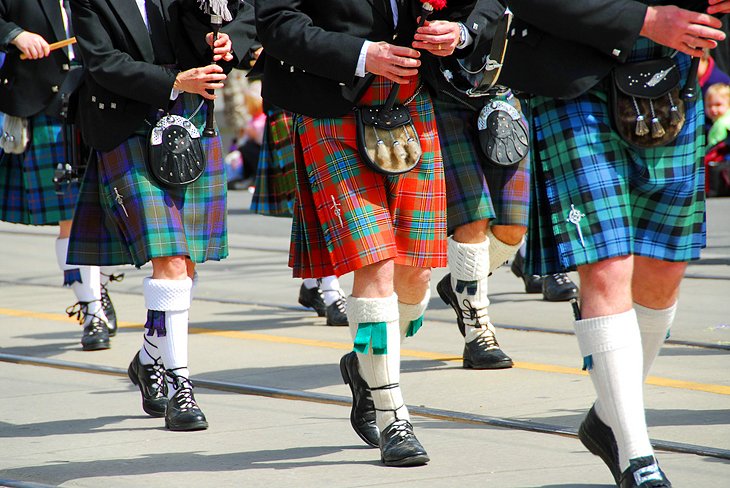 The National Piping Centre is an excellent resource for those with a passion for bagpipes and drumming, whether as a performer or a fan. Lessons and courses are available, including intensive bagpipe schools held at a variety of locations worldwide. The National Piping Centre is also home to the superb Museum of Piping, which includes piping memorabilia belonging to Robbie Burns and the 17th century Iain Dall MacKay chanter, the world's oldest surviving bagpipe relic.
A well-stocked shop brimming with piping related supplies, music and mementoes is also open to the public (the Centre also has its own hotel and restaurant). Glasgow hosts the annual World Pipe Band Championship, the world's largest such festival held every August on Glasgow Green.
Hours: Mon-Fri, 9am-5pm; Sat, 9am-1pm
Admission: Adults, £4.50; Children (5-15), £2.50; Families, £11
Address: 30-34 McPhater St, Glasgow
Sponsored Links

Glasgow Deals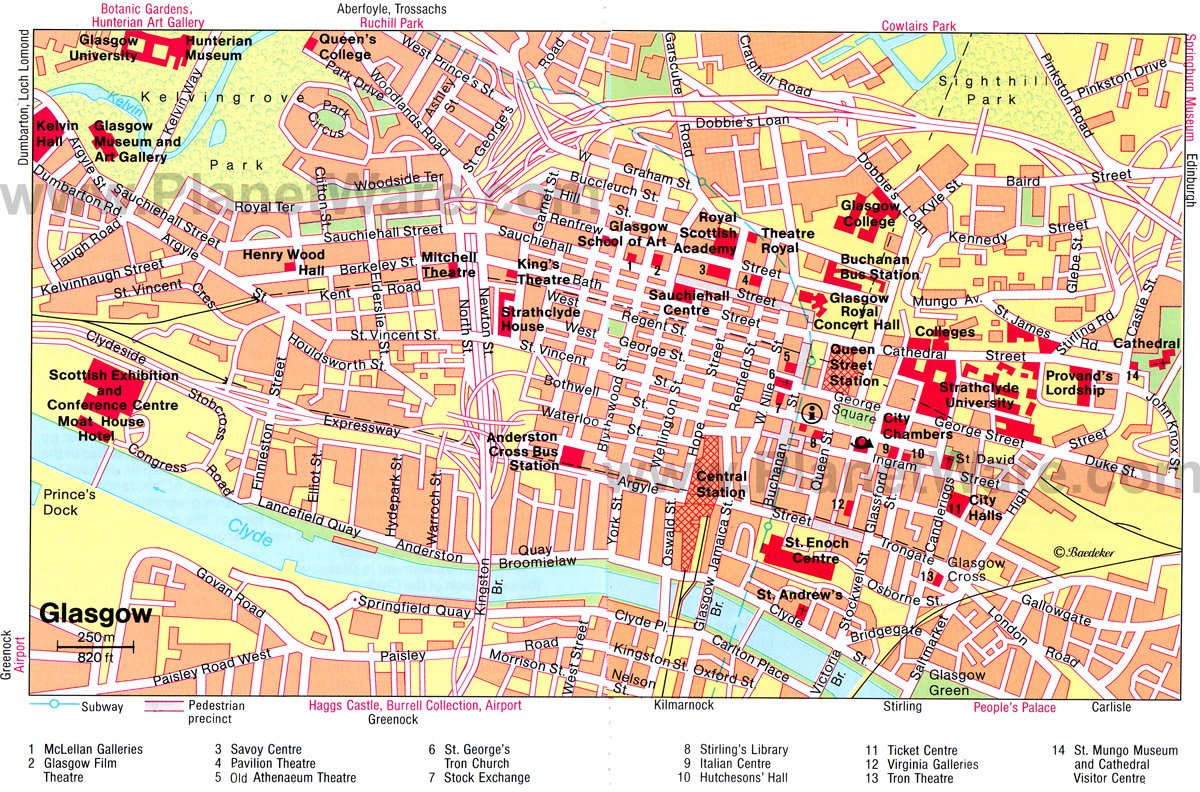 Glasgow Map - Attractions
Want to use this map on your web site?
Copy and Paste the code below:
More on Scotland