Top-Rated Tourist Attractions in Glasgow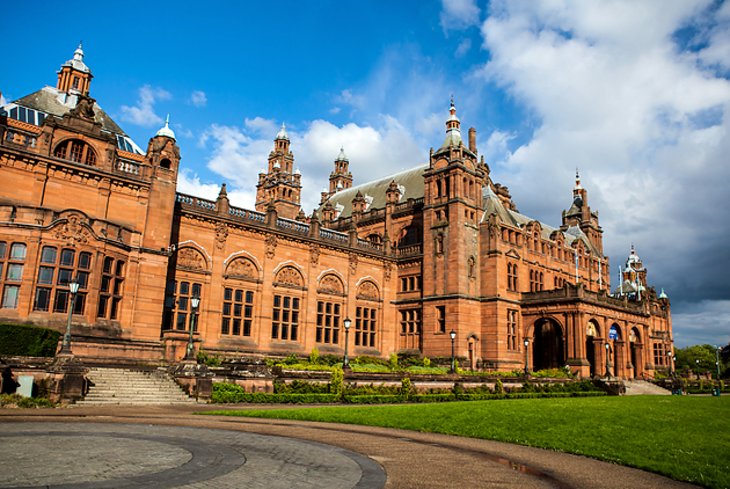 Glasgow
View slideshow
Glasgow sits astride the Clyde about 19mi/30km from where the river opens into the Firth of Clyde. In recent years Glasgow has undergone something of a transformation. Since the disastrous decline of the commercial fleet and the dockyards, the pace of life has speeded up as the successful post-industrial restructuring has brought a new culture and new service industries to the city.
ENLARGE MAP
PRINT MAP
EMBED < >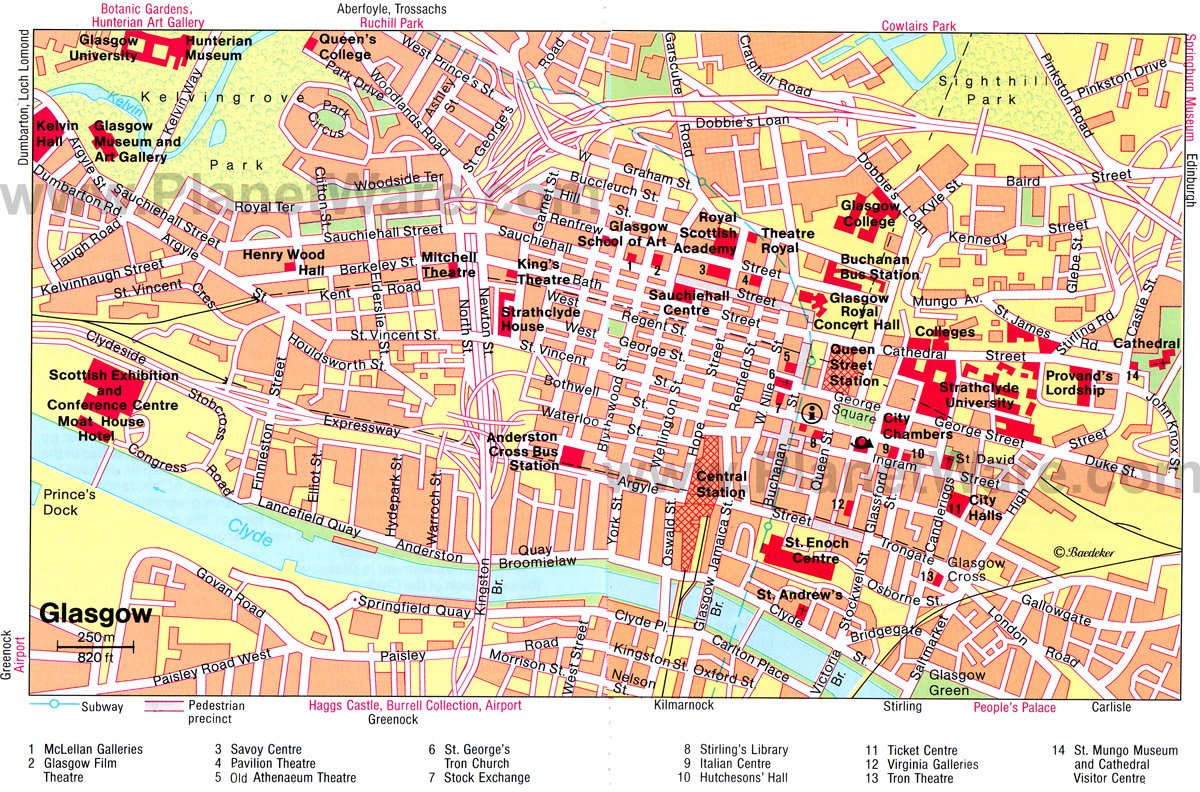 Glasgow Map - Attractions
People's Palace

Glasgow's oldest park (1662) runs alongside the banks of the Clyde. A museum in the People's Palace illustrates the development of trade and industry, the trade unions, the women's movement, entertainment and sport. Tropical and sub-tropical plants flourish in the large winter garden.
Address:
Glasgow Green, Glasgow G40 1AT, Scotland
Nelson's Monument
The 144ft/44m high Nelson's Monument, alongside the Clyde River, was erected in 1806 to the memory of Lord Nelson, victor of the Battle of Trafalgar (1805).
St Andrew's Church
In the Classical-style St Andrew's Church (18th C) the mahogany choir stalls, which were provided by wealthy benefactors, are the most interesting features.
Citizens Theatre
Gorbals Street on the south side of the Clyde leads to the Citizens Theatre, and Glasgow's most innovative repertory stage.
Address:
119 Gorbals Street, Glasgow G5 9DS, Scotland
Scotland Street School Museum of Education
In Scotland Street stands a school building with 21 classrooms and a kitchen. It was used as a school until 1979 but was later converted into a museum. The furniture, educational equipment and textbooks used in local schools document the history of education in Glasgow from Victorian times to the present day.
Address:
225 Scotland Street, Glasgow G5 8QB, Scotland
Scottish Exhibition & Conference Centre
In 1985 to the southeast of Glasgow city center but north of the Clyde, the Scottish Exhibition and Conference Centre was opened in the old dockland district. The center has a total of five halls and there is seating for 10,000 visitors.
Kelvingrove Museum & Art Gallery

Time should be set aside to visit the Glasgow Museum and Art Gallery. Opened in 1901 it probably has the finest municipal collection of British and continental paintings in the United Kingdom. Van Gogh's "Portrait of Alexander Reid" (1886) is certainly one of the museum's highlights as Reid was a well-known Glasgow art collector.
Elsewhere in the museum are sculptures, Egyptian mummies and Scottish archaeological finds, including Bronze Age tools and jewelry from Arran, Kintyre and Glenluce. The ethnography department displays Ashanti figures from Ghana, bronze heads from Benin, masks from Zaire, Maori figures from New Zealand and a model of a Samurai warrior from Japan. Other exhibits of interest include weapons and armor, such as helmets, crossbows and swords from the 15th/16th century, Flemish tapestries, Glasgow-made jewelry, silverware, glassware and pottery from various periods. The natural history section also merits a visit. It documents the history of shipbuilding and maritime travel on the Clyde.
Address:
Argyle Street, Kelvingrove, Glasgow G3 8AG, Scotland
Hunterian Museum & Art Gallery

Opened in 1807, the Hunterian is the oldest museum in Glasgow. It is named after William Hunter, a Glaswegian doctor who lived in the 18th C and bequeathed not only his own collection of anatomical parts, objets d'art and items from many disciplines of science but also large sums of money. The museum has now expanded and possesses departments of ethnography, zoology, geology and archaeology, including many finds from Roman sites. Hunter also owned a fine collection of coins and these are exhibited in a purpose-built gallery (1980). Prints and paintings belonging to the university were also transferred here and works by Rubens, Rembrandt, Chardin, Reynolds, Pissarro, Sisley and Koninck are on display. The Whistler Collection, one of the Art Gallery's highlights, merits special attention.
Address:
University Avenue, Glasgow G12 3QQ, Scotland
Mackintosh House
Integrated into the Hunterian Art Gallery is Mackintosh's terraced house in Southpark Avenue where he lived with his wife from 1906 to 1914. On show are the couple's original furniture and the biggest collection of the celebrated Glaswegian's paintings. His versatility in interior design is reflected in the emphasis on color and pattern. The "White Room", for example, is finished in light, discreet tones, while the small bedroom is decorated with blue and white patterns.
University

The main University of Glasgow building was designed by Sir Gilbert Scott stands at the northern edge of Kelvingrove Park. This seat of learning dates from 1451 and is the second- oldest school of higher education in Scotland. Classes were first held in the cathedral and then in the Old College on High Street, before the present Neo-Gothic buildings were opened in 1871.
University Visitor Centre
Glasgow University can boast some illustrious teachers including James Watt, Adam Smith and the "father of antiseptic surgery", Joseph Lister. A permanent exhibition at the Visitor Centre in University Avenue goes into more detail about the important discoveries made by these three scholars and other famous scientists associated with the university.
Riverside Museum (formerly Kelvin Hall, Museum of Transport)
Exhibits include ship models, locomotives, trams, vintage cars, horse-drawn carriages and a reconstruction of a 1938 Glasgow street.Facilities for athletics, tennis, football and other activities are available in the nearby Kelvin Hall sports center.
Address:
100 Pointhouse Place, Glasgow G3 8RS, Scotland
Botanic Gardens
Kibble Palace (dating from 1873) is one of the largest glasshouses in Britain and contains a collection of tree ferns from Australia and New Zealand and plants from Africa, the Americas and the Far East. This garden has an outstanding plant collection within 11 other glasshouses.
The specacular glasshouse has a number of Victorian sculptures along the soaring tree ferns.
Address:
730 Great Western Road, Glasgow G12 OUE, Scotland
Kibble Palace
Kibble Palace in the Botanic Gardens on Great Western Road is one of the finest glass houses in the country and its collection of orchids almost certainly the highlight. Afterwards it is relaxing to take a walk through the extensive parkland. The eccentric engineer John Kibble built his steel construction by Loch Long in 1863. Ten years later he decided to take it with him to Glasgow and he had a special raft made so that it could be shipped safely up the Clyde.
Pollok House
Close to 4mi/6km southwest of the city center of Glasgow stands Pollok House in grounds covering an area of 355 acres/144 hectares. This mansion, the home of the Maxwell family, was designed c 1752 by William Adam and his sons. Inside, the collection of Spanish paintings by El Greco, Goya, Murillo, Velazques and others is particularly interesting. Also on view are several significant works by William Blake and numerous antiques, including a splendid snooker table.
Address:
2060 Pollokshaws Road, Glasgow G43 1AT, Scotland
Burrell Collection

Shipping magnate Sir William Burrell (1861-1958) bequeathed his marvelous art collection to the city of Glasgow in 1944. Barr Gasson, John Meunier and Brit Anderson were responsible for the design of the modern gallery which was opened by the Queen in 1983. Objets d'art from the Neolithic era right up to the 20th century are among the more than 8,000 artifacts on display. Prized exhibits, however, include bronzes and pottery from Greek and Roman times such as the Warwick Vase (second century), paintings by Lucas Cranach the Elder, Hans Memling, Cézanne, Delacroix, Manet, Degas and Joseph Crawhall, an artist who received encouragement from Burrell, medieval church furnishings (choir stalls, sacramental objects, stained-glass windows), Chinese jade, Japanese wood prints, Indian and Persian carpets, Flemish tapestries, statues by Rodin, richly ornamented oak paneling (1500) from Hutton Castle, a portal from Hornby Castle (16th century), illuminated manuscripts, English embroidery (16th/17th century), arms, silver and glass.Some of the finest early tapestries and embroideries in Great Britain are to be found in this astonishing collection.
Address:
2060 Pollokshaws Road, Pollok Country Park, Glasgow GA3 1AT, Scotland
Bellahouston Park
Bellahouston Park was the site of the 1938 Empire Exhibition which was attended by over 13 million visitors. The Tait Tower was to be a permanent reminder of the exhibition for the people of Glasgow, but with the onset of the Second World War, it was destroyed. Dumbreck Road cuts through to the Park which is noted for its colorful flower beds.
House for an Art Lover
Charles Mackintosh's plans for his Art Lover's House were drawn up in 1901, but work did not start until 1989 and was completed in 1990. The house features four of his finest interiors.
Address:
10 Dumbreck Road, Bellahouston Park, Glasgow G41 5BW, Scotland
World Pipe Band Championship
The World Pipe Band Championship is held here every August and the world's best bagpipe player is selected from scores of entrants.
Holmwood House
Holmwood House was built in 1857-8 for James Couper of Millholm Paper Mills. The architectural design of the house is an adaptation of classical greek with many rooms ornamented in wood, plaster and marble. The rich room decorations are in the process of being uncovered, but still open to the public.
Address:
61-63 Netherlee Road, Glasgow G44 3YU, Scotland
Crookston Castle
Crookston Castle was inhabited by Mary, Queen of Scots, and her husband Darnley in 1565. Their home was an early 15th C tower house that was built on the site of a 12th C castle.
Address:
Longmore House, Salisbury Place, Jedburgh TD8 6JQ, Scotland
Dumbarton - Geilston Garden
The Geilston Garden in Dumbarton is located on the property of a small country house along the banks of the Clyde. The house is not open to the public, but visitors are welcome to explore the garden which features a walled garden and wooded glen.
Address:
Cardross, Dumbarton G82 5HD, Scotland
Glasgow Science Center

Glasgow Science Centre brings science and technology to life through hundreds of interactive exhibits in the Science Mall with additional experiences of the GSC IMAX Theatre and the Glasgow Tower available.
Waverley Paddle Steamer

In summer the paddle steamer "Waverley" makes round tours of the Clyde from the Glasgow Science Centre.
Address:
36 Lancefield Quay, Glasgow G3 8HA, Scotland
Sightseeing Nearby: