Interlaken Tourist Attractions
Interlaken, reached by way of the Berne highway or the Brünig, Susten or Grimsel/Furka passes, lies between Lakes Thun and Brienz below the north side of the Jungfrau massif and offers an endless variety of walks, climbs and other excursions, particularly in the mountains of the Bernese Oberland, brought within reach by numerous mountain railroads, cableways, etc.
Höhematte (Höheweg)
The Höhematte in the midst of Interlaken is a remarkable example of farseeing town planning. The area of 14 hectares/35 acres which had belonged to the Augustinian convent was acquired in 1860 by a group of 37 hotel-owners and private persons and left as an open space, with the Höheweg, a splendid avenue running between the east and west stations and affording a magnificent view of the Jungfrau, surrounded by hotels and flower-beds. Here, too, is the Kursaal, with a theater, a cafe and beautiful gardens (flower clock). At the east end is the former Augustinian convent (1133-1528; inner courtyard with cloister, restored), with a Late Gothic church (stained glass of 1950) and the adjoining Schloss added in 1750 (now housing cantonal offices).
Sports
On the right bank of the Aare opposite the Kursaal is Interlaken's fresh water swimming-pool. There is an indoor pool, a golf course in Unterseen and trips on Lake Thun and Lake Brienz. For sporting enthusiasts there is sailing, windsurfing, riding and tennis.
Unterseen
The Marktgasse runs northwest from the Interlaken post office over the Spielmatten islands to the little town of Unterseen (569 m/1,867ft; pop.4,700), at the foot of Mt Harder.In the old part of the town stands the parish church, with Late Gothic tower (1471).
Jungfrau Region Museum of Tourism
The history of Swiss tourism is represented in the Jungfrau Region Museum of Tourism.
Matten (timbered houses)
On the southeast side of Interlaken is Matten with its old timber houses.
Map of Interlaken Attractions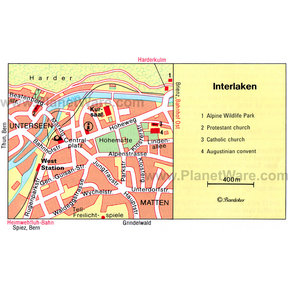 Map - Interlaken