Fort-de-France Tourist Attractions
Fort-de-France is the capital of Martinique and the island's main port. The city's history dates to 1638 with the construction of Fort Royal (Fort Saint Louis). A community quickly developed but suffered numerous set backs from flooding and disease. The land was drained and cultivated and in 1802 Napoleon ordered the name changed to Fort-de-France.The city is laid out around Place de la Savane, a central park area with a statue of Empress Josephine. Fort-de-France is the main entrance point for visitors arriving by air or sea.
Bibliothèque Schoelcher
The Bibliothèque Schoelcher was moved to its present location in 1893 from Tuileries, near the Arc de Triomphe du Carousel in France. The building is named for Victor Schoelcher who was active in the abolition of slavery in the French colonies. He donated over 10,000 books to Martinique and requested a public library be established.The edifice was designed by French architect Henri Picq in a baroque style.
Hôtel de la Préfecture de Fort-de-France
Built between 1925 and 1928, the Hôtel de la Préfecture de Fort-de-France features a collection of buildings designed in a U-shape. The mains building is modeled after the Petit Trianon at Versailles. The interior displays a Paul Mascart painting of workers harvesting sugar cane.These buildings were the first structures on Martinique to be made of reinforced concrete.
Fort Saint Louis
The first structure on this location in Fort-de-France was built in 1638. It was a small wooden fort which was named Fort Royal. It was later reinforced with a moat and stone walls. Under British occupation in 1762, 1794, and 1809, the name was changed to Fort Edward. In 1814 the Fort was finally named Fort Saint Louis.
Place de la Savane
Place de la Savane covers 12.4 acres in Fort-de-France with royal palms, flowers, pathways, and benches. Vendors at the park's craft market sell souvenirs, beach accessories, clothing, and other articles.The park also displays a number of statues including one of Belain d'Esnambuc, who claimed Martinique for France in 1635.
Pre-Columbian Museum
The Musée Départemental d'Archéologie in Fort-de-France displays prehistoric Arawak Indian artifacts, Carib Indian items, and exhibits on contemporary life on the island. The collection is housed in an 1898 military supplies office.The building which houses the museum is listed on the National Register of Historic Buildings.
Cathédrale Saint-Louis
The Cathédrale Saint-Louis in Fort-de-France was built in 1895 and designed by Henri Picq. It is the seventh church to be built on this site. The bell tower stands 59 m (193 ft). The interior features Byzantine decor and stained glass windows.
Museum of History and Ethnography
The Musée Regional d'Histoire et d'Ethnographie in Fort-de-France features Creole furnishings, clothing, jewelry and musical instruments. The museum also features temporary exhibits.
Lamentin Airport
Lamentin Airport is located 10 km (6 mi) outside of Fort-de-France. There is an Office Départemental du Tourism and a currency exchange booth at the airport.
Monument aux Morts
The Monument aux Morts commemorates the Martinicans who died in World War I and II.
Palais de Justice
Fort-de-France's courthouse, the Palais de Justice, was inaugurated in 1907. In the square stands a 1904 statue of Victor Schoelcher.
Traditional Costumes Museum
Located just outside Fort-de-France is the Musée "Gen Lontan" with displays of traditional Martinique clothing, as well as Christmas figurines.
Surroundings
Route de la Trace
Route de la Trace (highway N3) runs north from Fort-de-France through the interior rain forest to Mont Pelée. This route was originally cut by the Jesuits in the 1600s. There are a number of hiking trails off of this road.
Morne Rouge
Morne Rouge is a small town near Mont Pelée. It was once known for its high concentration of wealthy homes. On August 30, 1902 a large pyroclastic flow buried Morne Rouge killing almost 1,500 people. The town is now a pilgrimage site, with followers congregating at the church here each Aug. 30 to pay homage to the Virgin and commemorate the 1902 eruption.The volcanic soil in this area is a reddish color, contributing to the town's name.
Balata Botanical Gardens
The Balata Botanical Gardens near Fort-de-France feature a variety of plants, including ponds with water lilies and lotus blossoms.
Map of Fort-de-France Attractions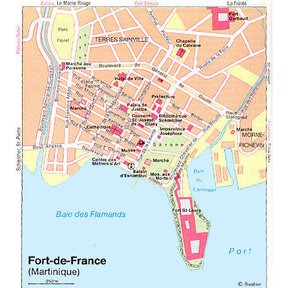 Map - Fort-de-France